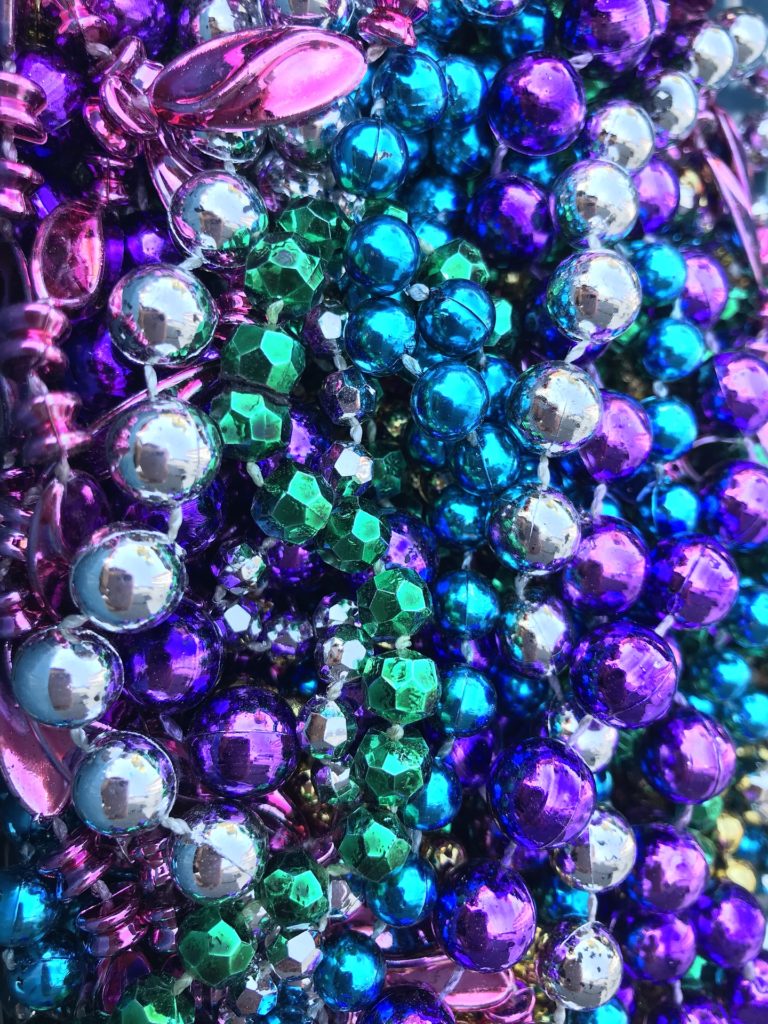 This is a good news story on many fronts. Cut down on plastics! Keep the streets cleaner! Cut down on beads hanging in trees!
There's a newcomer in the movement to kick plastic to the curb during Mardi Gras season. While some have looked to paper or even algae as biodegradable alternatives, Jerome Milton's Houston-based company, NexEvo, has turned to starch as the base for his colorful Carnival beads. When one of the bracelets or necklaces is rolled in the hand, the bioplastic has the same feel as its petrochemical-based counterpart. But instead of taking years to break down into tiny, toxic bits, the plant-based beads will degrade within months in most settings. That means if the beads wash into the catch basins of New Orleans or find their way to a landfill, they will fully decompose on their own without releasing harmful chemicals in the process. The starch material is extracted from a variety of plants in powder form that can be found in corn, wheat, rice and potatoes.

nola.com
After 46 tons of beads were swept up in the 2019 Mardi Gras parades, concern shifted to an alternative source as the floats were banned from throwing them.
"There is a solution on the horizon, and it's in the form of bioplastic that is both biodegradable and compostable," said Milton said. That biodegradable piece is key, as many bioplastics on the market will degrade but require a commercial composting facility to do so. Not only will the starch-based plastic degrade without assistance, so does the vibrant paint injected into its surface. The speed depends on temperature and moisture.
The beads are made from a plant flower and while they feel the same they will have a more natural color as biodegradable paint will be used.
"It does have some very deep, impactful meaning now. It gave me even more of a push to get this done," he said.
Right now there are algae beads developed by LSU biology professor Naohiro Kato. His beads cost $5/necklace. The newer entry is $.93 to $2 per necklace. Plastic beads cost pennies a necklace. Both inventors say we will need a cultural shift before these biodegradable beads become common usage.
The novelty of Kato's creation led some to ask if they'd be able to keep his beads forever, which he thought was a funny question. "If you want to keep it, then why am I making biodegradable beads?" he said. "We should start thinking about why we want to keep these biodegradable beads but don't care about plastic beads."
Milton's beads will be processed in Louisiana and will for sale later in the year.
"I can see the light at the end of the tunnel," Milton said. "There is a ray of hope for the Mardi Gras bead."
Related stories include the rethinking part of the beads and thoughts on wooden tokens.
Plant Based Mardi Gras Beads? Why Not!