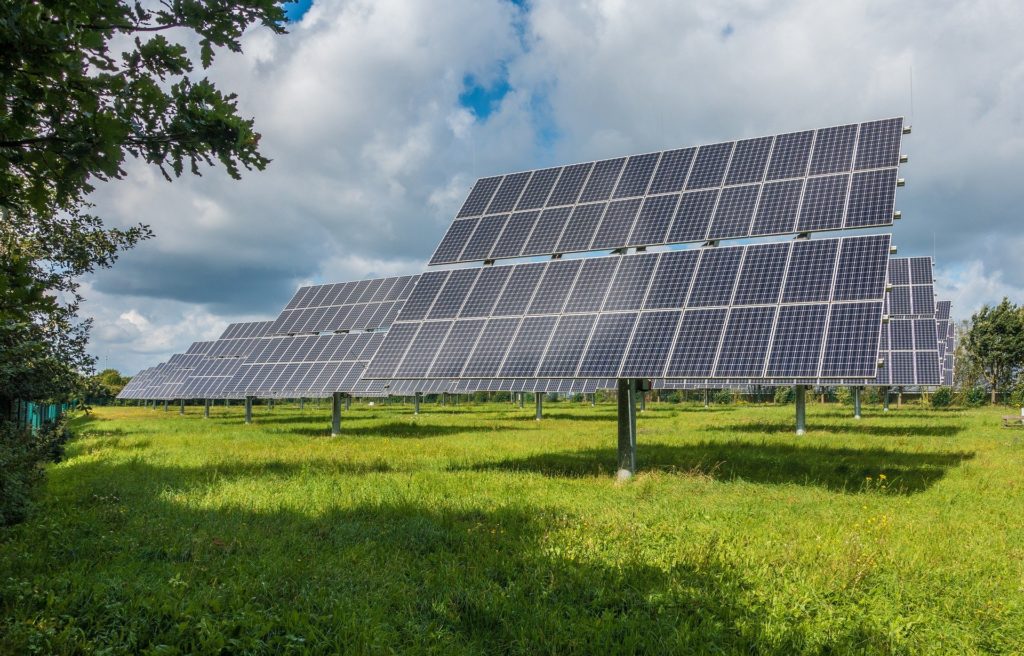 We drill and refine oil and gas. We have a wind turbine company. We are building solar farms. In the area of energy, what kind of state are we? It largely depends on your political persuasion as one side bemoans the decline of oil and the other celebrates the ascendancy of renewables.
Two years ago, when regulators gave Entergy Louisiana the green light to buy power from a new utility-scale solar plant in West Baton Rouge Parish, the power company's CEO hailed it as a win for customers and for the environment. But the push to build solar plants in Louisiana has been drawing increasing scrutiny since then, mostly from farmers who fear being crowded out of land leases by solar companies with deeper pockets. In recent months, several parishes have issued moratoriums on utility-scale solar projects. And some legislative leaders took aim at solar developments in the recently ended legislative session, asking the Louisiana Economic Development agency to halt property tax breaks for such projects. Just about everyone involved hopes a bill passed by Sen. Bret Allain, R-Franklin, to require the state Department of Natural Resources craft regulations for utility-scale solar plants will help resolve the issues. Still, proponents of solar worry the pushback will have a chilling effect on the nascent but fast-growing industry.

theadvocate.com
House Speaker Clay Schexnayder, R-Gonzales, offered a resolution to have the Louisiana Economic Development agency stop giving the solar industry tax breaks until next summer. No one is sure right now what all this flurry of anti-solar activity will bring.
Anya Hudnall, a spokesperson for LED, said the agency will "begin discussions on the extent of the potential impact" and let the Board of Commerce and Industry, which votes on industrial tax breaks, review it. "LED and Gov. (John Bel) Edwards are generally supportive of and encourage and invite renewable energy investments in our state as we work to reduce greenhouse gas emissions with full recognition that Louisiana is on the frontlines of climate change," Hudnall said. Senate President Pro Tem Beth Mizell, R-Franklinton, passed another resolution calling for a public hearing, which is tentatively scheduled for June 29, where farmers and others concerned about solar developments can air their grievances.
And where is this anti-solar idea coming from? The oil and gas industry? No farmers.
Mizell, who didn't respond to requests for comment, said during the debate over the issue in the Legislature that farmers in her area of Washington Parish came to her with "tears in their eyes" because of fears over solar developments. She suggested solar developments could "erase the character" of farming communities, and questioned how solar projects are economic development when they create so few permanent jobs. She also suggested that solar was a natural enemy of a more important industry in Louisiana. "I thought we were an oil and gas state the whole time I've been here. Solar is over here, and if we're choosing solar over oil and gas, nobody's told me," Mizell said. "There's more than one side to the picture we're painting with solar."
The solar industry disputes this characterization. They are not as bad as they are portrayed.
Stephen Wright, executive director of Gulf States Renewable Energy Industry Association, said the idea that solar projects might take vast swaths of farmland out of circulation is misguided. According to his calculations, even if Louisiana had the same share of energy coming from solar as California – when in fact it has far less – the solar developments would still take up less than 1% of available farmland in Louisiana. "I think it's a setback," Wright said of the resolutions and moratoriums on solar. "But we're viewing it honestly as an education opportunity. Because the major developments in Louisiana have just sprung up in the last couple years. I think a lot of people just don't have a grasp on the opportunity yet."
The farmers are worried that the land will be bought by solar farms and they will be slowly removed from their profession. Before there was no competition other than farmer to farmer quest for land. Now there is an interloper. But, most of these land purchases will not develop into solar farms.
Major Thibaut, president of Pointe Coupee Parish, has negotiated with a subsidiary of British Petroleum to land a large solar plant in his area, near False River. The project is expected to generate 300 megawatts of power; by comparison, the West Baton Rouge solar project hailed by Entergy Louisiana as its first big foray into solar two years ago generates 50 megawatts. By comparison, many of the state's natural gas-fired plants produce several hundred megawatts. The new project, an estimated $300 million investment, will create several hundred construction jobs while generating sales and property taxes, Thibaut said. But Thibaut said farmers in his area have raised a range of concerns, and he's met with them on several occasions. That partly involved debunking misinformation; for instance, some farmers had worried that mercury from the solar panels would pollute the land and make it unusable forever, Thibaut said. Thibaut thinks the pushback to solar is sending a "bad message" and could drive away big investments, to the detriment of rural areas like Pointe Coupee. "We'll survive on agriculture," Thibaut said of his parish. "But there comes a point in time where we've got to diversify."
Solar is limited in both what is has now and its potential.
According to a recent study by researchers at Princeton University and others, Louisiana ranks near the bottom of states in the amount of money expected to be invested in solar and wind energy over the next several decades. The study is based on suitability. Louisiana consumes a huge amount of energy for its size, largely due to its outsized industrial sector. But the state relies heavily on natural gas to power homes, businesses, chemical plants and the like. Almost 69% of Louisiana's net electricity generation comes from natural gas, compared to 34% nationally. And renewables are a miniscule part of the state's generation: Only 4.7% of the state's generation came from renewables as of this March, according to the U.S. Energy Information Administration, mostly from biomass. Nationally, that number is at 25%.
Yet, solar appears to be on a rise. Entergy Louisiana expects to get 800 megawatts from solar by 2024, up from just 50 megawatts now. Another benefit of solar is no pollution.
As the resolutions by Schexnayder and Mizell made their way through the Legislature, Sen. Karen Carter Peterson, D-New Orleans, was one of the few to speak up in defense of solar energy. During the floor debate over Mizell's resolution, she pointed to a recent Reuters report that pegged ExxonMobil's Baton Rouge refinery as the top U.S. emitter of small particulate matter, a form of lung-damaging soot. "If … I came here and tried to pass a resolution to say that Exxon right here in Baton Rouge, less than a mile from here, is one of the top polluters in the country … Oh my God. You would think the sky is falling," Peterson said. "But we are consistently doing things that stop the solar industry from coming in to further our state, local and national interests of creating a clean environment. But I look like I'm an anomaly because I keep voting against this dumb stuff. I want to use another word." Schexnayder's resolution came at the behest of the Louisiana Farm Bureau. Joe Mapes, a lobbyist who represents the Farm Bureau, even presented the resolution to a Senate committee in Schexnayder's place.
Joe Mapes, a lobbyist who represents the Farm Bureau, said the farmers are not against solar and do support renewables but does solar need a tax break as they create few jobs. Yet tax breaks are given to other industries, especially chemical plants, that not only did not create new jobs but cut workers. A double standard?
Mapes said the farmers just want the state to put some "guardrails" on solar projects. He suggested solar plants could lead to a future problem similar to "orphan" oil and gas wells left abandoned by their developers, a slow-moving environmental disaster. "The solar industry is moving at an exponential rate. It's moving at a rate that scares some of our landowners and farmers," Mapes said. Schexnayder's resolution excluded solar projects undertaken by utility companies or reviewed by utility regulators. That carveout was done at the request of Entergy Louisiana, Mapes said. Mapes conceded that the solar projects that come to fruition will only represent a tiny fraction of the available farmland, but he said much of the land used for solar arrays will be prime agricultural land near major highways.
West Baton Rouge, Tangipahoa and Washington have passed temporary restrictions on solar development largely due to a "not in my backyard" feeling.
Don Caffery, an attorney and lobbyist who heads the Louisiana Landowners Association, said his members want to be able to lease their property for the "highest and best use." He said the group is concerned that the pushback could create a "stifling effect on the solar industry in Louisiana." He also said the landowners share similar concerns that will be addressed by the regulations crafted from Allain's bill. "No one wants to see that topsoil ruined," he said. Caffery also pushed back on the idea that landowners are being "duped" into leasing to solar companies just because they have deeper pockets. He said most of the options contracts, which give solar companies the option to develop the property, won't go through. And solar companies have to justify their prices to regulators, meaning there's a ceiling to what they can pay.
Caffery may not be the best spokesman as he has leased his land in St. Mary Parish which will become a 90 mega-watt solar farm.
"The number of options out there is creating some of this concern – and rightfully so, we're talking about dozens and dozens of small farms across the state that should be concerned about it – but I think the problem has been somewhat exaggerated," Caffery said.
So, which are we? Oil first but fading, Renewables non-existent at first but now rising. Technology is changing as is the political and economic climate. There will be oil but not as powerful and ever present as it is now and renewables will be in a primary position in a while. The state needs to adapt.
Are We a Gas and Oil State – or a Renewable one – or both