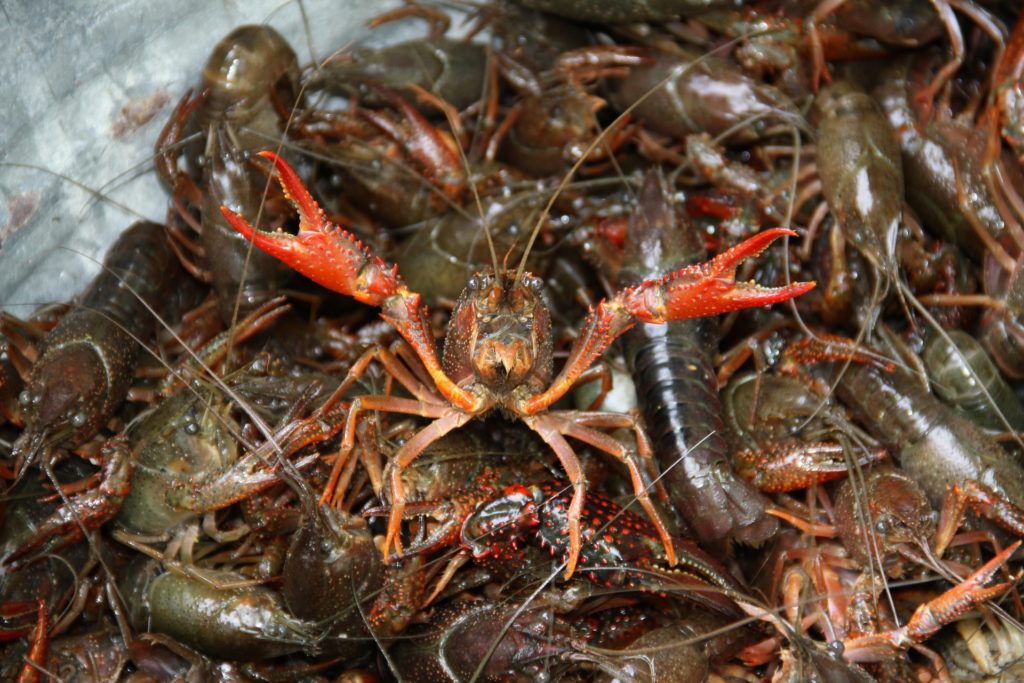 Not really an "environmental" story but one that shows what repetitive movement can lead to with people with technical and engineering talents!
After countless summers pulling up traps on his family farm, which harvests 300,000 pounds of crawfish a day, David Vercher knows full well how unforgiving the work can be. Crawfishers operate boats with one foot while leaning over the side to grab traps from the water. Then, in a rhythm that seems choreographed, they flip the trap, throw in more bait and set it back in the water. The work that yields 100 million pounds of mudbugs each spring in Louisiana is labor-intensive and solitary. "Experienced crawfishers get the job done pretty quickly," Vercher said. "But it's hard on their bodies." That got him thinking about how to automate the most strenuous part of the task. "If they have a device that will make their jobs easier and more sustainable," he figured, "that makes all the difference." So, with five other biological engineering students at Louisiana State University, Vercher designed, coded and manufactured such a device.

theadvocate.com
A device? What would a device look like? What would it cost? Would it work on the water?
The result? A robotic arm that lifts, empties and rebaits crawfish traps — all with the tap or a flick of a PlayStation 4 controller. The team of Louisiana natives said the harvesting arm could save time and money and possibly prevent back injuries. While the prototype is about a third the size of a commercial crawfish trap, tests show that it completes the task in about 18.3 seconds on average, roughly as fast as a person. Professor Chandra Theegala, a senior project advisor, floated the robotic harvester as one of several options for the students' final assignments after hearing about labor shortages and high costs in the crawfish industry. Vercher jumped on the chance to work on the device, which garnered funding from the U.S. Department of Agriculture, and which Theegala hopes will provide proof of concept to eventually build a harvesting arm to scale. "It's a high-tech project," Theegala said. "I originally planned to have a graduate student working on this, but COVID restrictions prohibited that. So I decided to put a team of undergraduates together, and I was extremely impressed with their dedication and interest."
This project runs the needed skills for some one in the biological engineers field.
Ben Thomas, who programmed and coded the motion of the arm, said Louisiana has crawfishing down to a science. But there's room to lessen the physical toll through automation. "If there's a possibility to improve the way we are harvesting, we should try," he said. The team worked through Zoom meetings and group messages, delegating responsibilities according to expertise. Vercher designed the bait reloading device. Ben Thomas started coding. Damien Glaser worked the budget and ordered parts. Bryan Tassin conducted background research and kept everyone on task. Sarah Mitchell brought the project to life. Armed with her personal 3D printer, Mitchell produced the robotic arm's grips, trap tops, "crawfish," and "bait" out of PETG plastic, the kind used in single-use water bottles. The only aspect of the design that isn't automatic is aligning the hand with a crawfish trap. Thomas said he wants to make the arm entirely automatic, where it could align itself on a moving boat. "It would be much quicker," he said. "Ideally, the boat would keep moving, and the arm would be able to sense and grab traps at the front of the boat."
A theoretic prototype is good but what about mass production? If this is as good as promised people will want one.
To make the device commercially viable, Thomas said, it would also need to be waterproofed. While testing the prototype, Mitchell said one of the team's teaching assistants observed how the joysticks, triggers and buttons made it feel like playing a videogame. "And it is," Mitchell said. At least for now. "I never expected to work on a school project that could make a real difference," she said. "It was just our little robot." But in the future, she added, she hopes to see it "affect Louisiana's economy in a tangible, positive way."
I think the true need will depend on cost and does it make the harvest easier. Will it cause fewer people in the industry or will any no longer employed start harvesting on their own? That might bring the consumers cost down.
Crawfish harvesting by robot