Ida has left Cuba and heading our way although it looks a bit like she is moving west slowly as we are now on the edge of the cone. She is forming into a storm and strengthening.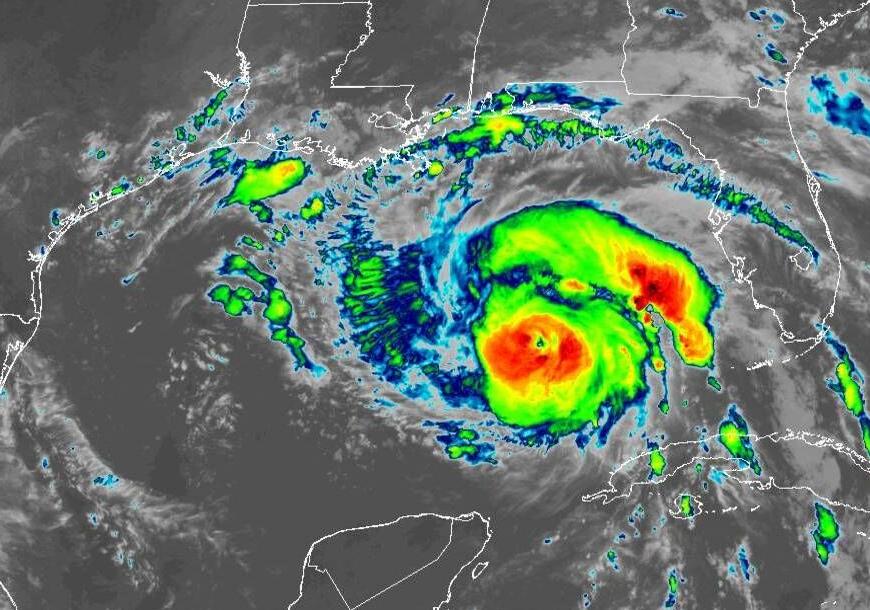 Ida has left Cuba and moving toward Louisiana. She is forming into the standard form and that will enable her to strengthen. From my looking at maps it appears she is slightly moving to the west as we used to be in the cone and now we are on the edge. That does not mean we escape.
Hurricane Ida is getting better organized in the Gulf of Mexico and should start rapidly strengthening soon, forecasters said Saturday morning. Ida, currently a Category 1 hurricane, is expected to make landfall Sunday in Louisiana as an "extremely dangerous" Category 4 storm. Sunday is the 16th anniversary of Hurricane Katrina. Watches and warnings are in effect for Louisiana, Mississippi and Alabama. Saturday could be rainy in south Louisiana, making storm prep and evacuations more complicated, forecasters said. The rain is not from Hurricane Ida but from another disturbance moving over the state. Life-threatening winds, storm surge, flooding and tornadoes from Hurricane Ida are expected Sunday. Forecasters at 5 a.m. urged residents to "leave now" if you are under evacuation orders or you have the ability to leave.

nola.com
Evacuation notices and traffic updates are out.
Here's the list of mandatory and voluntary evacuation orders for Louisiana. Here's what traffic looks like on Louisiana interstates Saturday morning.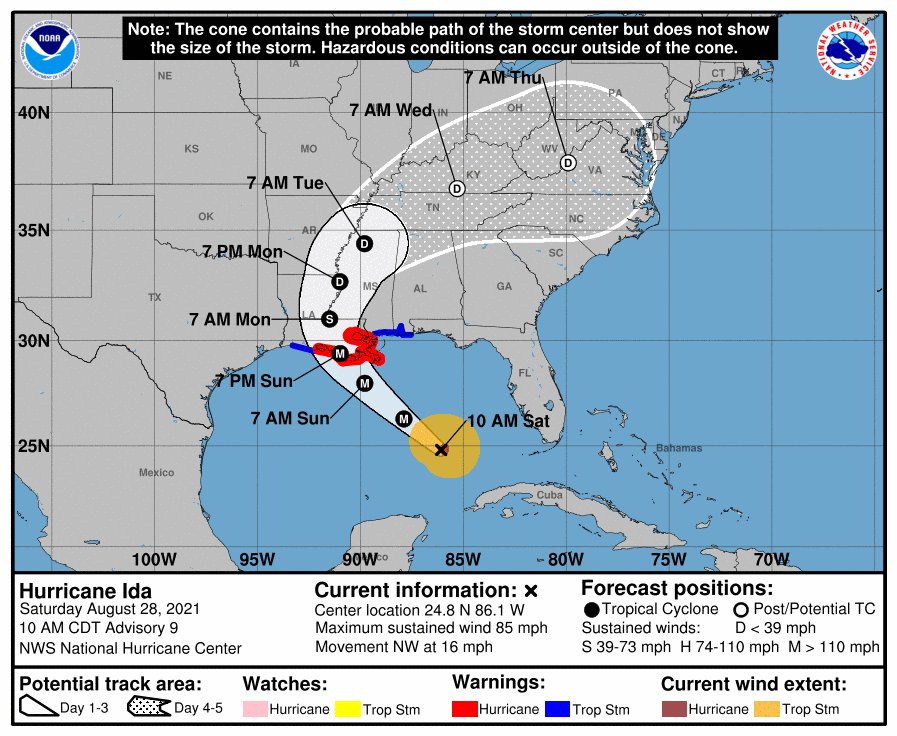 Ida still looks good for landing in South Louisiana early Sunday morning, so less than 24 hours from now.
As of 10 a.m., Hurricane Ida was about 350 miles southeast of the mouth of the Mississippi River and about 435 miles southeast of Houma. It's moving northwest at 16 mph. On the forecast track, the center of Ida will move over the Gulf of Mexico on Saturday and early Sunday. Ida is then expected to make landfall in Louisiana on Sunday, and then move inland over portions of Louisiana or western Mississippi later Monday. Hurricane Ida's windfield has expanded, according to data from the Hurricane Hunters. Hurricane-force winds now extend up to 30 miles from the center and tropical-storm-force winds extend up to 125 miles.
Ida is now expected to be a Category 4 storm when she lands.
Hurricane Ida has winds of 85 mph as of 10 a.m. and rapid strengthening is expected in the next 24 to 36 hours. As Ida approaches land, forecasters estimate the hurricane could have winds of 130 mph. The intensity forecast is slightly lower than the previous estimate of 140 mph winds. Category 4 storms have winds of 130 mph to 156 mph. Forecasters said earlier imagery showed a well-defined eye and "excellent" spiral banding over the northern semicircle. "Given the very recent increase in organization and structure, the winds are likely to catch up to the satellite appearance very soon," hurricane forecasters said in the 10 a.m. update. Read the full 10 a.m. advisory. The next one will be released at 1 p.m.
Watches are up as far east as Alabama along the coast.
Watches and warnings have been issued related to Hurricane Ida. As of 10 a.m., the tropical storm warning was extended to the Alabama/Florida state line and the hurricane watch along the coast of Louisiana west of Intracoastal City has been discontinued. The storm surge watch from Sabine Pass to Rockefeller Wildlife Refuge has been discontinued as well. A watch means storm conditions are possible within the next 48 hours. A warning means storm conditions are expected within the next 36 hours. A storm surge warning means there is a danger of life-threatening inundation, from rising water moving inland from the coastline, during the next 36 hours. A storm surge warning is in effect for: east of Rockefeller Wildlife Refuge, Louisiana, to the Mississippi/Alabama border and Vermilion Bay, Lake Borgne, Lake Pontchartrain and Lake Maurepas. A hurricane warning is in effect for: Intracoastal City, Louisiana, to the mouth of the Pearl River and Lake Pontchartrain, Lake Maurepas and metropolitan New Orleans. A storm surge watch is in effect for: Cameron, Louisiana, to west of Intracoastal City, Louisiana and mouth of the Pearl River to the Alabama/Florida border.
So, for those of us staying the expect rain and tropical storm winds, up to 55 MPH with some gusts higher.
Ida organizing and strengthening