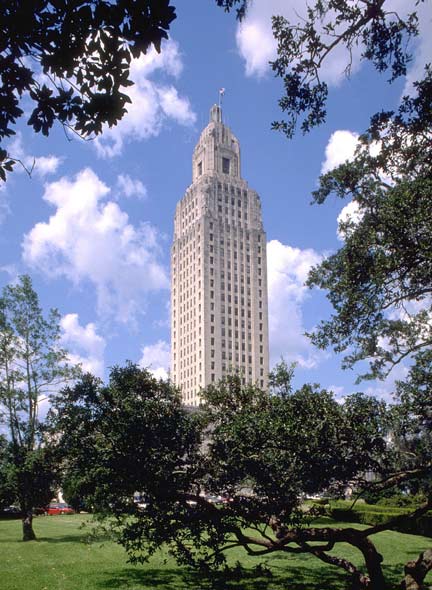 Democrats work to quell climate change and republicans don't but the Governor hopes that the change in social beliefs will make any effort by his, sure to be republican, successor to back off his climate change actions impossible.
Gov. John Bel Edwards assured attendees at an international climate change conference this week that no matter who replaces him in the governor's mansion in two years, Louisiana's commitment to clean energy investments won't change. "I don't think the next governor's going to be able to walk this back, even if they're not thinking like I am," Edwards said Tuesday during a panel at the United Nations conference in Scotland, known as COP26. That's because, the governor said, the global economy won't allow it. Corporate stockholders are demanding investments in renewable resources, and oil and gas firms are rebranding themselves as energy companies, as they commit to reducing their carbon footprint.

theadvocate.com
Governor Edwards did not want to let the dire need pass without doing anything. That would be the wrong thing to do.
If Louisiana wants to remain competitive and attract jobs and economic development, Edwards said, the next governor will have to embrace these clean energy investments. "My vision for Louisiana is to remain a very prominent leader in energy, and that means we have to embrace the transition," Edwards said at a separate panel Wednesday. "It's going to happen. The world market has changed, and so we have to make sure that we change along with it." Edwards said he doesn't want to be the sort of governor that "puts his head in the sand and refuses to acknowledge reality." The governor said that mindset would leave Louisiana vulnerable in the future, when fossil fuels are more aggressively phased out. "You get to the end of that road, and you've been whipping that same horse, and it just goes out. You don't have another one to get on," Edwards said.
Edwards was one of many governors that went to Glasgow for COP26.
Edwards is one of several state governors – all Democrats – who traveled across the pond to Glasgow to participate in the UN's two-week climate change conference. He's using the trip to promote Louisiana as a burgeoning hub for clean energy projects, with the pipeline infrastructure and technical expertise necessary to support those efforts. "If you can fabricate an offshore oil platform, you can fabricate an offshore wind platform, and if you have the vessels to service the off-shore oil platform, you can service the wind platforms too," Edwards said. Of particular interest to investors, according to Don Pierson, secretary of Louisiana Economic Development, is the state's focus on "carbon capture and sequestration," a process that involves pumping emissions into geological formations deep underground. "These international companies are under international pressure to lower greenhouse gases," Pierson said. "That's not going to change when Louisiana has its next governor."
Another factor is the pipeline system throughout the state.
Another feature that's here to stay is Louisiana's dense network of pipelines. Pierson said that's made Louisiana an ideal candidate to "excel in the hydrogen economy." In October, Edwards announced that a company was building a $4.5 billion "blue" hydrogen plant in Ascension. The fuel is often touted as a clean energy alternative, though some environmental advocates question its role in reaching net-zero emissions. "From our perspective, this is a target rich environment," said Pierson, who traveled to Glasgow. He said several companies at the conference have set up appointments to scope out Louisiana on the ground in mid-November.
Climate change may not be kind to this state. That is why we had to act.
Edwards has repeatedly pointed out that Louisiana has the most to lose from climate change, citing a string of flash floods, freak winters storms and destructive hurricanes that have battered the state in recent years. "I suspect I'm the first governor of Louisiana, to speak out clearly and repeatedly about climate change, but I'm also certain I won't be the last," Edwards said. At the same time, Louisiana emits more greenhouse gas per capita than any other state in the nation, with most of that coming from industries. Edwards has set a goal of cutting those emissions to net zero by 2050, though his administration is still putting together a strategy document. "That is a tall task for any state, but for a state like Louisiana, I suspect it's especially tough, because we're a traditional oil and gas state, and the production, the refining, the chemical manufacturing, all that remains very important for our economy," Edwards said.
We are making progress which the next governor will see and continue.
Edwards said "tangible progress" was already being made. He pointed to the closure last week of a coal-fired power plant in Desoto Parish. Its shutdown will save customers up to $15 a month and its output will be replaced by electricity generated from solar and wind projects. The federal government is also expected to hold the first ever lease sale in the Gulf of Mexico for wind projects within the next two years, he added. The governor acknowledged concern among some Louisianans who work in oil and gas sector "that the life that they've known for decades will change and what comes next may not be as good." During a panel Wednesday with John Kerry, the White House's special envoy for climate, Edwards asked how they can ensure it's a "just transition." The key will be job training, Kerry said, adding that wind turbine technicians and solar panel installers are among the few professions that are expected to grow by more than 50% this year. "This is the future," Kerry said. "There's a whole new economic world that we're going to be seeing." Edwards said it's unfortunate that polluters like China didn't show up for the conference, but said if the United States doesn't take action on climate change, it'll be at a competitive disadvantage in the global economy. "There's only two ways to lead: by example and from the front," Edwards said. "And if the United States isn't willing to do that with respect to something as critically important to our future as combatting climate change, then where are we going to be leaders in the world."
All I can say is that the governor puts more faith in the republicans that I do especially when I look to those in the state government now.
Governor says his successor can't walk back his climate plan