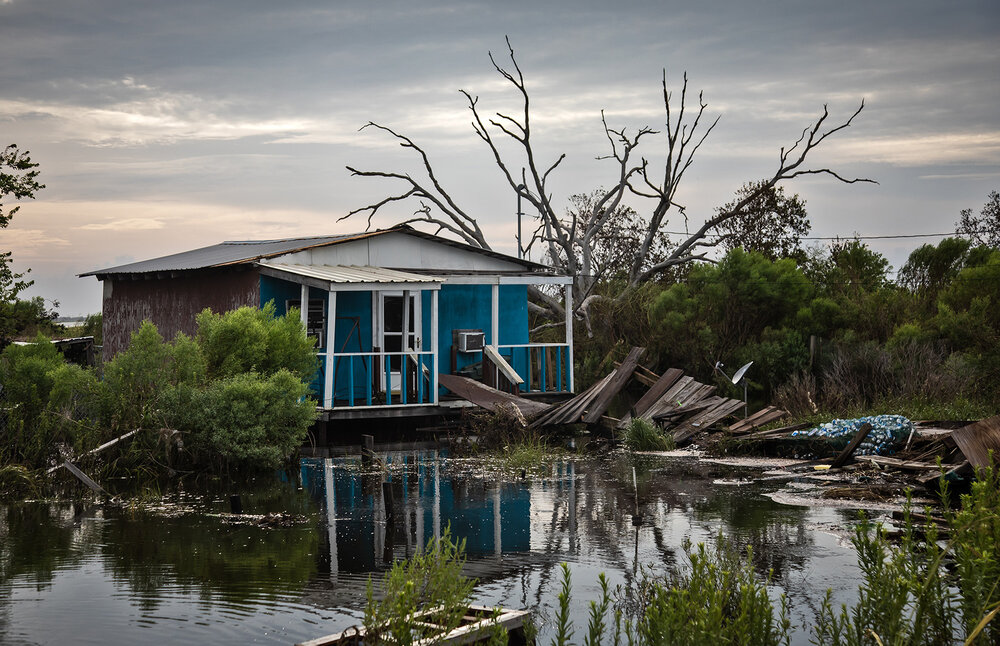 There is not much left of Isle de Jean Charles and they are moving the residents 40 miles north to Grey.
The Isle de Jean resettlement program, a construction project spurred by extreme land loss that has been in the works for six years, is expected to finally wrap up this spring and move in its residents. The new subdivision, named the New Isle, is located on Bayou Blue Bypass Road in Gray, just 40 miles northwest of Isle de Jean Charles, an island that used to encompass more than 22,000 acres, but over time has shrunken to 320 acres due to erosion and land loss caused by natural disasters and climate change.

wwno.org
A narrow strip of land is all that remains for the residents as well and the tribe that lives in the area.
The climate change-related problems pushed out residents from dozens of households after Category 1 Hurricane Isaac hit the region in 2012, but it wouldn't be until 2016 when a plan — and $48.3 million — came together to build a resettlement. The money came from the Office of Community Development's winning application to the National Disaster Resilience Competition from the federal government. Nearly $1 billion was awarded to 13 states and communities in the country. Awardee proposals that were chosen featured extensive community engagement, centered around vulnerable populations and responded to climate change through resilient infrastructure. Of the $48 million, $11.7 million was used to purchase the 515-acre property in Gray, a site that was chosen because it was a higher, safer and more resilient location. The plan calls for current island residents or those who moved away after Hurricane Isaac in 2012 to have houses built for them using the grant money. Of the 42 households eligible, 37 volunteered to participate in the program. Move-in starts in March and is expected to be complete this summer.
The new development is coming into shape and the new owners can actually see what the new living area will look like.
Construction on the subdivision began May 2020, and residents were able to first tour the site last April. In late January, Office of Community Development Executive Director Pat Forbes said future residents were able to see the nearly finished homes at the new settlement. Construction is wrapping up, with houses getting primed for painting and windows ready for installation, so that residents are fully moved in by the summer. "I've had folks tell me that they're ready to move in," Forbes said. For the residents who attended the open house last month, it was the first time they got to see their new homes. One resident, Father Roch Naquin, walked through his incomplete house and blessed it. Naquin said that he thought the homes were very well built. I was impressed by what I saw and how it was structured," Naquin said.
Many of the residents are living in temporary housing so will have to move in. Others are ready to move in now!
Naquin currently stays in church housing next to the St. Charles Borromeo Catholic Church in Pointe-aux-Chenes, about 15 minutes away from the island. He's still waiting for insurance to give a response after he completely lost the roof to his home due to Ida. Naquin is excited for the day they'll be able to move into the new homes. "It's good to be back in my own home," Naquin said. "And I'm not going to be around strangers as neighbors, but rather members of my own family and friends." Naquin's nephew, Chris Brunet is back on Isle de Jean Charles living in a trailer under his home. He received the trailer in November, but before that, he was displaced, staying with friends at an apartment in Houma and at one point even sleeping in a tent under his house because he wanted to stay on the property. Brunet said he doesn't really mind how long the program is taking to do construction — he's just happy to be out of the weather and back home. "I have a house, you know, what's left of it and it's repairable," Brunet said. "I've got to be thankful for that. That's a start compared to some."
There is an effort to meet every type of resident who lived. Some who moved off earlier will get land to build on.
Residents who lived there but moved away before Isaac will be provided with lots on which they can build their own homes, according to Forbes. He also said that the office is working with a nonprofit to help finance the lots. Families in the resettlement program are currently on the rental assistance program due to displacement from Hurricane Ida. Relocated residents are able to retain ownership of their property on Isle de Jean Charles. However, residents are only allowed to make limited improvements and renovations, and cannot amount to no more than half of the structure or property's assessed value. There have been obstacles since the start of construction, including the supply chain disruptions causing delays due to the pandemic, Forbes said. This also created a delay for Entergy, which was unable to get the equipment needed to establish a permanent power line. The pandemic and back-to-back busy hurricane seasons also didn't help the construction schedule, with the latter really testing the build of the properties. After Hurricane Ida in August 2021, the homes in progress at the New Isle suffered very minimal damage, due to being built against specific types of severe weather such as high winds, hail, hurricanes and tornadoes. Forbes and others on the project were amazed the incomplete homes suffered little or no damage. "If everything on the coast was built like this, everyone would be home right now," Forbes said. "It's not possible at the drop of a hat, but we can push toward it."
Housing standards need to reflect what the weather hitting us can do. Mostly they would have to be by community but basic state standards would not hurt.
And at one of the homes facing a rerouted Bayou Blue, Forbes points out how the water feature is able to reabsorb flow and alleviate the threat of flooding not only for the subdivision but other neighborhoods close by. "It's an amazing example of how we can develop without putting people into harm's way," Forbes said. The subdivision will include two bayous running through the property, wetlands, walking trails, pasture, market center, festival grounds, community center and more. The market and community center are expected to be completed by the end of the year.
It is good they will have a community with services communities need. I would image that this will be the first of other moves by other storm damaged communities.
Isle de Charles moving to new homes