A cold front is dipping down as it hits the mid west bring us unexpected cold temperatures and wind.
Temperatures in the New Orleans area will drop to as low as the 20s this weekend as a massive low pressure weather system sweeps through the region, forecasters said Friday. The area will be in the path of a bomb cyclone that is traveling across the Southeast and up the east coast. "(A Bomb Cyclone) is basically a low pressure system," said Megan Williams, a meteorologist with the National Weather Service. "As it moves towards the eastern coast of the U.S. and towards New England, it rapidly strengthens."

nola.com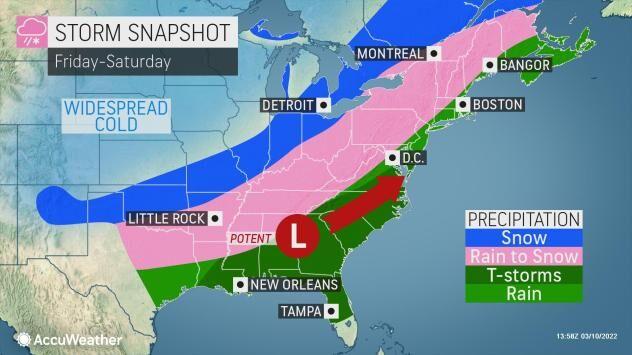 There is a wind advisory in effect which will make the temperatures feel cooler.
A wind advisory is in effect Friday night through Saturday afternoon, with winds from 25 to 45 mph. NWS forecasters warned that the winds could snap tree branches or power lines, and that drivers should be careful on the roads. Tornadoes are also possible, they said. Sunday will be the coldest, with temperature lows of 37 degrees expected on the southshore of Lake Pontchartrain. On the northshore, Slidell is expected to break records Sunday morning for the coldest day since 1969, when it was 29 degrees. The temperature will fall to 29 degrees. A freeze warning has also been issued, starting Saturday night through Sunday morning, due to the rapid drop in temperature.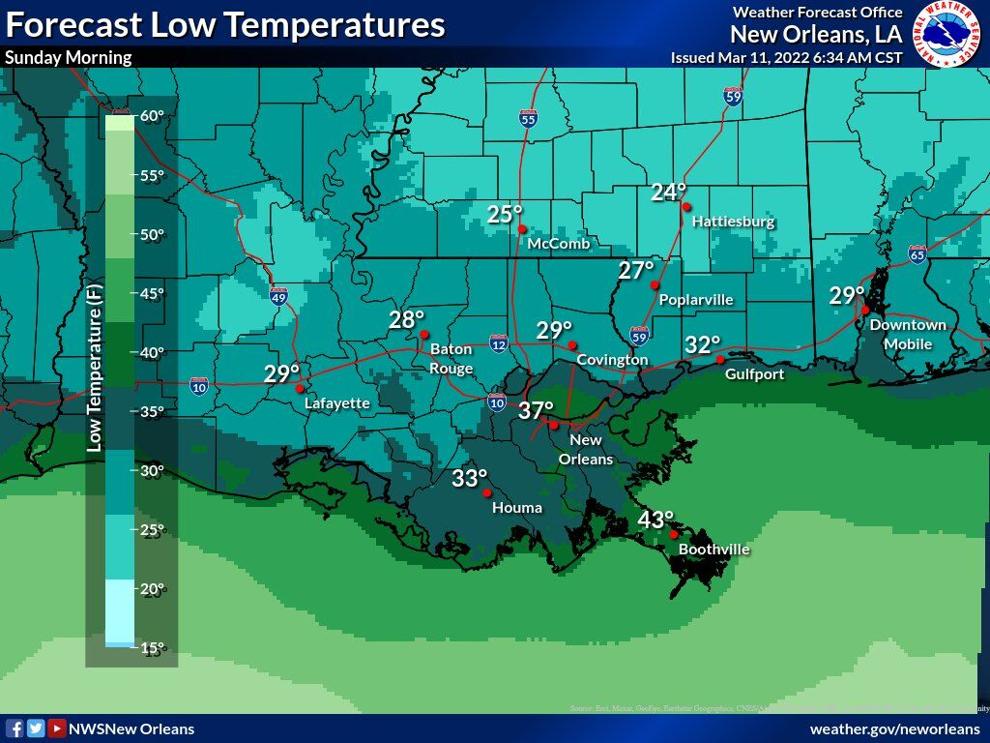 The Weather Service sent out this notice.
Now this is a COLD FRONT!!🥶Temperatures to drop rapidly through the late evening into the overnight. Temps will drop from upper 60s/70s into the mid/upper 30s and lower 40s by early morning. Strong gusty winds will drive wind chills even colder! BRRRRR. Bundle up! 🥶#mswx #lawx pic.twitter.com/zS8T46DQaq — NWS New Orleans (@NWSNewOrleans) March 11, 2022
We will get cold but Mississippi will be worse off.
Though the New Orleans area will see record lows, the mid-March cold snap will do its worst in neighboring Mississippi. AccuWeather predicts that weekend temperatures in Oxford, Mississippi will be three degrees lower than in Anchorage, Alaska, with Oxford seeing a low of 22 degrees and Anchorage seeing 25 degrees.  Northern Mississippi is forecast to receive about 4 inches of snow, according to the Associated Press. The storm could also cause travel problems and power outages across a wide part of the Eastern United States from late Friday through early next week.
Keep in and stay warm.
It is going to get cold, baby an appropriate song!