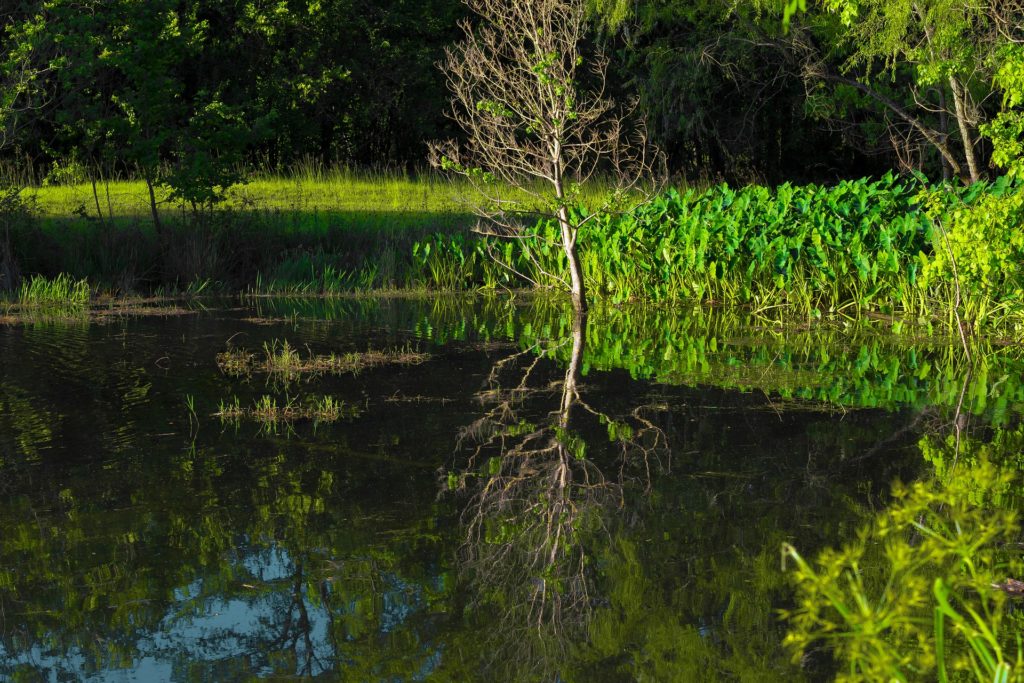 I am posting this because of the idea. We don't have a lake and the Mississippi might be a help but to have a string of bayous, maybe starting from Bayou St John, and running through other areas would be a great addition to this city.
Imagine a series of bayous and canals connecting in a loop with paths alongside, providing a paradise for kayakers, bikers and walkers. It's not Louisiana's latest state park. It's a vision for the future of Lake Charles that community leaders hope can rise from the ruins of Hurricane Laura's devastation. "We have so many natural resources here that kind of center around water — one of the reasons I came here," said Mike Nodier, head of Polaris Engineering in Lake Charles, who initially came up with the idea as a way to recruit talented employees. "Let's exploit what we've got. Let's make do with what we have. And so that was the genesis of this idea."

theadvocate.com
So far it is only a vision but the idea is a good one.
Making the vision a reality remains a long way off, but the possibility that building it could also better drain this flood-prone city could help bring it closer to fruition. It is among the more ambitious projects among a list of proposals for improving the city and the region as it picks itself up from a string of natural disasters. Some of those ideas, including Nodier's so-called Bayou Greenbelt plan and an effort to develop the city's lakefront, have gained new traction in recent weeks. The region may be ready to turn a corner more than a year and a half after Laura pummeled it. This is a PDF of the project: https://bloximages.newyork1.vip.townnews.com/theadvocate.com/content/tncms/assets/v3/editorial/7/b9/7b9cfc84-ac80-11ec-883c-9776d90c9469/623e313190231.pdf.pdf.
Lake Charles has recently received notice they will be getting money to help build back but it has been a long slog.
Long-term recovery aid from the federal government is finally on the way, a number of local businesses have managed to reopen and an ambitious 50-year master plan for southwest Louisiana is coming together. Lake Charles even hosted pro golf's Korn Ferry Tour this weekend. But progress can't come soon enough. The region remains staggered by Laura and three other weather disasters, not to mention the pandemic, which has weighed heavily on rebuilding efforts. The devastating impact of Laura, one of the most powerful storms to ever hit the state, and Hurricane Delta six weeks later was clear in new population estimates released by the U.S. Census Bureau on Thursday. The figures for 2021 showed the region with some of the steepest declines in the nation. In fact, when combined, Calcasieu and Cameron parishes had the biggest percentage decrease among metro areas in the country. Calcasieu Parish's population fell 5.3% to 205,282, while further south along the coast, Cameron Parish dropped by nearly 10% to 5,080. It was a sharp turnabout for Calcasieu, which had been growing steadily before the storms.
Affordable housing has been in short supply which also has helped spur some to leave the area.
Local officials have long warned of a severe housing shortage that has driven rents out of reach for many. It has become clear that many residents have given up hope and moved elsewhere, often to Texas. The region has long been known for its energy production and chemical plants, which have boosted the economy but polluted the water and air. City officials and community leaders want to emphasize quality-of-life improvements in the rebuilding process. Dan Groft, director of the H.C. Drew Center for Business and Economic Analysis at McNeese State University, said such projects will help bring people back and retain them — which will in turn help the economy. "We need to get the residents back and keep residents that are here," he said. "That will be crucial to the economic health of the region in the long-term."
There is a bayou next to the lake and it shows what a string of bayous would add to the city.
On the edge of Lake Charles, English Bayou meanders past cypress trees, the clouds above reflected on the water's surface. It's so quiet it can seem as if you've taken a wrong turn and found yourself far off in rural Louisiana instead of the state's fifth-biggest city. The bayou along the city's north is part of Nodier's plan, one he first started working on back in 2008. In the post-storm era of Lake Charles, it has been given new life and real backing, including being selected for expert advice from a National Park Service program. The Community Foundation of Southwest Louisiana has included it among its potential projects under a 50-year master plan for the region it is developing. The master plan, too, has serious support. The family of Yahoo! co-founder David Filo, who grew up in the area, has donated $2.5 million to the effort and Pittsburgh-based Urban Design Associates, which has extensive experience on such projects, is helping see it through.
If constructed, there would be a 23-mile circuit around the city.
The Bayou Greenbelt idea would create a 23-mile water loop around the city, connecting English Bayou in the north, a key canal known as Kayouche Coulee along the city's east and Contraband Bayou to the west and south. Those waterways would also link to the Calcasieu River, which flows down to the Gulf through Lake Charles itself. If all goes according to plan, the region would end up with a series of interconnecting waterways for boating and kayaking, with walking and biking paths alongside many of them. There are also hopes that it would help drainage, an especially pressing concern after a heavy flood in May. It would be a major undertaking, and there have been discussions about having the Baton Rouge-based Water Institute of the Gulf study the drainage implications. The entire vision would likely require a lock where a pumping station currently connects English Bayou to Kayouche Coulee, and it's unclear whether such an alteration would be possible. Nodier, based on his firm's experience, estimates the cost at around $25 million. He has taken local and federal government officials on boat tours to promote the idea. Nodier said some tour members were taken aback by the views of nature. One National Park Service employee saw dozens of species of birds. "She was beside herself," he said. "Because there's all kinds of stuff down here."
While this string of bayous is a bit more than a dream, other projects are being planned for Lake Charles.
But while Bayou Greenbelt is still in the early stages, other plans for the city's future are much farther along. One involves the city's northern lakefront, which can be seen from Interstate 10. The area was home to a Harrah's riverboat casino until Hurricane Rita destroyed it, with only a derelict parking garage remaining. The city is now moving ahead with a comprehensive redevelopment plan, parts of which are already underway. The crown jewel of the plan will be a children's museum and nature center named Port Wonder, whose curved architecture evokes the water it will sit beside. It will be partly funded by settlement proceeds from the 2010 BP oil spill. Other projects include a restaurant from Lake Charles brewery Crying Eagle, kayak rentals, a fishing pier and a branch of local barbecue favorite Paul's Rib Shack. Lake Charles Mayor Nic Hunter hopes those developments will spur further private investment in the long-neglected area. "I know that many people still are of the philosophy of 'I will believe it when I see it,' but I think they should dust off their spectacles, because 2022 is going to be a really big year for lakefront development," Hunter said during a recent tour of the area. "People are actually going to see some activity on this lakefront. It's not just pie in the sky, and it's not just wishful thinking anymore."
The city can offer much but it is not widely known other than suffering from hurricanes.
Nodier, 60 and born in New Iberia, moved to Lake Charles in 1995. He loves the area, but acknowledges that many unfamiliar with it need convincing. He hopes Bayou Greenbelt can be a draw, much like San Antonio's River Walk. Hunting and fishing is a way of life in southwest Louisiana, but young professionals often want other options, Nodier points out. "Really, I was trying to hire people at Polaris," he said of the initial idea. "If you like to boat, fish, hunt, whatever, we're the place. But not everybody likes to do that." He notes the number of families who can be seen walking along Lake Charles' waterfront promenade next to its small downtown, often pushing strollers, showing the demand for more such areas. "This is just going to be bigger," he said.
I like the idea but it alone would not draw me to the area. Hurricanes will still strike and that woild warn off many.