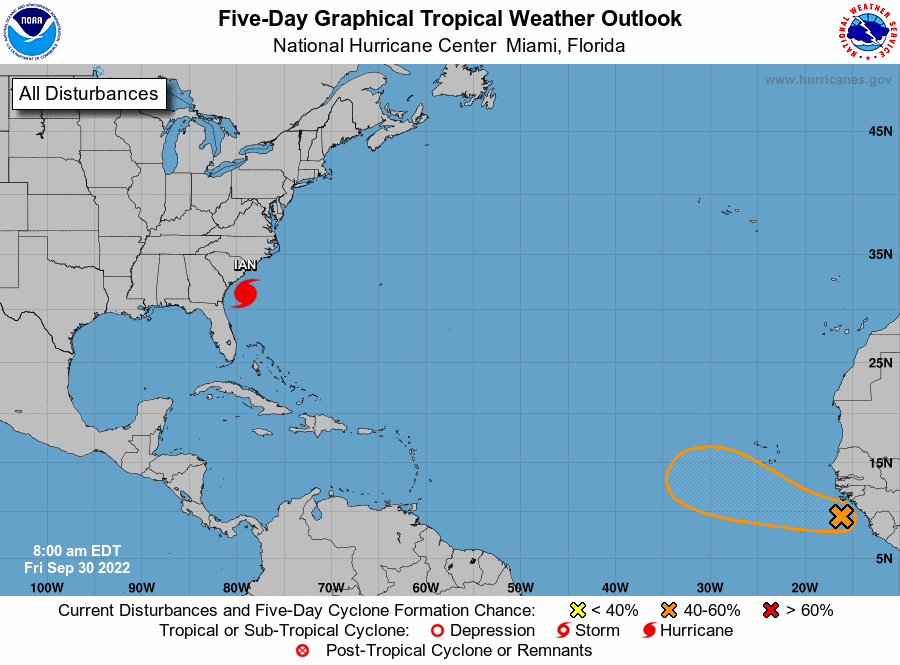 As Ian moves through South Carolina then north we are back to a more normal screen.
Hurricane Ian is expected to hit the U.S. again Friday as thousands clean up in Florida after the powerful storm left a trail of destruction there. As of 7 a.m., the Category 1 storm is in the Atlantic and is expected to make landfall later in the day in South Carolina. Life-threatening storm surge and hurricane conditions are expected by the afternoon. Meanwhile, forecasters are tracking a new disturbance in the Atlantic that they say could develop into a tropical depression. The depression they were tracking Thursday in the Atlantic has dissipated. Neither storm poses a threat to Louisiana. Here's the latest from the National Hurricane Center as of 7 a.m. Friday.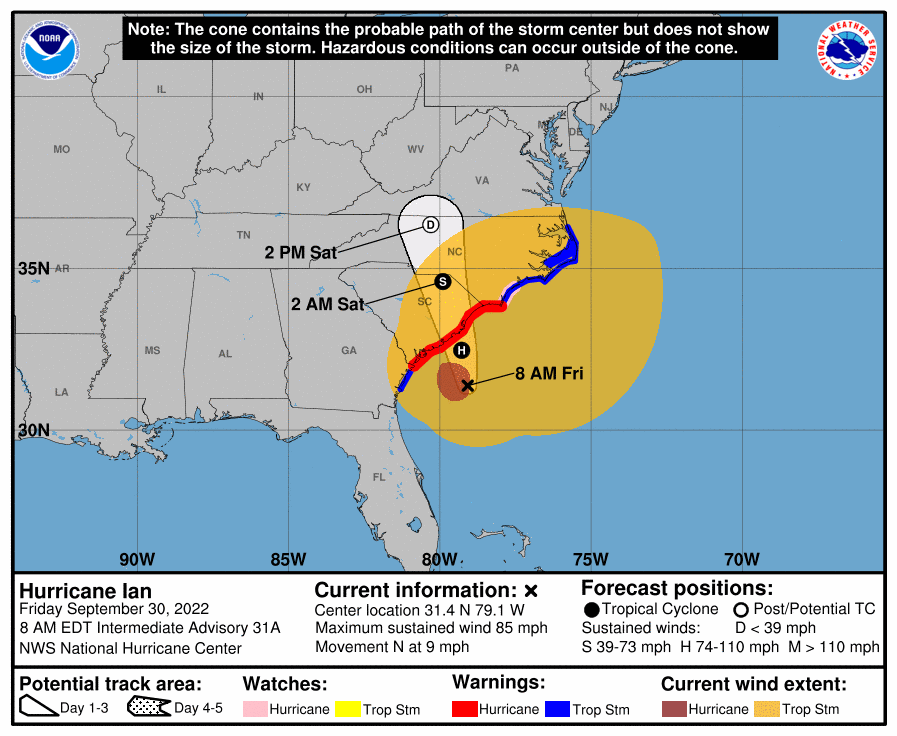 Tropical Storm Ian ( grew to a hurricane )
Hurricane Ian has strengthened in the Atlantic and is expected to make yet another landfall in the U.S. This time, the storm is forecast to move ashore in South Carolina. Life-threatening flooding, storm surge and gusty winds are expected across portions of Florida, Georgia and the Carolinas from the storm, forecasters said. Parts of South Carolina could get up to 7 feet of storm surge and 12 inches of rain. As of 7 a.m., the storm was about 105 miles southeast of Charleston, South Carolina, and about 185 miles south of Cape Fear, North Carolina. It's moving north at 9 mph. On the forecast track, the center of Ian will reach the coast of South Carolina later in the day and will move farther inland across the Carolinas Friday night and Saturday. It has winds of 85 mph and no change in strength is expected before landfall. Rapid weakening is expected after landfall, and it is expected to dissipate by Saturday night.
Disturbance in Atlantic
Forecasters also are tracking a disturbance in the Atlantic that could develop into a tropical depression next week. As of 7 a.m., the system was over the far eastern tropical Atlantic and is expected to move west over the next several days. Conditions are conducive for gradual development, forecasters said. The categories, in order of increasing strength, are tropical depression, tropical storm and hurricane (categories 1 through 5). Systems are named when they develop into a tropical storm. The next available name is Julia.
Working our way down the probability. It is 1 October and we have not had anything, good. We are down the curve and every day is a smaller chance but…Don't count Mother Nature out. As we can see, another disturbance is forming and we will need to see where it goes. At this point there are many options.
Hurricane update for 30 September 2022