There still are two systems being watched, the first TS Karl heading to Mexico and a system forming off Africa.
Tropical Storm Karl on Friday was moving south in the Gulf of Mexico on a track toward Mexico's southern coastline. Meanwhile, another disturbance is brewing in the Atlantic.  Karl is forecast to make landfall overnight and does not pose a threat to Louisiana. The storm is expected to bring heavy rain and life-threatening rip currents to parts of Mexico. The other system is in the open Atlantic and does not pose an immediate threat to the Gulf Coast. Here's what we know from hurricane forecasters as of 10 a.m. Friday.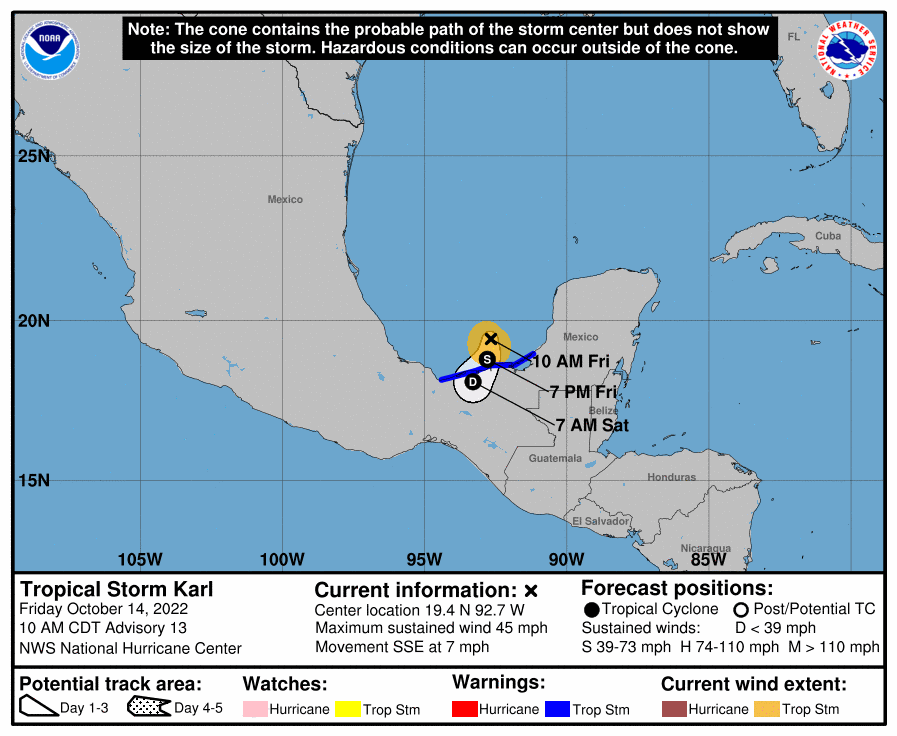 Tropical Storm Karl heads to Mexico
Tropical Storm Karl is expected to make landfall late Friday or early Saturday, forecasters said. Tropical storm conditions are expected to begin later in the day. As of 10 a.m., it was about 80 miles northwest of Ciudad del Carmen, Mexico, and 140 miles northeast of Coatzacoalcos, Mexico. It's moving southeast at 7 mph. It has winds of 45 mph, according to data from an Air Force Reserve Hurricane Hunter crew. Gradual weakening is expected after landfall and the system is forecast to dissipate over southern Mexico by Saturday night. It's expected to bring up to 10 inches of rain along with life-threatening rip currents to parts of Mexico.
Disturbance in Atlantic
Hurricane forecasters also are tracking a large area of disorganized showers and thunderstorms that is several hundred miles southwest of the Cabo Verde Islands. The system is expected to move west at 10 mph through early next week. For the next few days, environmental conditions appear marginally favorable for some slow development, meteorologists said. Conditions are expected to be more hostile for development early next week. The disturbance has a 20% chance of developing into a tropical depression within five days.
More of the same but the shaded area of the one off Africa seems to have shifted south so it might end up heading our way,
Hurricane update for 14 October 2022