It is hard to count the number of tires we see around especially since we pay more so they can be recycled.
In New Orleans East, more than 33,000 old tires piled into unsanctioned dumps. In central Louisiana, 100,000 waste tires caught fire, emitting an acrid plume of smoke for 11 days and forcing a prison to be evacuated. In Scott, tens of millions of pounds worth of chopped-up tires were stuffed underground — then caught fire, smoldering for more than four years straight and occasionally venting noxious gas into a nearby neighborhood. It's a problem that's supposed to have a solution. With a few exceptions, every tire that is bought in Louisiana comes with a fee: $2.25 per tire for passenger cars, $5 for medium trucks and $10 for off-road tires. The money goes to a state program that pays private businesses to recycle tires instead of just dumping them. Between 2014 and 2018, the state paid out almost $10 million per year, on average, and tens of millions pounds of waste tires have been recycled. But the huge, high-profile tire fires keep happening. And smaller tire piles keep cropping up all over the state, becoming eyesores for residents and mosquito breeding grounds that frustrate parish pest control departments. 

nola.com
Illegal tore dumping is a major problem.
So, despite Louisiana's recycling program, illegal tire dumping remains what Dr. Chuck Carr Brown, secretary of the state Department of Environmental Quality, described in February as "one of the top environmental issues in Louisiana." We were talking today, 'What is the incentive to continue to dump?'" said Commelita McKee, who chairs the New Orleans East Matters Coalition Task Force, a community group. "And for most people, it has to be money. It says to be that there are loopholes in the program that incentivize the dumping and I think that they may, they may need to look at just the entire structure of the program." In addition to the big New Orleans East dumps, city workers have removed an average of about 39,740 tires per year between 2018 and 2021. An additional 25,022 have been collected in the first eight months of this year, a spokesman said. State Rep. Beau Beaullieu, R-New Iberia, told the House Natural Resources and Environment Committee in April that sugar cane farmers in his rural district continue to deal with dumped tires — and the problems extend to Louisiana waterways and national parks. The city of Shreveport has collected 14,072 tires this year through Wednesday, city officials said. "It's an ongoing problem. It's not going away," said Mortimer Harris, Shreveport's assistant director of property standards. "And, me personally, I don't think the city of Shreveport is the only city having a problem."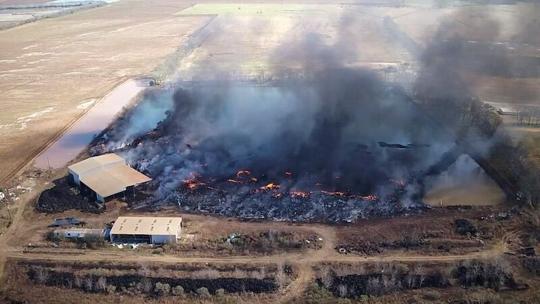 Shreveport received grant to take care of the excess tires.
Shreveport is one of four cities that received $42,000 DEQ grants earlier this year to attack tire dumping. It used the money for surveillance cameras and public information campaigns on tire recycling, Harris said. Baton Rouge, New Orleans and Monroe also got the grants. Brown, the DEQ secretary, has proposed new rules to expand the kinds of landfills that can receive shredded tires. Whole tires have been banned from landfills for years. In its last session, the Legislature passed Beaullieu's bill that doubled the fines for gross dumping of tires and also increased the fines for unregistered tire shops. "We have had a rash of issues over the years in our area," he said in April. As bad as the tire problem is now, it used to be worse.
At one point there were about 10 tires per person in the state.
When DEQ started the waste tire program in 1992, then-Secretary Paul Templet estimated hundreds of waste piles in the state contained 40 million tires — almost 10 trash tires for every person living in Louisiana at the time. By the late 1990s, the program paid for the collection of 9 million dumped tires at a cost of $12 million, DEQ officials said at the time. Today, Louisiana buys 5 to 5.5 million new and used tires a year, bringing in about $13 million for the Waste Tire Management Program. Agency officials say it works well — for what it is designed to do. The program's small staff track the fees and the movement of about 4.5 million waste tires each year from around 3,900 registered tire shops, car dealerships and other active tire "generators" to one of the four tire "processors" in Louisiana, DEQ officials said. The program does not track waste tires individually. They don't have serial numbers or other unique identifiers from manufacturers. Instead, the state uses paper manifests that track tires by the number sent monthly to the processors and then to approved recycling projects. These four recycling companies collect reimbursement payments from the DEQ tire fund when recycling projects are completed. The recyclers only get reimbursement for the number of tires they can back up with paper manifests, which are cross-checked by weight. Tires that fall outside this manifest system aren't eligible for reimbursement. "The program itself is definitely successful because we're recycling probably 90% plus of the tires that are sold every year. So, we can account for just about all of the tires that are on record," said Lewis "Dutch" Donlon, a senior environmental scientist in DEQ's Waste Permits Division who has overseen the waste tire program since 2017.
Obviously not all tires are on the record.
The problem, though, is with tires that are not on the record. DEQ officials can't say how many illegally dumped tires are out there, and Donlon said he views the illegal dumping as a separate issue from the recycling program. "Because we have no idea of the tires that are being dumped. Nobody's keeping track of the tires that are being dumped," he said. Donlon and other DEQ officials blamed the illegal dumping on unregistered, fly-by-night used tire shops and transporters that are outside the state system and aren't collecting the fees. Some of those used tire companies essentially work "off paper" and are very difficult to track with DEQ's existing staff, Donlon said. "We've got problems with used tire dealers. There's so many of them, you can't keep up with them inspection-wise," he said. "There's just no way. We've got almost 4,000 used tire dealers in the state of Louisiana. There's no way you can inspect all those guys."
And it is not just the tires!
Mosquito control officials in East Baton Rouge and Ascension parishes said they often go to used tire shops to kill mosquito larvae growing in sitting tires. The officials don't have state authority to enter the private businesses without permission, so they agree not to report shops with waste tire stockpiles that are larger than state limits or are otherwise out of compliance. Randy Vaeth, East Baton Rouge assistant director of mosquito control, said the city-parish had a record-breaking year in 2021 in which workers treated more than 100,000 tires, primarily at used tire shops. The total includes the same tire piles treated multiple times. "The used tire business is problematic for us because there's so many of them," he said. DEQ has five criminal investigators for all environmental crimes in Louisiana. Illegal tire dumping is just one of many for them. With so much ground to cover, DEQ relies on partnerships with local law enforcement to pursue tire dumping and is in mostly a reactive mode, said Keith Bates, a DEQ criminal investigator.
It is not easy to determine who is dumping the tires.
Bates said that investigations of tire dumping usually require lots of interviews and leg work analyzing the circumstances of the dumping — not the tires themselves — to figure out who may be behind it. He added that dumps of several thousand tires aren't from one person but a sign of chronic activity and often involve collaborations between transporters and people trying to get rid of tires. Bates recalled one of the rare cases in Washington Parish a few years ago where he and another investigator actually caught someone in the act. A fellow investigator had a hunch about when tires were being dumped and burned. Bates and the investigator decided to stake out the dump site in what Bates viewed as a long shot. But even when the dumper did arrive as predicted, Bates and his colleague still almost missed him before they could make an arrest. "He had this down to a science. He came down the road, dumped those tires and ignited the fire before we could get to him, you know. It was just that quick," Bates said.
Open roads also mean out of state tires can be dumped here.
Donlon also raised the specter of dumping from out of state. While others discounted this possibility as not economically viable — why transport tires to Louisiana to dump them, when they could just be dumped in their home state — Donlon suggested the indications are there. Many of the biggest illegal dumps, like those in New Orleans East, are near state lines. In 2003, then-DEQ Secretary Hal Bohlinger said out-of-state tires were showing up at processing plants and had drained the state waste tire fund. What's more common, Donlon and others suggested, are local shops buying shipments of used tires from out of state for resale in Louisiana but only a portion are good enough to sell. The rest are dumped.
Basically this is a supply and demand with too many tires for the demand.
Some industry observers and even DEQ officials acknowledge they are fighting fundamental economic forces: there is far more supply of waste tires than there are uses for recycled tires. DEQ officials say the processors can have a hard time finding recycling projects. Most often in recent years, these projects have involved putting shredded tire bits into the ground to offer bank or erosion stabilization or act as fill for waterside bulkheads. The Scott project was one of those recycling efforts aimed at shoring up a landfill embankment — before it caught fire. It's a national problem. Tire industry officials say waste tires are among the most fully recycled products in the marketplace, particularly compared to plastic products. Yet, even their estimated rate of recycling has fallen in recent years, dropping from a high of 94% in 2013 to 76% in 2019. The rate is expected to fall even further to 71% in 2021, according to the U.S. Tire Manufacturers Association. The DEQ tire program also has a troubled track record. At least four audits from the Louisiana Legislative Auditor's Office have highlighted flaws in the way the program had tracked fee and tire collection and whether the companies were actually recycling as many as they said they did. A top DEQ official over the financial side of the program was removed from his job in 2015 after one scathing audit.
Those doing the recycling are also a source of fault.
In 2015, DEQ sued one of its current recyclers, the Port Allen-based EIR Inc., over accusations it had delivered 46 million pounds of extra tire shreds to the Tangipahoa Parish landfill without advance authorization. The company maintained it did nothing wrong and had been underpaid by the state for years. DEQ and the company settled out of court in 2016. But, a more recent audit in 2019 found the program was getting a better handle on the tire generators, the fees they are supposed to remit and the tires being recycled.     Basem Aziz, owner of the Tire Discount shop on Plank Road in Baton Rouge since 2012, said he's never been audited by DEQ but pulled out a file cabinet drawer full of manifest documents for his waste tires in a recent interview. He said he's had guys approach him off the street to pick up and dump his waste tires for cut-rate prices but said it isn't worth the risk. Aziz said he rather do it the right way and stay in business "maybe the next 20 to 30 years."
Years ago I seem to remember where shredded tires were used for roads. There have to be more uses for them.
Tires are everywhere including on fire