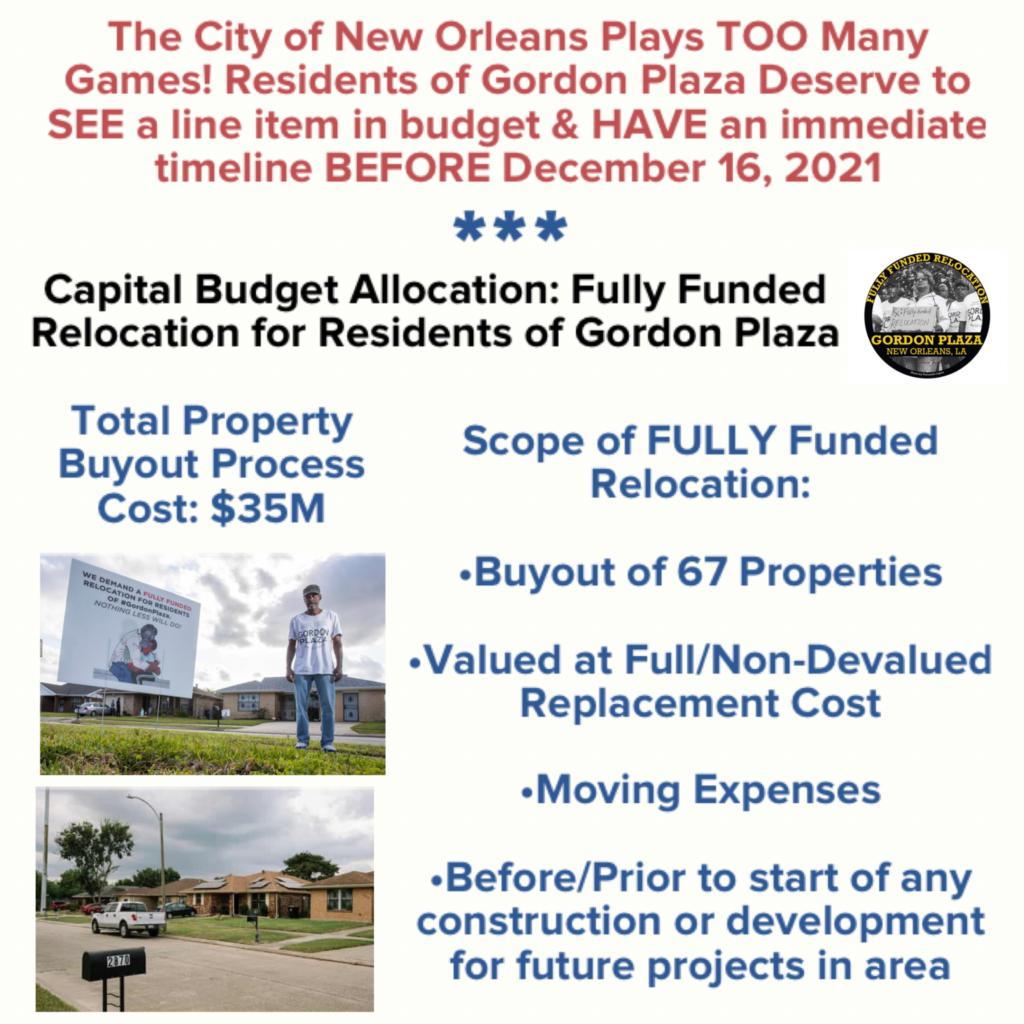 Gordon Plaza did not like what the first assessor produced to they are trying another.
Residents of Gordon Plaza, a New Orleans subdivision built atop a former city dump, will decide who will assess the worth of their homes as the city prepares to transform the site and buy out its residents, the City Council announced Wednesday. The city will also cover residents' moving costs through a partnership with a local nonprofit, council members said. It will also pay up to a year in rent for residents who have difficulty finding new homes.  The decisions, announced at a Wednesday meeting of a task force the council convened to address the relocation, come after residents spent weeks criticizing the firm the city initially hired to conduct appraisals in the Desire-area neighborhood, Thorns Consulting. They also come after legal issues dogged the council's earlier plan to cover residents' moving costs directly. City Council President Helena Moreno told residents Wednesday they could choose a new licensed appraiser to finish Thorns' job. The city will then extend buyout offers to residents based on the new assessments.

nola.com
Total Community Action is the payer for the moving companies chosen.
To help with residents' moves, the city will distribute funds to the nonprofit Total Community Action, which will then distribute that money to moving companies selected by residents, council Vice President JP Morrell said. The city will also distribute rent payments directly to landlords chosen by residents. Residents welcomed the announcement Wednesday but said it should have come sooner. "We just need to declare that each and every time we've been able to take a step forward, it's fallen back on something that the residents have already demanded months or a year in advance," said Angela Kinlaw, an organizer who spoke on residents' behalf.
There is a caveat to the new agreement though.
The council did not provide a timeline for residents to find an appraiser, though it is planning to send residents a document on Friday detailing what requirements a prospective appraiser would need, and how the city would enter a contract to pay for their services. The new relocation plan comes with a caveat for the area's homeowners: The city will not cover the costs of moving furniture from Gordon Plaza homes to temporary rental units, should residents decide to accept rent payments from the city, Morrell said. Instead, the city will only cover the cost of moving items to new homes that residents purchase. "I'm not envisioning people moving their entire furniture into a temporary location," Morrell said. "Your previous house is not being bought by a person who needs your furniture out immediately."
Gordon Plaza was built in the 1970's and was never a good location.
Gordon Plaza was built in the late '70s and marketed as affordable housing for low-income families. The neighborhood was built on top of the Agriculture Street landfill, operational from 1909 to 1957. The U.S. Environmental Protection Agency identified it as a toxic Superfund site in 1994. The council and Mayor LaToya Cantrell agreed in June to set aside $35 million in bond proceeds to fund a relocation. A portion of the site would be converted into a 5-megawatt solar farm under the plan. The next Gordon Plaza meeting is on Monday December 5 at 4 p.m.
The saga continues and the City Council is right in not paying for a move to a temporary site.
Gordon Plaza leaves the first assessor