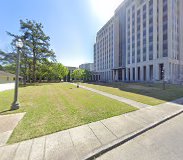 The Public Service Commission election ended in a runoff for the two top vote getters
The two candidates for the Public Service Commission district that represents New Orleans and parts of Baton Rouge sought to distance themselves from one another Wednesday in a testy debate ahead of the Dec. 10 runoff election. Commissioner Lambert Boissiere, who is facing a rare runoff for an incumbent, defended the commission's record, touting Louisiana's relatively low electric rates. He said the PSC is "moving in the right direction" with recent deals for renewables and competitive energy. But his challenger, Davante Lewis, hammered the PSC for not doing enough to hold Entergy and other utilities accountable. He also groused about a lack of investment in Louisiana's unreliable electric grid, which has been damaged by hurricanes, and noted that while rates are low compared to other states, monthly bills are high, something he attributed to "excessive fees" and high usage. Both candidates are Democrats. Boissiere finished with 43% of the vote in the Nov. 8 primary, and Lewis, who ran second, advanced to a runoff with 18%. The debate, hosted by WLAE-TV in New Orleans, aired Wednesday night and will air again Dec. 4 and 5.

nola.com
Pastor Manning came in third.
Earlier this week, Lewis touted his endorsement by the Rev. Gregory Manning, the other serious challenger in the primary, who finished just behind Lewis and ran on a similar platform. Boissiere responded by brandishing endorsements by the other two candidates, Willie Jones and Jesse Thompson. The pair managed to snare 22% of the vote between them, despite not raising any money. High electric bills – largely a result of high prices for natural gas, a key fuel for utilities in Louisiana – have raised the profile of the PSC race, usually a sleepy affair that garners little attention from voters and the media. The five-member commission regulates electric utilities, prison telephone rates, telecommunications, towing companies and more. Despite its relatively low profile, it has served as a stepping stone to higher office for several successful Louisiana politicians, including former Govs. Huey Long and Kathleen Blanco. And environmental advocates have taken much greater interest in the PSC of late, as the state seeks to meet carbon-emission goals and climate change increasingly exposes the electric grid as outdated.
The debate showed differences but both say they help consumers.
In Wednesday's debate, Lewis and Boissiere championed several similar policies, but Boissiere sought to convince voters he has already fought for things Lewis is pushing, including renewable energy, lower bills and energy efficiency programs. Boissiere also tried to take credit for Entergy CEO Leo Denault's recent retirement, suggesting it was the result of tough questioning at a PSC meeting. Lewis repeatedly hammered Boissiere on taking campaign contributions from regulated utilities, which is legal in Louisiana but has drawn scrutiny for years. "I'm not sure that grilling did much for him," Lewis said. "You can't grill them at the hearing then turn around and accept their campaign donations to fund your campaigns and go to hotels and eat meals." Boissiere accused Lewis of being a "puppet" of faraway interests that have spent hundreds of thousands of dollars on attack ads seeking to unseat Boissiere. The Keep the Lights on PAC, funded largely by the Environmental Defense Fund, has spent big on TV and digital ads hammering the incumbent. "He'll be a puppet of the millions of dollars being pumped into our state from out-of-state people in New York and California and everything else," Boissiere said.
Shutoffs and grid hardening were also topics discussed.
The two took different positions on electric shutoffs, city regulation of Entergy New Orleans and whether Louisiana should take grid-hardening steps similar to Florida, which has seen better results after recent hurricanes than Louisiana. Lewis said he would support the PSC preventing electric shutoffs for customers, and he noted the commission failed to implement a moratorium on disconnects during the summer months, when bills were high and weather was hot. The New Orleans City Council banned such shutoffs. He also said he supports the City Council retaining its authority to regulate Entergy New Orleans; the arrangement is unique, as most investor-owned utilities are regulated by state commissions. He also said Louisiana should take lessons from Florida, which spent billions improving its grid following the 2004 and 2005 hurricane seasons. Boissiere said while he doesn't like electric shutoffs, banning them would pass costs to other ratepayers. He also said while there are some reasons to allow locals to regulate, New Orleans would have lower bills if the PSC oversaw Entergy New Orleans. And he questioned whether Louisiana could afford to undergo the type of investment Florida made in its grid, saying rates there are higher. In 2021, monthly bills were slightly lower in Florida, largely because electric usage there was lower than in Louisiana, according to federal data. Florida's utilities got the lights back on significantly faster after Hurricane Ian than Louisiana did after Ida, something experts attributed to that state's decades-long investment in the grid.
Being a current member has it downside.
Boissiere fought back against claims that it's the PSC's fault that bills are high and the grid is balky. He said he has voted for several renewable deals and fought to lower rates, and attributed high bills to economic conditions outside the control of the PSC. He also noted he is one of only two Democrats on the five-member commission, saying that makes it difficult to pass some progressive policies. Lewis said the PSC has done little to scrutinize excessive fees charged by utilities. He also said the PSC needs to implement a renewable portfolio standard that would mandate certain amounts of renewable energy in order to meet climate targets set by Gov. John Bel Edwards' task force.
The PSC has the appearance of favoring industry but with this being a red state that is not unusual.
Public Service Commission runoff