There was a tornado message and while we did not get hit 4 localities were.
At least four tornadoes touched down in several Louisiana locations as storms swept across the state on Tuesday, including a 90-mph EF-1 twister that damaged three mobile homes in Ventress, sending three residents to a local hospital. Meteorologists with the Slidell office of the National Weather Service completed damage surveys on the two Tuesday night tornadoes in their Louisiana service area on Wednesday, including the Ventress twister in Pointe Coupee Parish, and a second 95-mph EF-1 tornado that briefly touched down in the Bayou Blue community in Lafourche Parish, causing minor damage.

Forecasters in the weather service's Lake Charles office had completed surveys on two earlier tornadoes in Calcasieu and Beauregard parishes by mid-afternoon on Wednesday, but had several more locations in Louisiana and southeast Texas to check for damage.

nola.com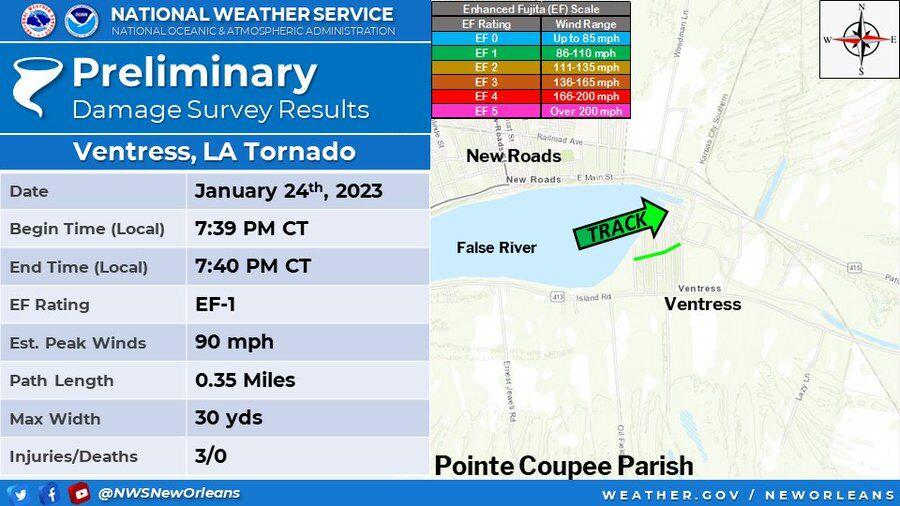 Ventress was hit.
The Ventress tornado touched down at 7:39 p.m. Tuesday near Cutt Pointe Drive, and moved along a 30-yard-wide path northeast across Morel Lane, where it rolled an abandoned mobile home that was not strapped down. A second mobile home, also not strapped down, was blown into a third, which was severely damaged. The funnel lifted at 7:40 p.m. as it approached Michael Lane. Three people at the mobile home site were transported to a local hospital and treated for minor to moderate injuries, according to a Facebook post by the Pointe Coupee Sheriff's Office.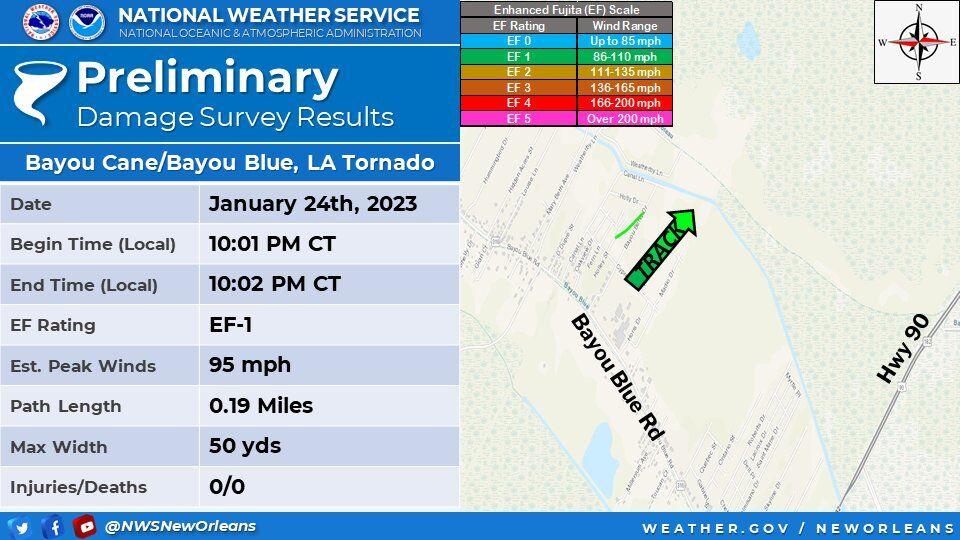 Bayou Blue was next hours later.
The Bayou Blue tornado first touched down at 10:01 p.m. Tuesday on Holley Street and moved quickly northeast, and was on the ground for only a minute. This twister flipped a recreational vehicle that was not tied down, and caused minor fence damage. A bit farther northeast, it tore part of a roof off a house and damaged a barn, shifting it off its foundation. Another house just to the north also was damaged, and there was evidence of debris that had been dragged and dug into the ground. No injuries were reported with that storm.
The third and forth ones had no picture.
A 122-mph EF-2 tornado touched down at 5:05 p.m. Tuesday in a rural part of Calcasieu Parish about 8 miles southeast of DeQuincy and then cut a 300-yard-wide path through a wooded area into Beauregard Parish before reaching the community of Gaytine. Significant damage to several homes in that area was reported by the survey. No injuries were reported. A fourth tornado touched down a 5:12 p.m. Tuesday about four miles south southwest of the town of Ragley in Beauregard Parish. This twister had estimated top winds of 93 mph and a maximum width of 75 yards as it moved from near Jackson Gimnick Loop to Highway 190. Forecasters reported damage to several barns and outbuildings, and no injuries.
Fortunately we dodged this visit.
Louisiana was hit by 4 tornadoes