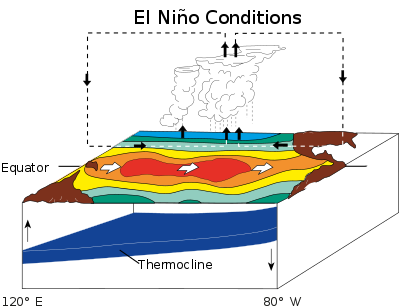 We are in a transition season with El Nino the resut.
The weather pattern known as El Nino is on its way back, likely bringing with it a wetter second half of the year in Louisiana and, possibly, a reduced risk of hurricanes. El Nino and its sister La Nina are part of the El Nino-Southern Oscillation cycle, a set of conditions over the Pacific Ocean that affects weather patterns across the world. In Louisiana, the biggest effects involve hurricane season in the Atlantic Ocean. The National Oceanic and Atmospheric Association's Climate Prediction Center announced March 9 that La Nina, which usually causes more hurricanes to form in the Atlantic, was officially over after remaining in place for around three years — an unusually long period. That timeframe included severe hurricanes in Louisiana, including Laura in 2020 and Ida in 2021, both Category 4 storms. "La Nina has finally ended after being in place nearly continuously for more than two years," said Jon Gottschalck, chief of the operational prediction branch at the CPC. "ENSO-neutral – the transition period between El Nino and La Nina – is likely to continue into the early summer with elevated chances of El Nino developing thereafter." During ENSO-neutral conditions, the weather acts as it normally would without being influenced by the ENSO. Neutral conditions usually don't last for more than a few months.

nola.com
We are expected to in this transition season for the next few months.
The CPC expects conditions to be ENSO-neutral for at least a few more months, though forecasters say they can't be certain when El Nino will start. This is mostly because, during the spring, the CPC's tools for predicting ENSO conditions are much less accurate. However, models show the likelihood for El Nino development spiking up around summertime. In early summer, there's a 35% chance for El Nino to develop, which steadily increases until the chance for development levels off around 60% in late summer, from June to August. If El Nino does come by the time fall rolls around, Louisiana can expect a cooler, wetter second half of the year. During El Nino, the Pacific Jet Stream lies over Louisiana, pushing more weather systems and more rain through. This also causes more wind shear in the Atlantic Ocean, which breaks up weaker tropical storms before they can gain power. When El Nino does arrive, CPC Meteorologist Michelle L'Hereux said its effects won't be felt immediately. "El Nino (and its inverse, La Nina) tend to have the strongest influence on the Northern Hemisphere winter and early spring months," wrote L'Hereaux in a response. "The fact that El Nino may form in the late summer or fall means there will be some lag before the highest probability impacts may be felt."
There will be little effect on the hurricane season from the normal.
So, if El Nino does come by late summer, that only leaves about three months for conditions to develop enough to impact this year's hurricane season. In the short term, the CPC predicts that the next three months, April through June, will have above-average temperatures. Averages temperatures for those months in the New Orleans area are 70 degrees for April, 77 for May and 82 for June. In a spring outlook briefing, NOAA also predicts that most of Louisiana is at risk of minor flooding through May. The upper Mississippi River will swell due to snowmelt and increased rainfall. Within the state, the New Orleans area on the south shore of Lake Pontchartrain is the only area currently not at-risk of flooding this spring.
A Louisiana specific look at El Nino.
El Nino is coming back with what impact