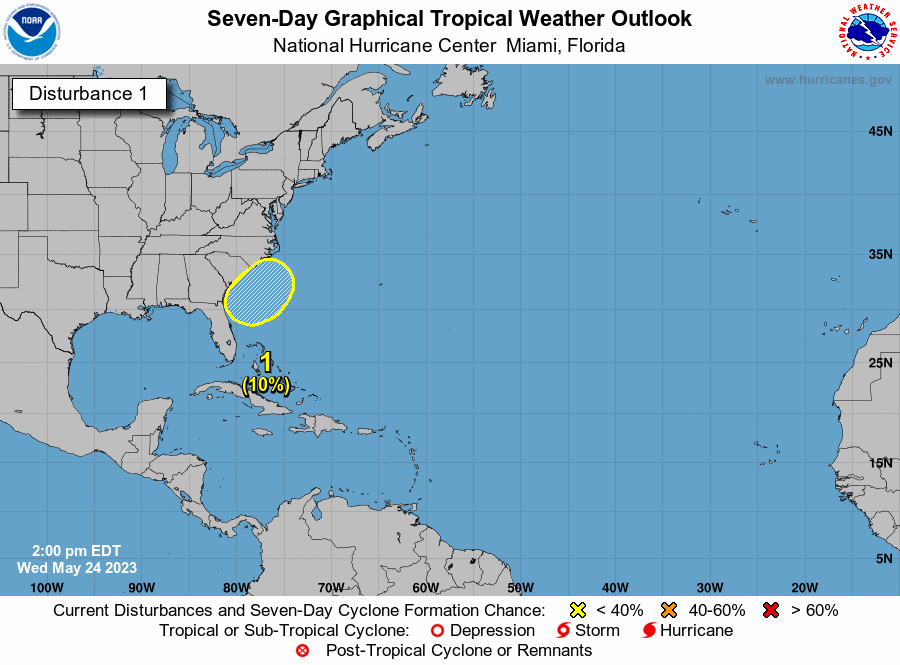 The tropical disturbance is coming ashore.
One week before hurricane season begins, chances for an early tropical cyclone remain low. However, a low-pressure system that was near the Bahamas Monday is now approaching the east coast. The system is expected to move over land this weekend, according to the National Hurricane Center. As of 1 p.m., chances for the low-pressure system to become a tropical cyclone are as low as 10% over the next seven days. The shaded area of the above graphic is used to represent where the system may form. It's not a track and does not predict its path. The NHC only produces tracks for named storms. Hurricane season starts on June 1. However, the first cyclone developed in January, a low-pressure system that the NHC determined became a subtropical cyclone. Subtropical storms do not have the ability to quickly develop into hurricanes, unlike tropical ones, according to the National Weather Service. Forecasters say the current system is likely to reach the coast of South Carolina by Friday and would move mostly to the north, passing over the Carolinas this weekend. An early forecast of hurricane season from Colorado State University predicts there will be slightly fewer named storms than average, at about 13, with 6 hurricanes and 2 major hurricanes. This forecast takes into consideration the likely development of El Nino conditions later into the season, which usually causes fewer hurricanes to form. The first named storm will be Arlene. Subsequent storm names are Bret, Cindy and Don. The full list can be found here.
Not much but a start.
Tropical disturbance to come ashore