All agreed and the plan was approved.
The Louisiana House of Representatives unanimously approved the state's updated coastal master plan on Thursday, paving the way for $50 billion worth of wetland restoration and storm protection projects over the next 50 years. The Senate backed the plan early this month. Both chambers also approved the $1.6 billion annual coastal plan. The 2024 plan is about $27 million more than this year's plan, and includes several dredging projects aimed at rebuilding 22 square miles of land. "Today marks a monumental day for coastal Louisiana," Gov. John Bel Edwards said. "I applaud our state lawmakers for their continued bipartisan support for our coastal program and efforts to preserve our irreplaceable coast."

nola.com
Ambitions and expensive but needed.
The master plan, which has now been updated four times since 2007, is ambitious and expensive, but failing to carry it out would cost Louisiana much more, officials with the state Coastal Protection and Restoration Authority said. The CPRA estimates that the plan's projects will reduce annual storm surge damage by about $11 billion per year by 2073. "All Louisianans should take comfort in the fact that implementing the projects identified in the plan over a 50-year period could reduce risk from tropical storms and hurricanes to coastal communities to less than what the current risk level is today," CPRA Chairman Chip Kline said. Rep. Jerome "Zee" Zeringue, R-Houma, said the plan is unlike anything in the country. "The fact is no other state has anything close," he said. "No other state is going to the lengths we're doing to protect our coast."
The plan has many projects.
The plan's most expensive project is Morganza to the Gulf, a $3.9 billion levee system that will protect the Houma area from storm surges and high-tide flooding. The nearly 100-mile-long project will offer protection for about 150,000 people in Terrebonne and Lafourche parishes. The plan also calls for a $2.4 billion barrier protecting Lake Pontchartrain from storm surge, and nearly $4 billion for levees around Jean Lafitte and across parts of Iberia, St. Mary, St. James and Ascension parishes. The $1.4 billion Jean Lafitte levee would raise the town's existing 7.5-foot-high ring levee to 16 feet. The $1.7 billion Iberia-St. Mary Upland Levee would protect about 30 miles of coast. CPRA has it scheduled for completion by 2045. The new levee for St. James and Ascension would cost about $730 million and protect a 40-mile-long area from storm surge and flooding threats. It would likely be built after 2040. The plan calls for $16 billion worth of marsh restoration projects, including about $3 billion for wetland ridges in the Barataria and Lafourche basins. Marshes and ridges serve as buffers against storms, reducing their impact on coastal and inland communities.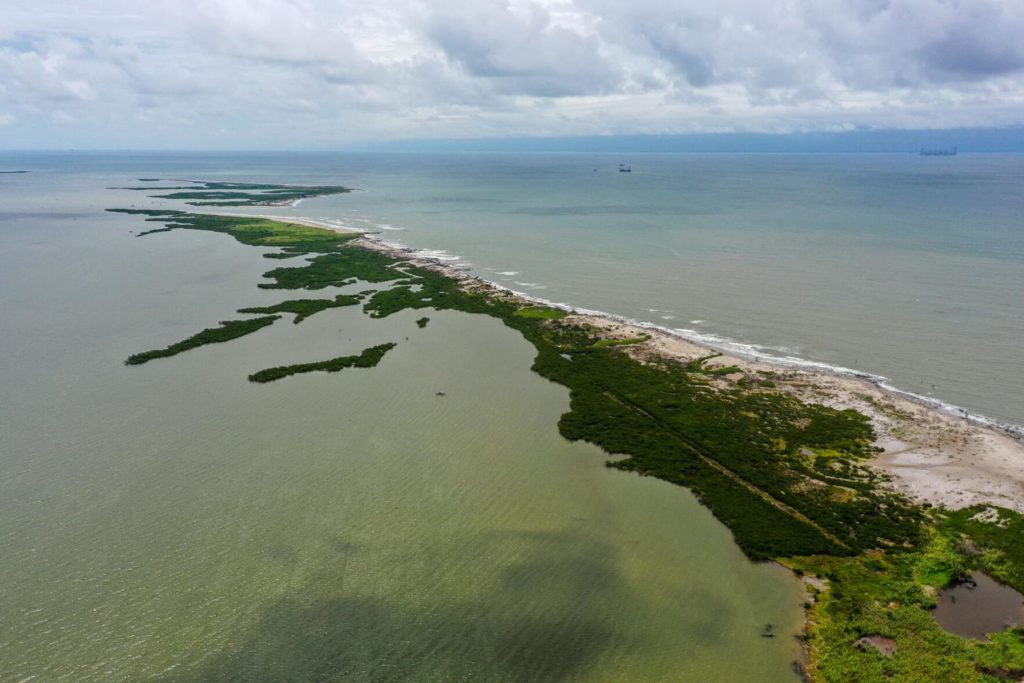 The plan allocates no money, only providing estimates.
The plan estimates costs but doesn't actually approve any money. CPRA project funding has long depended on the $10 billion from settlements with BP over the 2010 Deepwater Horizon oil disaster. Those funds are expected to run out in less than 10 years. CPRA leaders hope to get a larger share of offshore oil revenue under the federal Gulf of Mexico Energy Security Act, which gives the state and coastal parishes 37.5% of offshore revenue from oil and gas production in federal waters. Failing to carry out the plan's projects could cost the state about 1,100 square miles of land – an area more than half the size of Rhode Island – over the next 50 years, according to the CPRA. The annual plan, which is required by the Legislature to be updated annually, details projects that will be undertaken over the next three years. It outlines 21 dredging projects that will use 77 million cubic yards of sediment, much of it pulled from the Mississippi River. The CPRA estimates the annual plan will support about 9,000 jobs. "Having a plan in place will allow CPRA to maintain their current momentum in the battle against land loss," said Sen. Bob Hensgens, R-Abbeville. "With the approval of these plans, we have a scientifically-sound strategy for combating the challenges we face in our coastal communities."
Now for funding and construction.
50-year coastal master plan approved