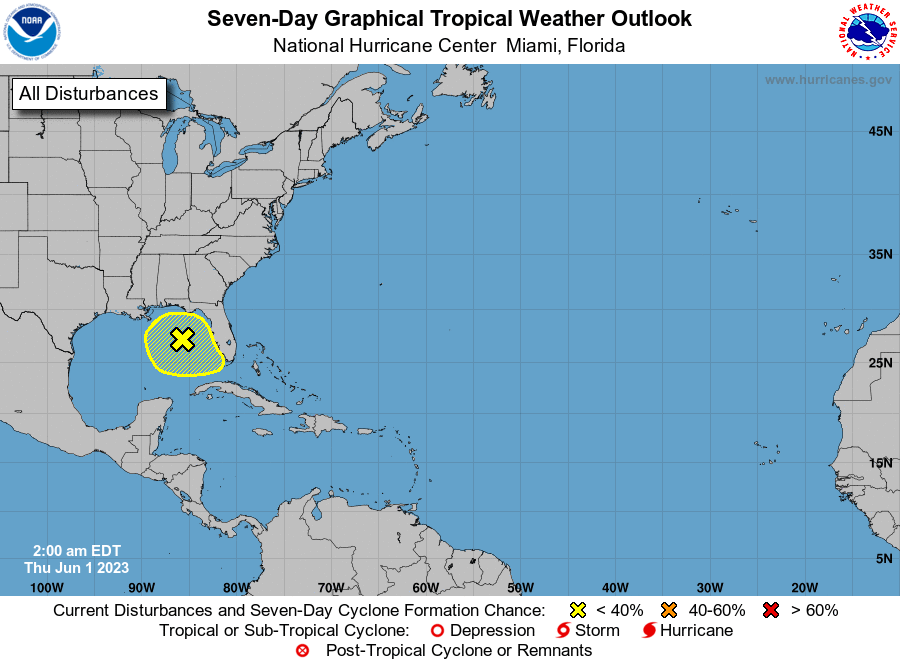 The hurricane season officially opens today with a stalled undefined system in the Gulf.
Tropical Weather Outlook
NWS National Hurricane Center Miami FL
200 AM EDT Thu Jun 1 2023

For the North Atlantic...Caribbean Sea and the Gulf of Mexico:

1. Northeastern Gulf of Mexico (AL91):
Showers and thunderstorms associated with a low pressure area over 
the northeastern Gulf of Mexico have become a little more 
concentrated during the past several hours. Environmental 
conditions appear marginally favorable for some slow development 
over the next day or so as the system meanders over the northeastern 
or eastern Gulf of Mexico. However, by this weekend environmental 
conditions are forecast to become unfavorable for additional 
development as the system drifts southeastward towards the Florida 
Peninsula. Regardless of development, the system could produce heavy 
rainfall and gusty winds over portions of the Florida Peninsula 
through this weekend. An Air Force Reserve Hurricane Hunter aircraft 
is scheduled to investigate the system on later today, if 
necessary. Additional information on the rainfall and flooding 
potential can be found in products issued by your local National 
Weather Service forecast office and Excessive Rainfall Outlooks 
issued by the Weather Prediction Center.
* Formation chance through 48 hours...low...20 percent.
* Formation chance through 7 days...low...20 percent.

Today marks the first day of the Atlantic hurricane season, which 
will run until November 30. The long-term averages for the number of 
named storms, hurricanes, and major hurricanes are 14, 7, and 3, 
respectively.

The list of names for 2023 is as follows:

Name         Pronunciation       Name         Pronunciation
--------------------------------------------------------------------
--
Arlene        ar-LEEN            Lee          lee 
Bret          bret               Margot       MAR-go
Cindy         SIN-dee            Nigel        NY-juhl     
Don           dahn               Ophelia      o-FEEL-ya  
Emily         EH-mih-lee         Philippe     fee-LEEP 
Franklin      FRANK-lin          Rina         REE-nuh
Gert          gert	         Sean         shawn
Harold        HAIR-uld           Tammy        TAM-ee
Idalia        ee-DAL-ya          Vince        vinss
Jose          ho-Zay             Whitney      WHIT-nee
Katia         KAH-tya

This product, the Tropical Weather Outlook, briefly describes 
significant areas of disturbed weather and their potential for 
tropical cyclone formation during the next seven days.  The issuance 
times of this product are 2 AM, 8 AM, 2 PM, and 8 PM EDT.  After the 
change to standard time in November, the issuance times are 1 AM, 7 
AM, 1 PM, and 7 PM EST.

A Special Tropical Weather Outlook will be issued to provide 
updates, as necessary, in between the regularly scheduled issuances 
of the Tropical Weather Outlook.  Special Tropical Weather Outlooks 
will be issued under the same WMO and AWIPS headers as the regular 
Tropical Weather Outlooks.

A standard package of products, consisting of the tropical cyclone 
public advisory, the forecast/advisory, the cyclone discussion, and 
a wind speed probability product, is issued every six hours for all 
ongoing tropical cyclones.  In addition, a special advisory package 
may be issued at any time to advise of significant unexpected 
changes or to modify watches or warnings.

NHC has the option to issue advisories, watches, and warnings for 
disturbances that are not yet a tropical cyclone, but which pose the 
threat of bringing tropical storm or hurricane conditions to 
land areas within 48 hours.  For these land-threatening "potential 
tropical cyclones", NHC will issue the full suite of advisory and 
watch/warning products.  Potential tropical cyclones share the 
naming conventions currently in place for tropical depressions, 
being numbered from a single list (e.g., "One", "Two", "Three", 
etc.). 

The Tropical Cyclone Update is a brief statement to inform of 
significant changes in a tropical cyclone, to post or cancel watches 
or warnings, or to provide hourly position updates between 
intermediate advisories when the storm center is easily followed by 
radar.  It is used in lieu of or to precede the issuance of a 
special advisory package.  Tropical Cyclone Updates, which can be 
issued at any time, can be found under WMO header WTNT61-65 KNHC, 
and under AWIPS header MIATCUAT1-5.

All NHC text and graphical products are available on the web at 
https://www.hurricanes.gov. More information on NHC text and 
graphical products can be found at 
https://www.nhc.noaa.gov/pdf/NHC_Product_Description.pdf. New and 
updated products for the 2023 season can be found at 
https://www.nhc.noaa.gov/pdf/NHC_New_Products_Updates_2023.pdf.

You can also interact with NHC on Facebook at 
https://www.facebook.com/NWSNHC. Notifications are available via 
Twitter when select National Hurricane Center products are issued.  
Information about our Atlantic Twitter feed (@NHC_Atlantic) is 
available at https://www.hurricanes.gov/twitter.php.

Get water and non perishable food if you stay and leave early if you are leaving town.
Hurricane Season 2023 officially open – 01 June 2023