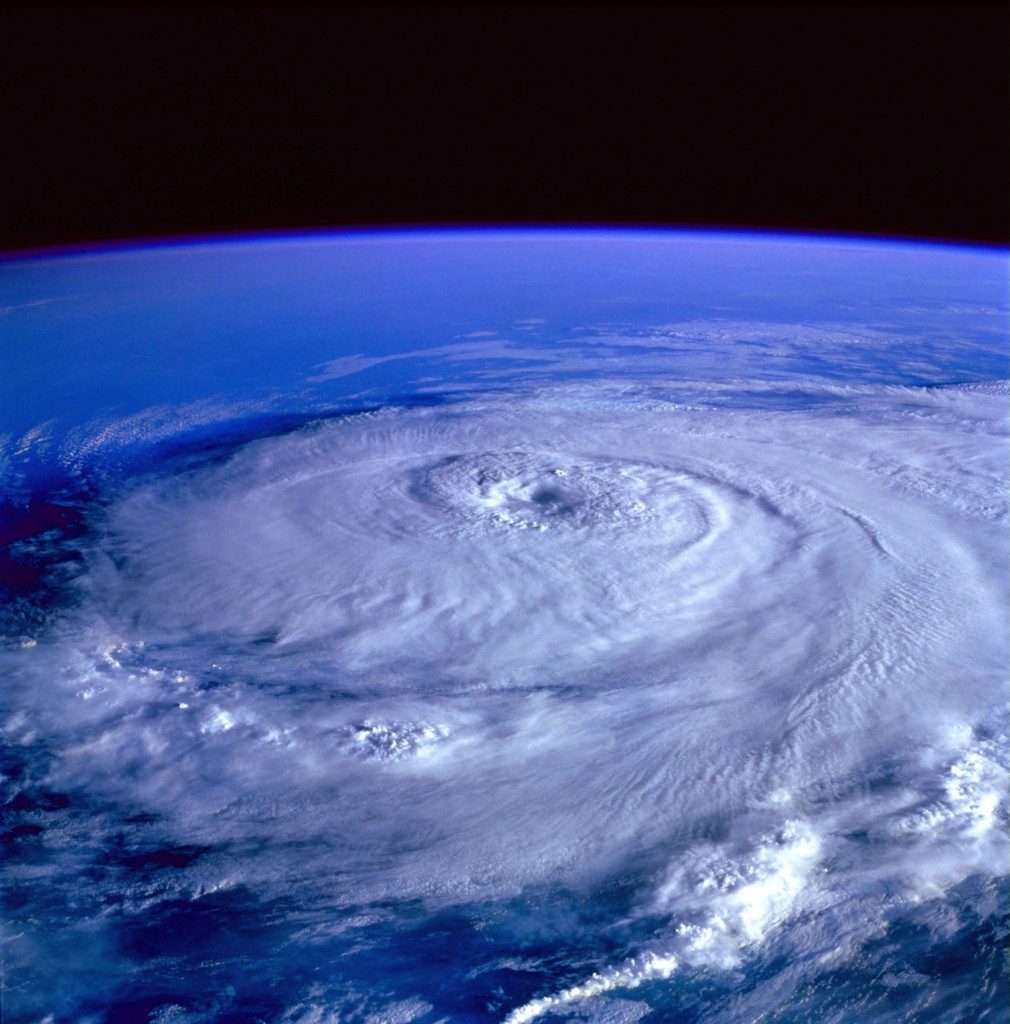 As Ida moves closer to landfall the winds are approaching a Category 5 and growing. As the TV news is saying, stay home and stay in.
Hurricane Ida is almost at Category 5 strength as it approaches Louisiana on the 16th anniversary of Hurricane Katrina. Hurricane Ida now has winds of 150 mph and additional strengthening is expected, forecasters with the National Hurricane Center said in the 9 a.m. update. Category 5 storms have winds of 157 mph or greater. The northern eyewall of Ida was approaching the coast as of 9 a.m. Ida is forecast to have winds around 155 mph when it makes landfall later Sunday on Louisiana's coast.

nola.com
Louisiana is in trouble now with the storm but communities are doing what they can to help.
Shelters have opened in New Orleans (list) and Baton Rouge (list), along with at least three others statewide. Hurricane-force-winds have begun to reach Louisiana's coast Sunday morning and will spread north. As of 9 a.m., a weather station in Southwest Pass reported sustained wind of 102 mph and a gust of 1116 mph. In addition to catastrophic winds, Hurricane Ida is expected to bring life-threatening storm surge up to 16 feet in some places. Up to 24 inches of rain are also possible, forecasters said. Live radar for New Orleans. Live radar for Baton Rouge. Live radar for Lafayette. Louisiana residents in the path of the storm should shelter in place immediately, officials said at 9 a.m. You should go to a "shelter in a shelter" – a small closet or bathroom with no windows and preferably no outside walls. Prepare to hunker down for the next 24 hours, they said. "Conditions will be worsening throughout the day as Ida makes landfall," the National Weather Service in Slidell said. "DO NOT, we repeat, DO NOT, go outside during this time! Stay in place."
No outside walls are hard in some houses especially single ones. Our only areas with no outside walls are the closets. As the winds grow that may become a problem.
Parts of southeast Louisiana are under an extreme wind warning, with winds of 150 mph possible. Parts of southeast Louisiana, Mississippi, Alabama and Florida also are under a tornado watch until 7 p.m. More watches and warnings related to Hurricane Ida are in effect for Louisiana, Mississippi and Alabama.
Ida is now within 40 miles of Grand Isle.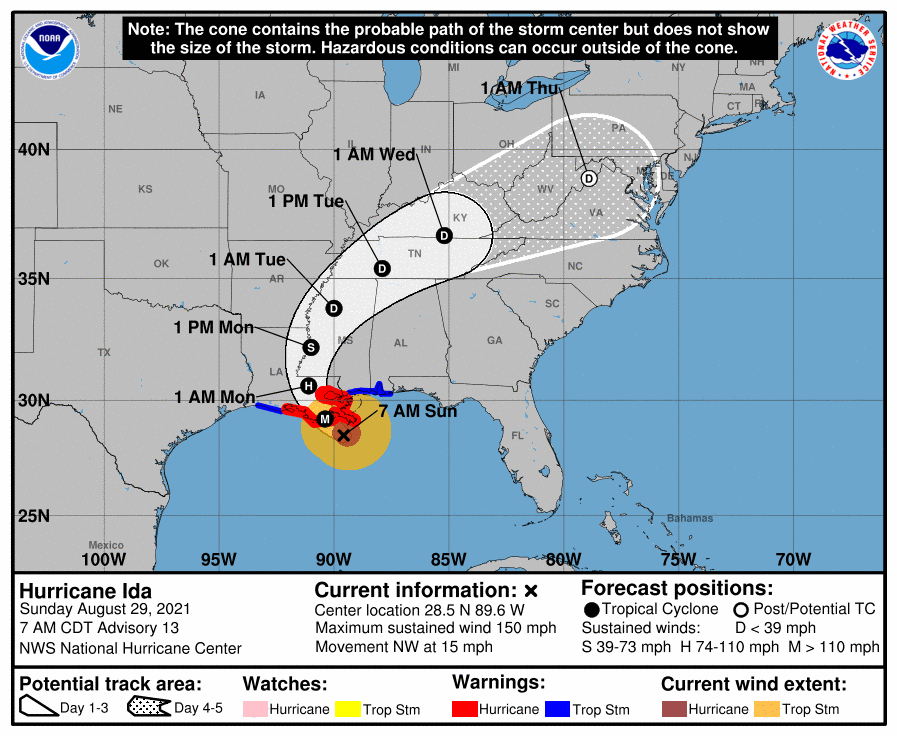 As of 9 a.m., Hurricane Ida was about 40 miles southeast of Grand Island and about 90 miles southeast of New Orleans. It's moving northwest at 14 mph. On the forecast track, the center of Ida will continue moving across the Gulf of Mexico on Sunday morning and will make landfall along the coast of southeastern Louisiana within the hurricane warning area Sunday afternoon or evening. After landfall, Hurricane Ida is then forecast to move inland over portions of Louisiana and western Mississippi on Monday and Monday night. Rapid weakening is expected after landfall.
More devastation than the wind, the projected storm surge is worse.
Forecasters increased the storm surge estimates for Hurricane Ida. Now, they said, the storm could push up to 16 feet of storm surge from Port Fourchon to the mouth of the Mississippi River. "Life-threatening storm surge, potentially catastrophic wind damage and flooding rainfall" will start Sunday morning on the Gulf Coast, forecasters warned. Hurricane Ida is expected to bring up to 24 inches of rain to parts of southeast Louisiana and push a storm surge of 16 feet in some places. Here's a look at the current forecast from the National Hurricane Center.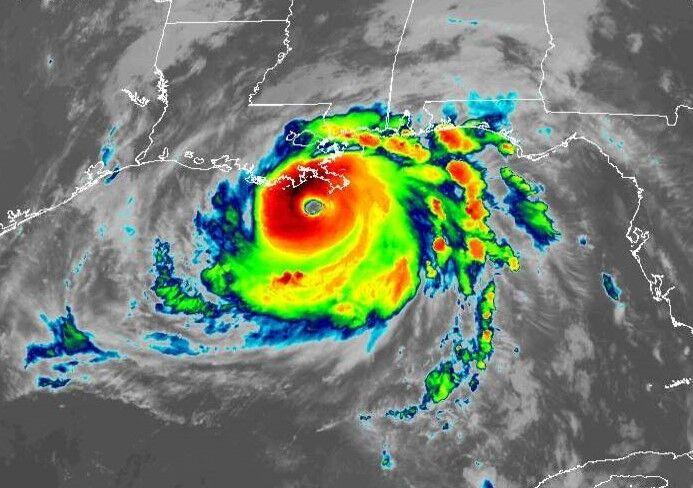 And the surge projections.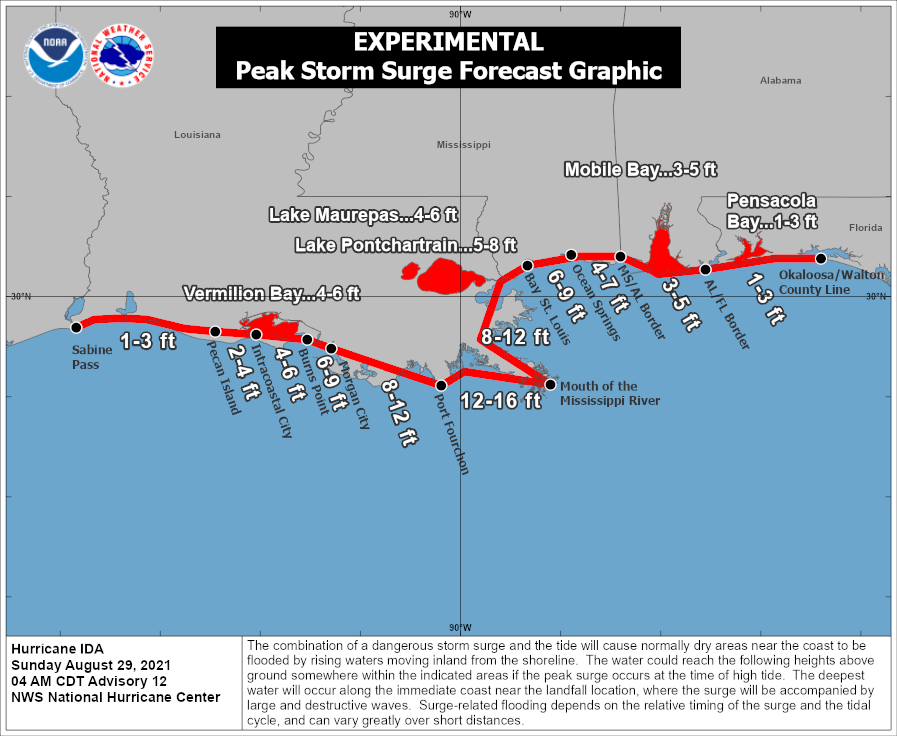 The surge will effect area normally dry.
The combination of a dangerous storm surge and the tide will cause normally dry areas near the coast to be flooded by rising waters moving inland from the shoreline, forecasters said. The deepest water will occur along the immediate coast near and to the east of the landfall location, where the surge will be accompanied by large and dangerous waves. The water could reach the following heights above ground somewhere in the indicated areas if the peak surge occurs at the time of high tide: Port Fourchon, Louisiana, to mouth of the Mississippi River: 12-16 feet, Morgan City, Louisiana, to Port Fourchon: 8-12 feet, mouth of the Mississippi River to Bay St. Louis, Miss., including Lake Borgne: 8-12 feet, Burns Point, Louisiana, to Morgan City, Louisiana: 6-9 feet, Bay St. Louis to Ocean Springs, Miss.: 6-9 feet, Lake Pontchartrain: 5-8 feet, Ocean Springs to MS/AL border: 4-7 feet, Intracoastal City, Louisiana, to Burns Point, including Vermilion Bay: 4-6 feet, Pecan Island, Louisiana, to Intracoastal City: 2-4 feet, MS/AL border to AL/FL border including Mobile Bay: 3-5 feet, Sabine Pass to Pecan Island: 1-3 feet and AL/FL border to Okaloosa/Walton County Line including Pensacola Bay: 1-3 feet.
The rain will be hard as well as the storm, in the warm water, has picked up a lot of moisture.
Up to 24 inches of rain could fall through Monday in southeast Louisiana and south Alabama, forecasters said. The heavy rainfall is likely to result in considerable flash, urban, small stream and riverine flooding, forecasters said. Heavy rainfall from Ida will begin to impact the southeast Louisiana coast Sunday morning, spreading northeast into the Lower Mississippi Valley later Monday into Monday. Total rainfall accumulations of 10 to 18 inches with isolated maximum amounts of 24 inches are possible across southeast Louisiana into far southern Mississippi through Monday. Ida is forecast to turn to the northeast early Monday and track across the Middle Tennessee Valley and Ohio Valley through Wednesday, producing the following rainfall totals: coastal Alabama to the far western Florida panhandle: 5 to 10 inches with isolated maximum amounts of 15 inches, today through Tuesday morning, central Mississippi: 4 to 8 inches with isolated maximum amounts of 12 inches, tonight through Monday night and middle Tennessee Valley to the Ohio Valley: 3 to 6 inches with isolated higher amounts, Tuesday into Wednesday.
Storm watches and warnings are up for most of the northern Gulf.
A storm surge warning is in effect for: east of Rockefeller Wildlife Refuge, Louisiana, to the Alabama/Florida border and Vermilion Bay, Lake Borgne, Lake Pontchartrain, Lake Maurepas and Mobile Bay. A hurricane warning is in effect for: Intracoastal City, Louisiana, to the Mouth of the Pearl River and Lake Pontchartrain, Lake Maurepas and metropolitan New Orleans. A tropical storm warning is in effect for: Cameron, Louisiana, to west of Intracoastal City, Louisiana and mouth of the Pearl River to the Alabama/Florida border.
Right now the storm has landed and we are seeing increasing wind and steady rain.
Ida almost a Category 5 storm