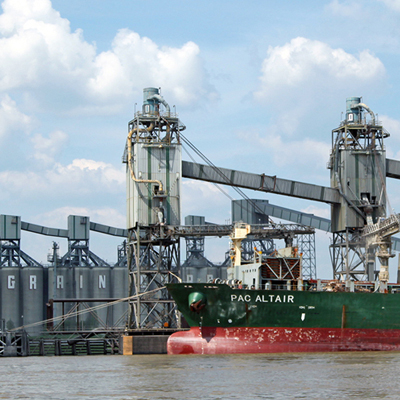 Green ammonia? Or a plant making it by green means? But it will be near us.
A Canadian clean energy company is exploring the idea of building a renewable hydrogen and ammonia production facility at the Port of South Louisiana. AmmPower has signed a letter of intent with the port to study the feasibility of such a facility, the Vancouver-based company said in a news release. AmmPower estimated the green ammonia facility would take about 39 months and $1 billion to build, but those figures are still up in the air. The company and the port will flesh out the economics and logistics of the production plant before committing to any specific costs or locations. The Port of South Louisiana and AmmPower will identify potential sites for the project. The port's existing facilities are stretched out along 54 miles of the Mississippi River's banks from Reserve to Hahnville. AmmPower has already hired a procurement construction company to complete a feasibility report. The name of that company was not disclosed. Should it come to pass, the facility will produce, store and distribute green ammonia for use as a carbon-free fuel and a carrier of hydrogen. It would fuel about 4,500 vessels at the port each year.

theadvocate.com
Green technology. No transportation. Can the vessels engines handle hydrogen our will they have to be replaced? Is this to stymie opposition?
Ammonia is a hazardous chemical used to make fertilizers and fuels, among other products. AmmPower touted green ammonia as an "ideal fuel for carbon free shipping" and a carrier for moving green hydrogen over long distances. Green hydrogen, meanwhile, is hydrogen fuel created using renewable energy instead of fossil fuels. AmmPower called the project "one of the first renewable energy project(s) of this scale, as one of the largest working ports in the world." "Having been involved in a number of large port construction and infrastructure projects over the past 40 years, I can truly say this is a remarkable moment," Maarten Mobach, president of AmmPower Maritime, said in a statement. "The pivotal shift to green energy is an important one, and I am very excited to be working with the Port of South Louisiana. We hope this will be the first of many AmmPower projects in the maritime industry that will help transition towards green energy."
Does that mean that any transported to other sites will be by ship and not a pipeline?
The Port of South Louisiana bills itself as one of the largest tonnage ports in the Western Hemisphere. It services more than $57 billion worth of exports and $18 billion of imports annually.
Interesting and we ill hear more. At first blush it looks promising but no word on how many emissions will come. As said yesterday we are trying to cut them but keep putting more industry online.
Port of South Louisiana may get a green ammonia plant