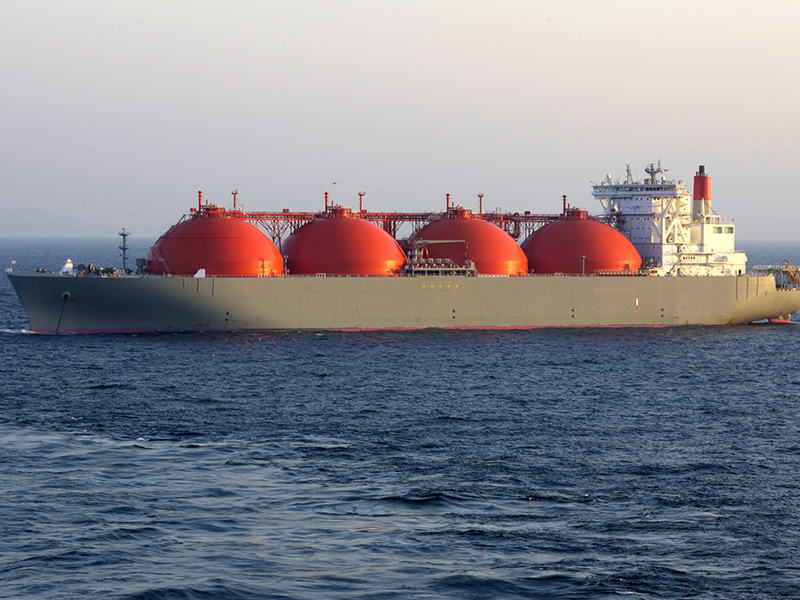 Europe is cutting their LNG from Russia but still needs the fuel. President Biden says the US will make up part of the loss. How much extra work will Louisiana get? Not much.
As the Biden administration attempts to ramp up the United States' liquefied natural gas exports to Europe amid Russia's war with Ukraine, Louisiana oil and gas authorities on Friday repeated a familiar refrain: Don't expect the state's export totals to shoot through the roof anytime soon. Lengthy construction timelines, maxed-out capacities, regulatory pressures and opposition from environmental advocates could all prevent a short-term gain for Louisiana. President Joe Biden and European Commission President Ursula von der Leyen on Friday announced a joint effort to reduce Europe's dependency on Russian fossil fuels. The moves are designed to weaken Russia's economy as punishment for bombarding Ukraine. After being reluctant to sanction Russian oil and natural gas due to rising gas prices and limited oil supply, Biden has gradually targeted them recent weeks. Earlier this month, Biden announced the U.S. would no longer import oil from Russia. The White House said Friday the U.S. will "work with international partners" to boost LNG supply for the European market by at least 15 billion cubic meters in 2022 with an eye toward 50 billion cubic meters by 2030. The U.S. and Europe also intend to reduce the greenhouse gas intensity of any new LNG infrastructure by reducing methane leakage, enhancing Europe's ability to safely handle the imports, and finding clean energy sources to both power LNG facilities and reduce global use of natural gas.

theadvocate.com
Those who support oil and gas are happy but realize the constraints.
U.S. Rep. Garret Graves, R-Baton Rouge, called Biden's LNG move — along with the Department of Energy's decision to approve increased capacity at a pair of LNG facilities, including Sabine Pass in Cameron Parish — "another step in the right direction." However, he said the Department of Energy needs to do more. "Until they clear the backlogged export terminal permits and allow new LNG facility construction, our ability to replace dirtier Russian gas is constrained," Graves said in a statement. "It's good to see that the pressure put on the Biden Administration is working, but the only real, long-term solution moving forward is to permit new LNG terminal construction and utilize domestic energy production so we can provide our allies with reliable and secure energy." The totals proposed by the White House and the European Commission aren't nearly enough to make a dent in the global LNG stockpile, said David Dismukes, executive director of LSU's Center for Energy Studies. He noted a standard tanker can transport 3 billion cubic meters of LNG in a day.
Part of the problem is that long term contracts are the industry norm. Also Louisiana ports are maxed out.
Dismukes added that most European purchasers of natural gas would rather sign long-term contracts — a norm in the LNG industry — than make spot purchases here and there. "While this may sound great, there's this backdrop of all these anchors around the neck of industry that have to be taken off as well to get more drill bits in the ground," Dismukes said. Of the United States' six LNG export terminals, Sabine Pass in Cameron Parish easily had the greatest export output in 2021 at more than 1.24 trillion cubic feet, or more than one-third of all exports, according to U.S. Energy Information Administration data. Cameron LNG, located in Hackberry, was fourth at more than 602 billion cubic feet. Mike Moncla, president of the Louisiana Oil and Gas Association, said Louisiana's LNG terminals are at "100% maximum capacity" at the moment. Any efforts to steer more of the existing LNG to Europe would take away supply from Asian markets, Moncla said. About 70% of U.S. LNG goes to Europe, 20% to Asia and 10% to other nations. Moncla said the key is to get federal approval on permits for the new terminals waiting in the wings. "We can increase (the supply) as plants come in, but it takes a while for these plants to be permitted, approved," Moncla said.
New terminals are on the way but it takes time to permit and build them.
To be clear, more terminals are on the way. Venture Global plans to build four in Louisiana, Tellurian Inc. will build Driftwood LNG in Calcasieu Parish, and Dallas-based Energy Transfer LP plans to convert its Lake Charles LNG import facility into an export facility. Commonwealth LNG is also planning a Cameron Parish terminal. But it will be years until the terminals are built, and that's assuming everything goes smoothly. "This all sounds great, but you're going to have to get some capacity completed and some final investment decisions," Dismukes said.
This is a reversal form the climate change plans by the administration. But noone counted on the Russian war with Ukraine. A case of OBE.
The recent policy decisions by Biden mark a reversal of sorts on his climate change plans amid a global energy crunch as countries turn away from Russia's oil and gas bounties. Shortly after taking office, Biden signed an executive order halting oil and gas leases on federal lands and waters. That fight continues to drag out in court. The Federal Energy Regulatory Commission on Thursday also scaled back plans to consider the effect natural gas projects have on Earth's climate. Environmental groups have pushed back on the move toward more LNG, saying it isn't as green as industry advocates say it is. Officials from Earthjustice, an environmental law advocacy nonprofit, said the U.S. and Europe can't ramp up LNG activity without sacrificing their climate commitments. "It will take years and cost billions to build out new LNG infrastructure that will lock in expensive fossil dependence and dangerous pollution for decades to come," Earthjustice President Abigail Dillen said in a statement. "Investing in new LNG is not a near-term fix for getting off Russian gas in Europe."
The LNG fight is a local fight.
The fight over LNG is ongoing in Louisiana, particularly over Commonwealth LNG's proposed Cameron Parish facility. Residents and environmental activists spent two hours at a recent Louisiana Department of Environmental Quality hearing debating the merits of Commonwealth's air permit. "We have got to act swiftly to curb greenhouse gas emissions, and we need to stop this false narrative about there being anything clean about this gas," James Hiatt, the southwest Louisiana coordinator for the Louisiana Bucket Brigade and a lifelong southwest Louisiana resident, said at the DEQ hearing. Moncla, the LOGA president, noted the lengthy approval process for LNG facilities usually involves some opposition. "I know the environmentalists don't even want another one in Cameron," Moncla said. "It's always a fight."
This is case of dammed if you do and damned if you don't. Europe need the LNG and we need to punish Russia. At this point in time that is the primary goal.
More LNG to Europe, do we benefit?