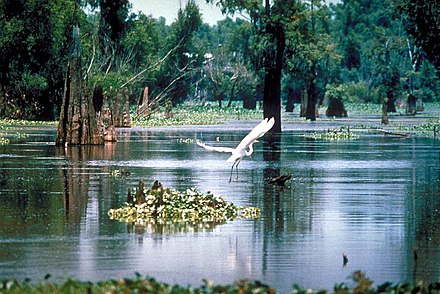 What do you do with surplus cash? You spend it but what on? The Governor wants is spent on coastal projects. Good for him!
Gov. John Bel Edwards on Tuesday urged state lawmakers to set aside $150 million in better-than-expected tax revenue to fund 14 coastal restoration and protection projects across south Louisiana. The state Legislature has around $450 million in surplus cash from the budget year that ended June 30 to spend on one-time items, such as construction work, debt payments — and coastal projects. Lawmakers will ultimately get to decide how that's divvied up. But during a press conference Tuesday, Edwards listed what he thinks should be funded.

theadvocate.com
The projects include:
$2 million toward funding the Atchafalaya Basin Program for enhanced recreational opportunities and environmental restoration efforts

$8 million in funding for the Cameron Gulf Shoreline Protection project in Cameron Parish

$11 million for construction of the Grand Bayou Ridge Restoration & Canal Backfilling project in Plaquemines Parish

$6.5 million toward funding breakwaters in Grand Isle in Jefferson Parish

$12 million for construction of the LaBranche Shoreline Protection project in St. Charles Parish

$30 million for construction of the Pailet and Crown Point Basin polders of the Lafitte Tidal Protection project in Jefferson Parish

$200,000 to complete exhibit area buildouts in the LSU Center for River Studies in Baton Rouge

$10 million toward funding the Montz Pump Station in St. Charles Parish

$10 million toward funding improvements to the Morganza to the Gulf Hurricane Protection System in Lafourche and Terrebonne parishes

$38 million for design and construction of the Northwest Little Lake Marsh Creation: Increment 2 in Lafourche Parish

$2 million to leverage funds provided by partners to implement Restoration Partnership projects coast wide

$10 million toward the Southwest Coastal Project in Cameron, Calcasieu, and Vermilion parishes

$5 million toward construction of the Ted Gisclair Lock Structure in Lafourche Parish

$5 million toward Vermilion Parish Projects, including funding for shoreline protection and ridge restoration projects at Cheniere au Tigre and for an increment of the North Vermilion Bay Shoreline Protection Project

"These investments are essential for our recovery and our future," Edwards said.
A wide range of projects but all need to be done. This is a one-time possibility.
Louisiana's Coastal Protection and Restoration Authority is separately asking lawmakers to approve a $1.3 billion budget for the fiscal year that begins July 1 to fund 142 projects and 23 dredging projects. And the U.S. Corps of Engineers is spending an additional $2.6 billion of federal money in Louisiana. The $150 million in surplus funding would be added on top. "Either this is our priority or it's not," Edwards said. "One of the things that we can spend surplus money on are these one-time capital construction projects, and we don't have more important capital construction projects than our coastal restoration and protection projects."
A post yesterday said that the coast will always need work if we are to keep it. This is proof of that.
Surplus cash for coastal projects?