Water systems may be on the hook for expensive upgrades if they need to remove the "forever chemicals" from drinking water.
The state's public water suppliers could be on the hook for costly upgrades later this year if federal regulators follow through with plans to drastically reduce the amount of so-called "forever chemicals" in drinking water due to health concerns, including birth defects and cancer. With many public suppliers already cash-strapped, some environmental advocates argue the burden should be on industries responsible for producing the chemicals, dubbed "forever" because they do not naturally break down and remain toxic for generations. However, the U.S. Environmental Protection Agency has already set aside $5 billion in federal infrastructure money that will be distributed to states over five years to help.  The EPA has warned the nation's public water suppliers that it will issue new rules this fall requiring removal of a number of such chemicals to near-zero levels. The warning was included in a June 15 announcement that it was issuing new lifetime health advisories for four per- and poly-fluoralkyl, or PFAS, substances. In some cases, the warning reduced recommended exposure levels below present abilities to measure the chemicals in water. "Because these are considered forever chemicals, it's important not only to keep them out of our drinking water, but also prevent them from entering the environment or our bodies in the first place," said Bruno Pigott, EPA deputy assistant administrator. "Because of their widespread use and their persistence in the environment, many PFAS are found in the blood of people and animals all over the world."

nola.com
The EPA is looking at 400 studies on this topic and they do sho a link between PFOA and PFOS.
According to the EPA, the interim health advisories are based on more than 400 studies finding associations between two PFAS chemicals — PFOA and PFOS — and harmful effects on the human immune system, the cardiovascular system, decreased birth weight and other birth defects, and cancer. The advisory recommends limiting levels of PFOA to only 0.004 parts per trillion in drinking water, and PFOS to only 0.02 ppt. Initial testing since last year by the Louisiana Department of Health and local water supply agencies have found measurable amounts of PFAS compounds in water treated in 42 public systems in 18 parishes. East Baton Rouge Parish public water systems did not report results for PFAS compounds as part of that testing program. In some cases, if the EPA recommended limits become permanent, they'd require a reduction of greater than 98% in the chemicals: Initial tests of water by the Louisiana Department of Health in January for east bank New Orleans residents found levels of PFOA as high as 2.6 ppt, and PFOS as high as 2.7 ppt, East and west bank Jefferson parish water contained levels of PFOA as high as 1.4 ppt and levels of PFOS as high as 2 ppt and No PFAS chemicals were found in New Orleans west bank water. Sampling of New Orleans east bank drinking water in 2020 by the Environmental Working Group found 10 different PFAS substances, totaling 41.8 ppt.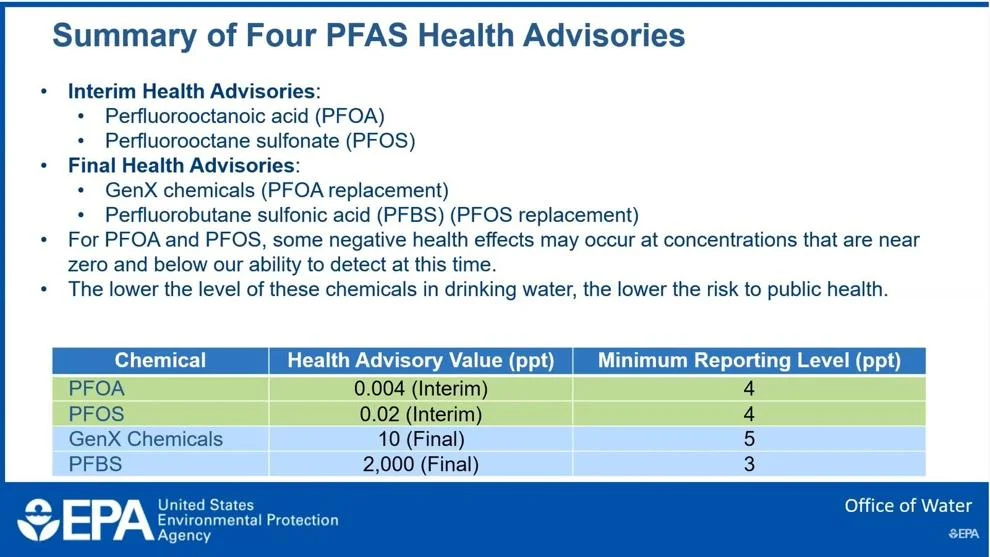 There were two other advisories issued with this main one.
New interim health advisories were issued for two other groups of PFAS compounds. GenX chemicals, also known as HFPO, were linked to health effects on the liver, kidney, immune system, developmental effects and cancer, while PFBS compounds were linked to effects on the thyroid, kidney, reproductive system and development issues. The advisories recommend limits of 10 ppt for GenX chemicals and 2,000 ppt for PFBS. Both New Orleans and Jefferson Parish are already in compliance with those levels.
The type of compounds are some we are very familiar with, non-stick pans and water proofing.
The compounds expected to be included in the EPA crackdown this fall are part of a family of chemicals created in the 1940s used to manufacture non-stick pans, waterproof fabrics and raincoats, stain-resistant materials used in manufacturing furniture and carpets, and in a number of other manufacturing processes. They are released into the environment from wastewater treatment facilities or when contained in firefighting foam used at airports and military bases. For the New Orleans Sewerage & Water Board, the tests found as many as six PFAS compounds in water treated at the Carrollton Avenue plant serving east bank residents, and none in water from the agency's west bank plant. Both plants use Mississippi River water. Jefferson Parish testing indicated as many as five PFAS compounds in east bank water, and four on the west bank. The Mississippi River also is the source of the parish's water supply.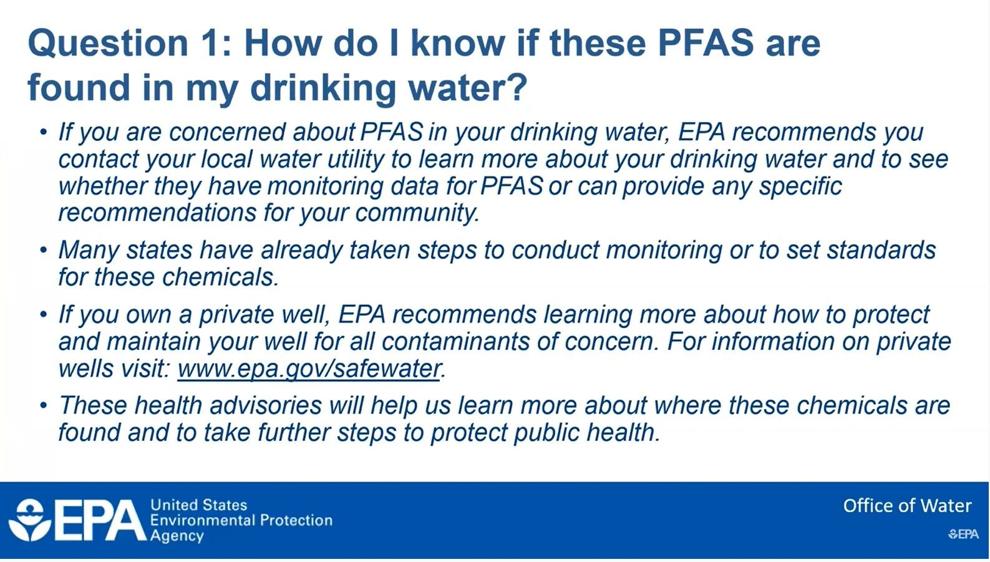 The compounds are mostly from surface water and with Cancer Alley above us the run off from these plants, especially if not treated there, flows into our water.
State test results indicate the chemicals were more likely to be found in water coming from surface water sources, including the Mississippi River. However, some chemicals also were found in systems supplied from groundwater, including several in mobile home parks. The largest number of different PFAS-related chemicals, 18, were identified in a 2021 sampling of Iberville Parish's Intracoastal Water System East, which serves Geismar, located in a part of the state dotted with petrochemical plants. That system is served by groundwater. The new advisories cover four subsets of PFAS: Perfluorooctanoic Acid (PFOA) and Perfluorooctane Sulfonate (PFOS) are two of the most widely used, but have been replaced in the U.S. with other PFAS substances since 2000. The other two are chemicals labeled GenX, developed as replacements for PFOA, and perfluorobutane sulfonate (PFBS), a replacement for PFOS. Those advisories, however, do not require removal of the chemicals from public water supplies. That step is expected to occur with the release of new regulations this fall. EPA also has begun a review of 29 other PFAS compounds to determine what levels they are found in drinking water. And it plans to publish another rule in the near future setting draft aquatic life water quality criteria for PFOA and PFOS, which, if finalized, might result in new standards for sewage treatment plants and releases of wastewater from industrial facilities.
We may be looking at major investments into our water supply facilities.
The Water Environment Federation warned that the new regulations could force thousands of public water agencies nationwide to make major investments. "EPA's decision to reduce these health advisory levels from 70 ppt to as low as 0.004 ppt will have a significant impact on water utilities, who receive these chemicals from industry and consumers and are not generators themselves," said WEF President Jamie Eichenberger. In releasing the advisories, the EPA also announced it was setting aside $5 billion from the 2021 Infrastructure Investment and Jobs Act for a $1 billion a year effort to help states and local water systems deal with the new rules. According to the Louisiana Department of Health, the state will set aside $11.3 million a year from the infrastructure money it receives for the state Drinking Water Revolving Loan Fund. Local water systems can apply for money for projects through the fund, with 100% of the principal eligible for forgiveness. "The health advisories recently issued by the EPA are nonbinding recommendations; there is not a regulatory effect on Louisiana water systems and the recommendations are not currently enforceable," the health department said in a news release. "However, LDH is prepared to work with the EPA as the science concerning these compounds continues to evolve and industry continues to decrease usage."
The state will conduct some more tests and while the advisories are non-binding it will be hard, once this information is out, not to work to improve the water systems.
The department plans to conduct additional PFAS testing of public water systems and publish test results at www.ldh.la.gov/pfas.   And it directed residents concerned about PFAS compounds to consider installing in-home water treatment filters that are certified to lower their presence. The agency recommended reviewing EPA and National Science Foundation websites for more information on PFAS risk. New Orleans SWB officials don't yet know the cost to upgrade their facilities. "The ramifications won't be clear until EPA proposes maximum contaminant levels or treatment techniques, which is expected later this year," said spokesperson Grace Birch. And SWB likely will offer advice to the public on taking steps to remove PFAS from drinking water on their own over the short-term. "Longer term, SWBNO may be required to build new treatment facilities to remove PFAS compounds," she said. Kristen Rivero, chief chemist for Jefferson Parish's water quality laboratory, said the parish has contacted an outside laboratory in anticipation of being required to monitor for PFAS chemicals at more frequent intervals.
Not good news but after posting the article on the fertilizer plant that discharged untreated liquids into the Mississippi we cannot be surprised. The states love of the oil and gas industry was just in the air but now is also in the water.
Forever chemicals in water systems