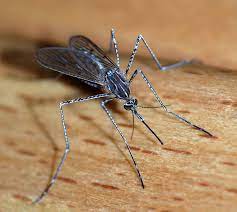 St Tammany Parish has more home sewage treatment systems than any other in the state.
St. Tammany Parish has more sewage treatment systems at individual homes and businesses than any other parish in the state — more than 35,000 by one estimate — and more than half spew under-treated or even raw sewage into the 600 miles of ditches that line the parish roads.  That's a health hazard, St. Tammany Parish President Mike Cooper said as he announced the formation of a task force Thursday to address water quality issues from under-treated wastewater. Besides the fact that human waste carries pathogens, polluted ditches provide the ideal place for the Southern house mosquito — the primary carrier of West Nile virus — to lay eggs, said Kevin Caillouet, director of St. Tammany Parish Mosquito Abatement. "The urgency of the problem is immediate, as each year we watch to see if St. Tammany will again be the canary in West Nile coal mine," Caillouet wrote in a recent report. He said Thursday that this year is shaping up to be the most active West Nile season in the parish since 2012 with 44 pools of infected mosquitoes out of 2,500 that the district has tested. So far there have been no reports of human cases in St. Tammany. "It was a fast and hot start to the West Nile season," he said.

nola.com
The members of the task force cover a wide range of levels including environmental groups and academia.
Caillouet is on Cooper's task force along with representatives from the state Department of Health, Department of Environmental Quality, the LSU AgCenter's Sea Grant program, the U.S. Fish and Wildlife Service and environmental groups like the Sierra Club and Nature Conservancy. Parish spokesperson Michael Vinsanau said its goals are threefold: educating the public on how to maintain their private sewage systems; expanding inspections of old systems and working with homeowners to service or replace them; and reviewing current regulations with an eye to recommending changes. In a news release, Cooper said that educating the public about the consequences of unpermitted, malfunctioning and improperly maintained wastewater systems is critical. Across the parish up to 60% are not properly maintained and release raw or partially treated sewage into drainage ditches, which eventually flow into Lake Pontchartain, according to a report by the Pontchartrain Conservancy. Caillouet said he is encouraged and grateful to Cooper for calling attention to the issue and drawing the groups together.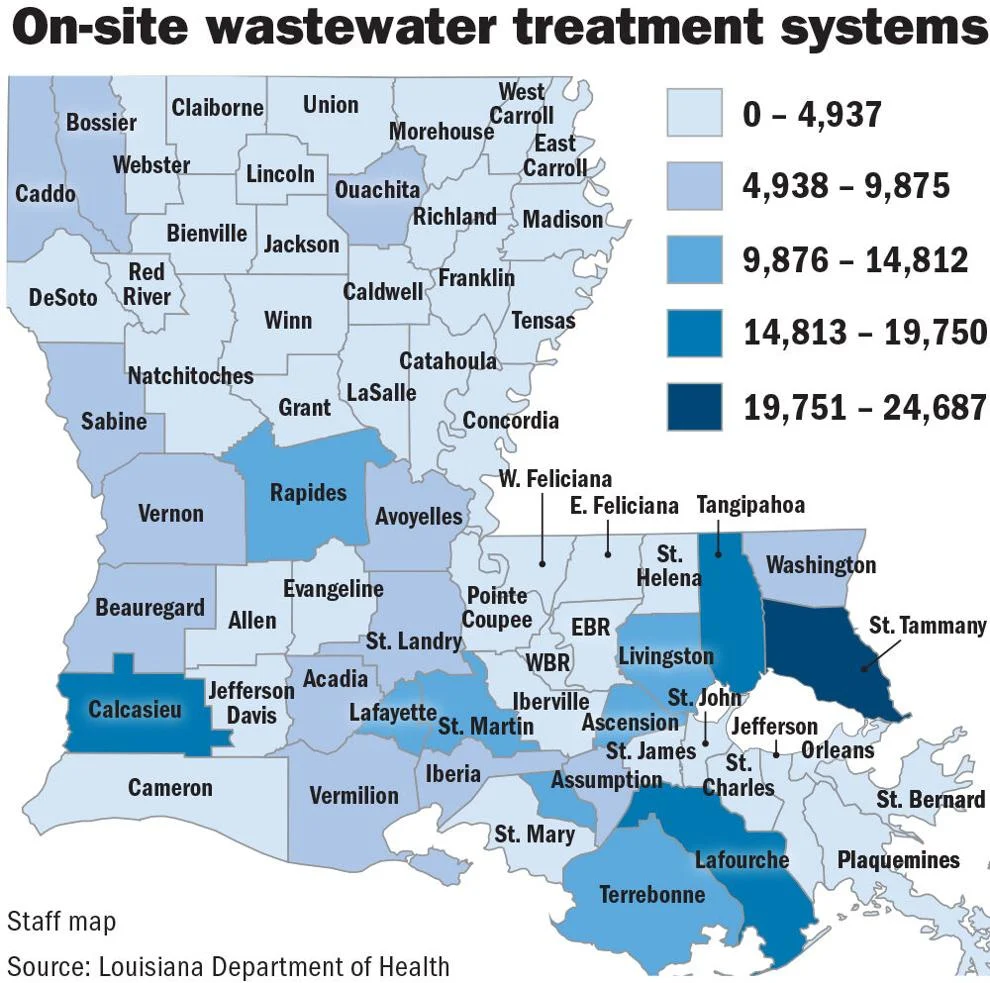 Education is needed but converting to a unified sewage system is the best option.
But education, while needed, isn't a systemic solution, he said. Three years ago, Caillouet wrote a letter to parish officials, during Parish President Pat Brister's administration, urging leaders to find resources to retrofit areas to more centralized sewerage. At the time, Brister said that doing so would be prohibitively expensive. That's still an issue. "Ideally, we would prefer centralized sewerage, but realistically it remains too expensive," Vinsanau said. "The task force was formed to find alternative solutions to the largescale problem… We will continue to exhaust every financially responsible option to better our communities." People who live in St. Tammany's eight municipalities have centralized sewage treatment, and community sewerage is required in all new subdivisions. However, there are some exceptions. For example, subdivisions with fewer than 15 lots at a two-acre minimum lot size can get approval for individual sewage treatment systems, Vinsanau said. That's among the things that the task force will review.
Just because you live with a centralized system does not mean that the mosquitoes won't get you.
But living in a city or neighborhood with centralized sewage treatment doesn't make a St. Tammany Parish resident immune from the threat posed by under-treated sewage discharges. The pollution ends up in waterways and damages the environment, caused fish kills and algae blooms. Closer to the home, Caillouet's report cites findings by the Centers for Disease Control that show 87% of St. Tammany residents live within a half-mile of a sewage-polluted ditch. That's the flight range of the Southern house mosquito. Steps that people with individual systems can take include: Check the aerator to make sure it's running and is plugged in, Get an annual inspection, Have the system pumped out every three to five years and Replace cracked lids or caps.
I have not had to live with a septic system since I was young and I am glad of that.
St Tammany Parish has sewer and mosquito problems