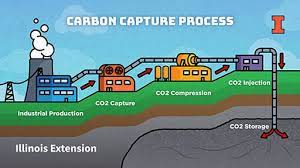 18,000 acres for carbon capture in Assumption and St James Parishes.
Denbury, a Texas exploration company, has signed a deal to lease about 18,000 acres in Assumption and St. James parishes for a future carbon sequestration project. Terms of the deal were not disclosed. The land is about five miles from the company's CO2 Green Pipeline near Donaldsonville. Company officials noted the land is near Louisiana's industrial corridor, which has one of the highest concentrations of carbon dioxide emissions in the U.S. Denbury said the acreage has "excellent geologic characteristics" for carbon injection and sequestration capacity of more than 80 million metric tons of carbon dioxide. The company expects its first capture project will be live on the site as early as 2025.

theadvocate.com
The means that 300 million tons of carbon can be stored there.
This project will expand Denbury's carbon capture capabilities up to 300 million tons near Donaldsonville and 1.5 billion tons across the Gulf Coast. The company in March announced similar lease agreements for other sites near Donaldsonville and southeast of New Orleans. "We now have multiple sequestration sites in an area with tremendous existing and future potential CO2 emissions as we strive to provide an economic, low-risk solution for the storage of industrial carbon emissions," Nik Wood, Denbury's senior vice president of carbon solutions, said in a statement.
Carbon capture captures the carbon emissions and stores then under ground.
Carbon capture is a process by which carbon emissions are captured at an industrial site and injected deep underground. It is revered by industry as a potential game-changer for emissions reduction but reviled by environmental groups who say it is too risky and ineffective. Denbury also recently signed a deal with Nutrien for carbon capture at the fertilizer manufacturer's Geismar complex should the facility be chosen for a "clean ammonia" production plant.
Carbon capture is pare of the states master plan and has been touted as a golden bullet. I am not sure but we will find out.
Carbon capture acreage grows