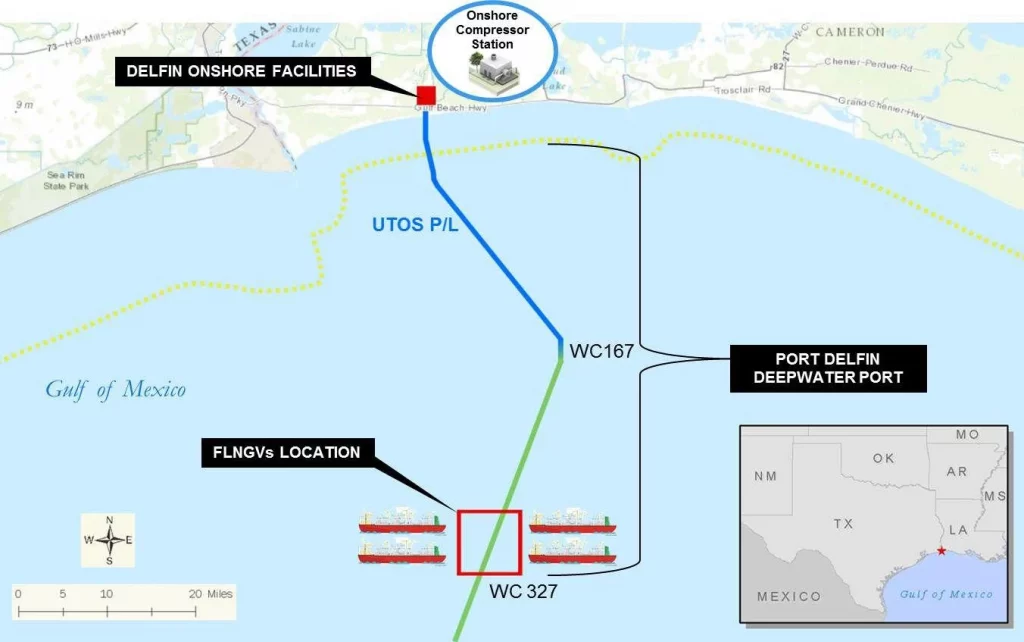 Delfin LNG wants an offshore terminal but keeps asking for more time. If they wait long enough will it still be needed?
Delfin LNG, a Houston energy company that plans on building a floating liquefied natural gas export terminal off Louisiana's coast, has inked a deal to provide LNG to a United Kingdom energy company. The deal comes less than a month after Delfin LNG, for the fourth time, asked federal regulators for more time to build its floating LNG terminal. Under the agreement, Delfin LNG is slated to provided 1 million metric tons annually of LNG to Centrica, an energy corporation located in Windsor, England. Centrica owns British Gas and Bord Gais Energy, a pair of residential utility providers, and supplies power to 10 million households across the United Kingdom and Ireland. Delfin LNG touted Centrica as "another key foundation customer" to solidify a future final investment decision in the floating terminal. As of now, the company expects the terminal to be operational by 2026.

theadvocate.com
Ukraine. Ukraine. The need grows from this war and the Russian cutoff of energy supplies to Europe.
The deal was struck amid a continued push to route more U.S. LNG to Europe as the continent scrambles for dwindling supply amid Russia's war in Ukraine. "Market demand for long-term LNG continues to be strong and buying activity from Europe and various other geographies has accelerated over the past few months," Delfin LNG CEO Dudley Poston said in a statement. The company filed its construction timeline extension request with the Federal Energy Regulatory Commission in July. About a month later, environmental groups including Sierra Club, Healthy Gulf and the Center for Biological Diversity asked FERC to deny the extension, claiming demand for LNG from the terminal had been nonexistent and that the agency should re-examine the air quality impacts of the facility. Delfin LNG has said it is making a "good faith effort" to push the project forward amid volatile economic conditions and that previous dips in demand for LNG have turned upward this year as the Russia-Ukraine conflict has continued.
Europe is looking at other alternatives, such as renewables, so is the need seen today still be there in four years?
Delfin LNG adds customers if it is built