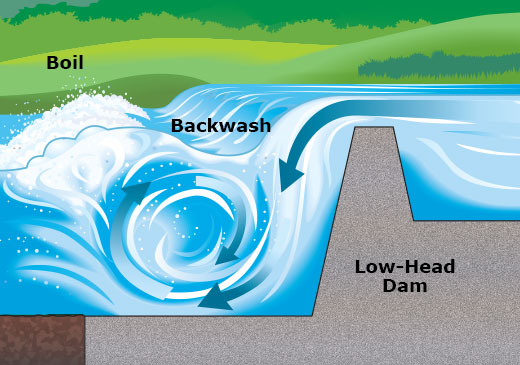 A Covington boy drowned in a low head dam and the parents are suing the Corps of Engineers.
The parents of a man who drowned after becoming trapped beneath a dam on the Pearl River in 2020 have filed a lawsuit against the Army Corps of Engineers, saying the agency failed to remove or modify the dam despite knowing its dangerous history. Michael and Bridget Golden of Covington seek $2.5 million in what they claim is the wrongful death of their son, Michael Andrew Golden. Constructed in 1956 for commercial navigation, a 20-mile canal diverts off of the Pearl River, separated by three concrete water control structures, sills, just below the surface. The sills, also called low-head dams, can be difficult to see from upstream and can create dangerous currents. Michael Golden, 29, while swimming with friends in the river when he was trapped in the current, got pulled under the dam, and drowned, the lawsuit says.

nola.com
Low head dams kill 30-40 a year.
Between 2018 and 2022 there were 149 reported drowning deaths by low head dams nationally, according to the National Weather Service. Last year, it took more than a week for authorities to recover the body of Eric "Josh" Williams who drowned along with Joe Newby after their boat capsized at a Pearl River dam near Poole's Bluff.  "Low-head dams are particularly dangerous. People can never go over them safely," said Edward Knight, director of dams and levees at the Louisiana Department of Transportation and Development. "The Pearl River dams are corps regulated. We'd be willing to ask them to mitigate risks." Knight said that warning signage would help people significantly. In their lawsuit, Golden's parents claim the corp failed to post warning signs to prevent swimming and boating near the dam. While the suit doesn't explicitly call for the removal of the structures, it said they're useless since commercial activity along the canal ceased decades ago. "The easiest solution is to simply remove the dams. They aren't environmentally friendly and people aren't aware of the immediate dangers," Knight said. A Corps of Engineers spokesperson said the agency would not comment on the pending litigation.
A death caused by carelessness and would a sign have prevented it?
Low head dams kill and Corps being sued