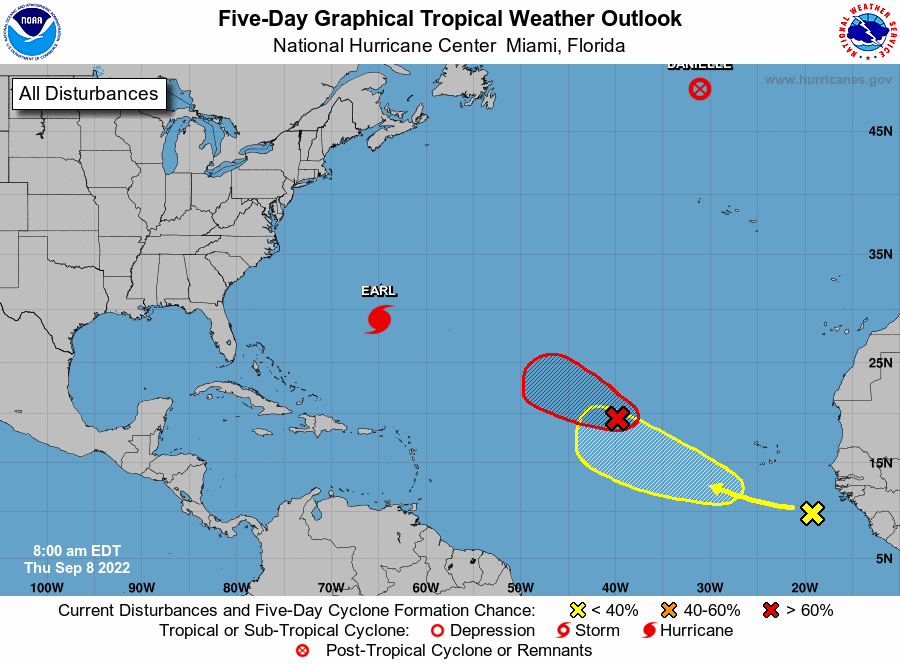 The same 4 of yesterday only they have moved a bit.
Hurricane forecasters on Thursday morning were tracking four systems in the Atlantic, including Hurricane Earl, Tropical Storm Danielle and two more disturbances. A tropical depression or storm could form within 24 hours from one of the disturbances, they said in a 7 a.m. outlook. The named storms do not pose a threat to Louisiana. It's too early to say where the other two disturbances could go if they develop. Earl is the second hurricane of the Atlantic season. Hurricane Danielle formed last week after a two-month lull in the tropics. No named storms formed in August, which is only the third time that's happened since 1950. The Caribbean Sea and the Gulf of Mexico are expected to stay quiet for the next 48 hours, forecasters said. Here's what to know about the tropics as of 11 a.m. Thursday from the National Hurricane Center.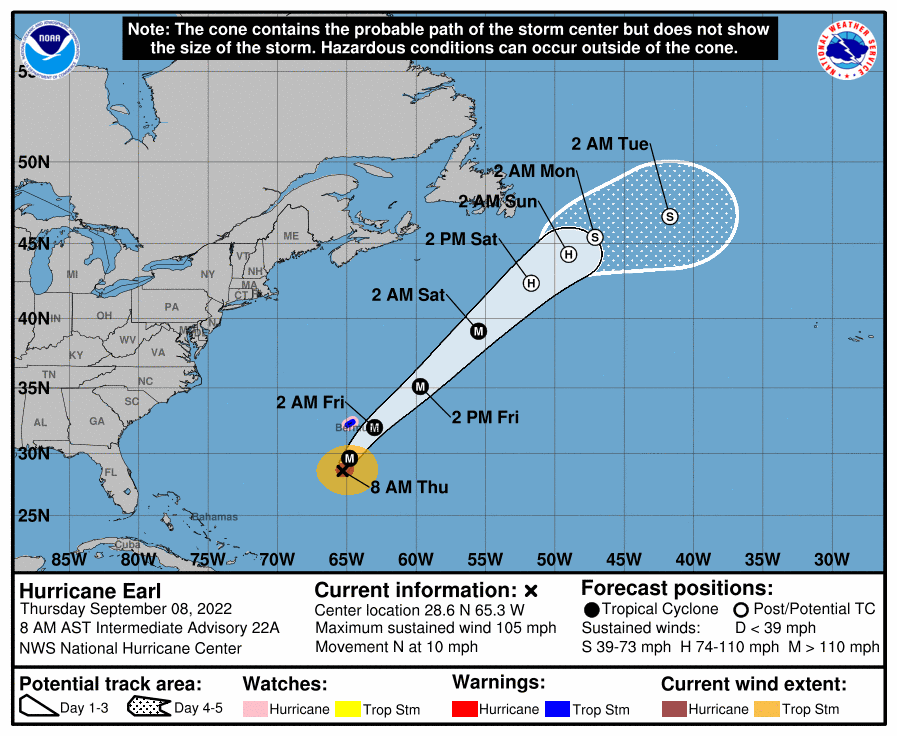 Hurricane Earl gains strength.
Hurricane Earl has strengthened and is now a Category 2 hurricane, forecasters said. A hurricane watch is in effect for Bermuda. As of 10 a.m., Earl was about 230 miles south of Bermuda and was moving north at 13 mph. On the forecast track, the center of Earl is expected to pass to the southeast of Bermuda late Thursday. Tropical storm conditions are expected to begin in the day in Bermuda, along with life-threatening surf and rip current conditions. Earl has winds of 105 mph and strengthening is expected for the next couple of days. Peak winds of 130 mph are forecast, which would make it a powerful Category 4 hurricane. Cat 4 storms have winds of at least 130 mph.
Danielle heads to Portugal
Tropical Storm Danielle, which was a hurricane at one point, has been downgraded to post-tropical cyclone, forecasters said Thursday morning. It's in the open Atlantic and is expected to turn and could reach Portugal and Spain as a tropical depression, according to the National Hurricane Center. As of 10 a.m., Danielle was about 715 miles northwest of the Azores. Winds have decreased to 65 mph. Danielle is forecast to remain a large post-tropical cycle over the north Atlantic for the next several days, even as its peak winds decrease, meteorologists said. No coastal watches or warnings were in effect Thursday.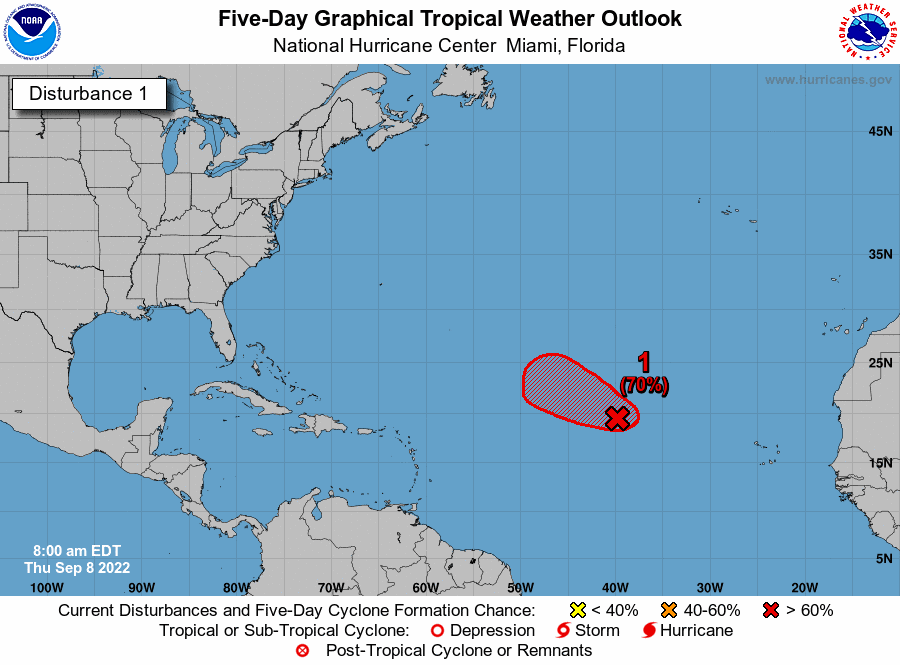 Disturbance near Cabo Verde.
A short-lived tropical depression or storm could form later Thursday in the Atlantic, hurricane forecasters said. The disturbance currently is about 1,000 miles northwest of the Cabo Verde Islands, forecasters said in their 7 a.m. Thursday outlook. The disturbance is expected to move west to northwest at 15 to 20 mph. It has a 70% chance of developing into a tropical depression within five days. The shaded area on the graphic is where a storm could develop and is not a track. The National Hurricane Center releases a track when a tropical depression forms or is about to form. The categories, in order of increasing strength, are tropical depression, tropical storm and hurricane (categories 1 through 5). Systems are named when they develop into a tropical storm. The next available name is Fiona.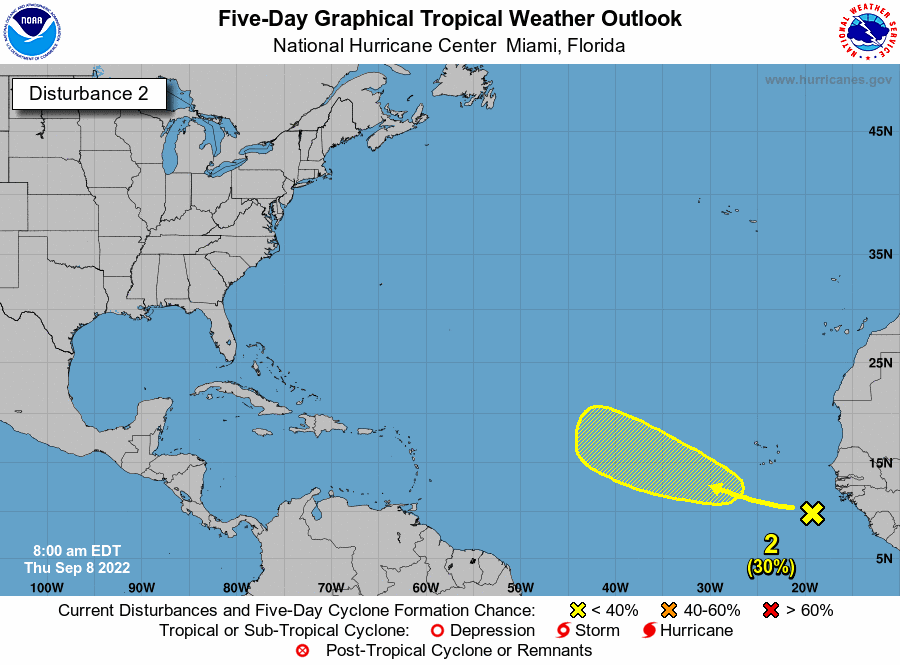 Disturbance off Africa.
Hurricane forecasters are tracking a tropical wave emerged over the west coast of Africa and is over the Atlantic. Environmental conditions appear generally conducive for some gradual development, meteorologists said, as it moves northwest over the Atlantic. It has a 30% chance of developing into at least a tropical depression within five days.
I will stop here as the rest has been posted when I first started this series. Still no threat to us but as this is the busiest time of the season more will form.
Hurricane update Thursday with still 4 storms