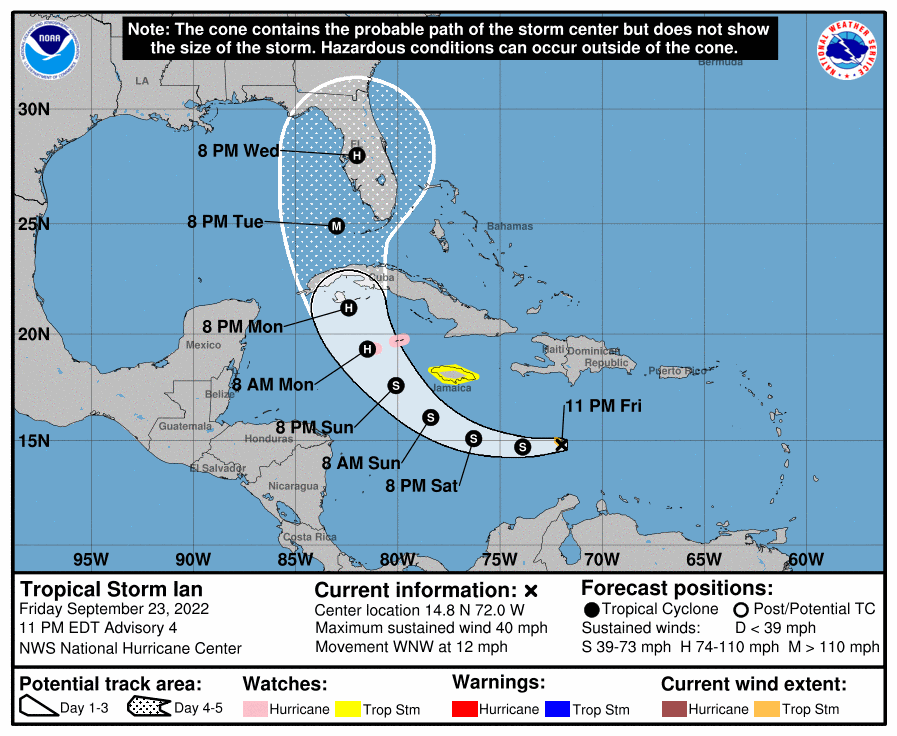 I am sorry Tampa bet better than us. Yes finally a hurricane heading to the Gulf. I could have waited longer.
Tropical Storm Ian formed in the Caribbean Sea late Friday and is expected strengthen into a Category 3 hurricane before making landfall in Florida, hurricane forecasters said. The current 5-day track from the National Hurricane Center has the storm hitting Cuba and then turning east toward Florida. As of 9:46 p.m. Friday, the depression was 385 miles southeast of Kingston, Jamaica, and was moving northwest at 12 mph. It has winds of 40 mph and is expected to strengthen into a hurricane late Sunday or early Monday.

nola.com
5 systems in the tropics
Hurricane forecasters on Friday are tracking five systems in the Atlantic and Caribbean: Tropical Storm Ian in Caribbean, Hurricane Fiona, Tropical Storm Gaston, Tropical Storm Hermine in Atlantic and Disturbance in the Atlantic. Hurricane Fiona, Tropical Storm Gaston and the other systems in the Atlantic don't pose a threat to Louisiana. The next storm names are Julia and Karl if any of the disturbances strengthen into a tropical storm.
Hurricane Fiona is battering Canada and they have said the worst storm in many years. Closer to home is TS Ian and the track says Florida.
Hurricane season update for 24 September 2022