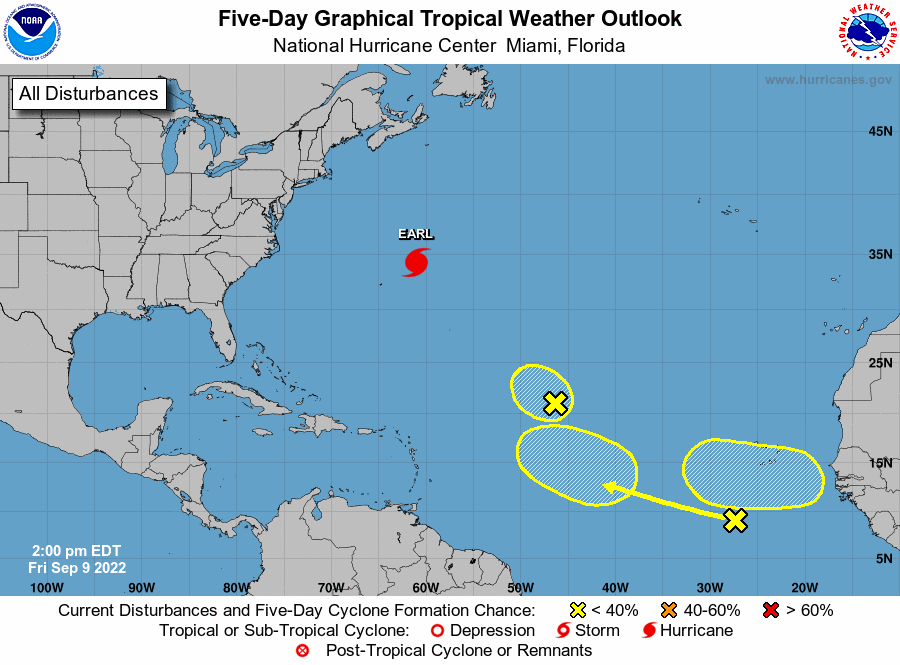 Friday's update with not much change.
Hurricane forecasters on Friday afternoon were tracking four systems in the Atlantic, including Hurricane Earl. Earl does not pose a threat to Louisiana. It's too early to say where the other disturbances could go if they develop. Earl is the second hurricane of the Atlantic season. Hurricane Danielle formed last week after a two-month lull in the tropics.  The Caribbean Sea and the Gulf of Mexico are expected to stay quiet for the next 48 hours, forecasters said. The shaded area on the graphic is where a storm could develop and is not a track. The National Hurricane Center releases a track when a tropical depression forms or is about to form. The categories, in order of increasing strength, are tropical depression, tropical storm and hurricane (categories 1 through 5). Systems are named when they develop into a tropical storm. The next available name is Fiona. Here's what to know about the tropics as of 2 p.m. Friday from the National Hurricane Center.

nola.com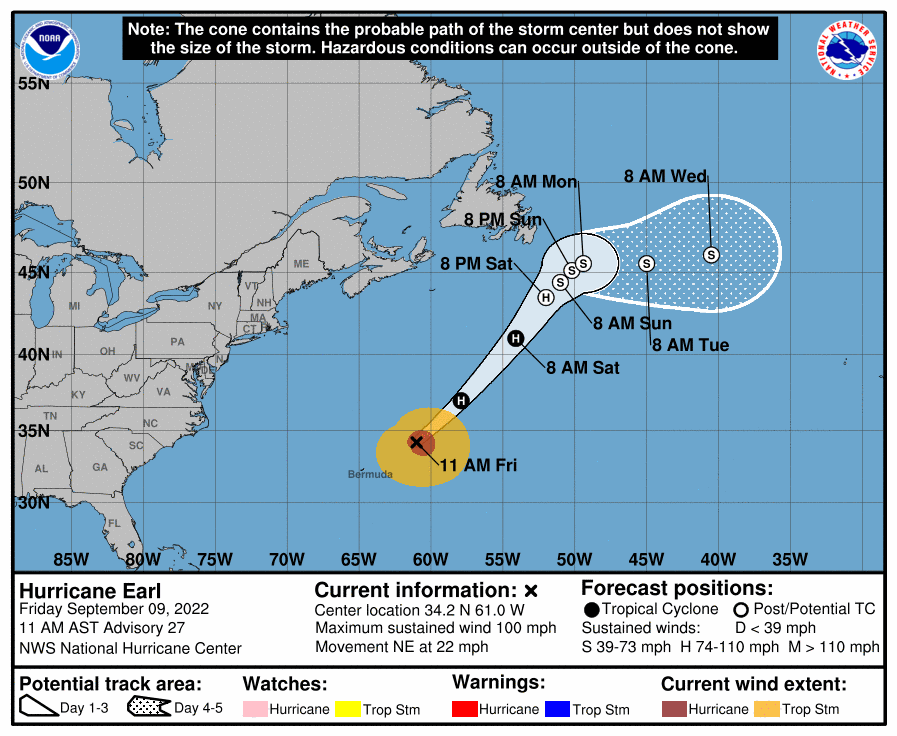 Hurricane Earl
Hurricane Earl, now a Category 2 storm, has moved past Bermuda and is heading into the open Atlantic. The tropical storm warning for Bermuda has been discontinued. As of 10 a.m., Earl was about 255 miles northeast of Bermuda and was moving northeast at 22 mph. Earl has winds of 100 mph and strengthening is expected for the next couple days. Peak winds of 105 mph are forecast, which would make it a powerful Category 2 hurricane. Category 3 storms have winds of at least 111 mph. Gusty winds are expected across the parts of Newfoundland over the weekend after Earl becomes a post-tropical low, forecaster said. Swells generated by Earl were affecting Bermuda and portions of the U.S. East Coast on Friday. They are expected to reach Nova Scotia and Newfoundland later in the day. These swells are likely to cause life-threatening surf and rip current conditions through the weekend, forecasters said.
System east of Leeward Islands
Forecasters are tracking a low pressure system that's about 1,000 miles east of the Leeward Islands. It's producing limited showers and thunderstorms, and environmental conditions are expected to prevent significant development. It's moving northwest and is expected to merge with another system over the weekend, forecasters said. It has a 10% chance of developing into a tropical depression within five days.
Disturbance by Cabo Verde Islands
Hurricane forecasters are tracking a disturbance that's several hundred miles south of the Cabo Verde Islands. No substantial development of the system is expected through the middle of next week while it moves west at 15 to 20 mph, forecasters said. It has a 10% chance of developing into at least a tropical depression within five days.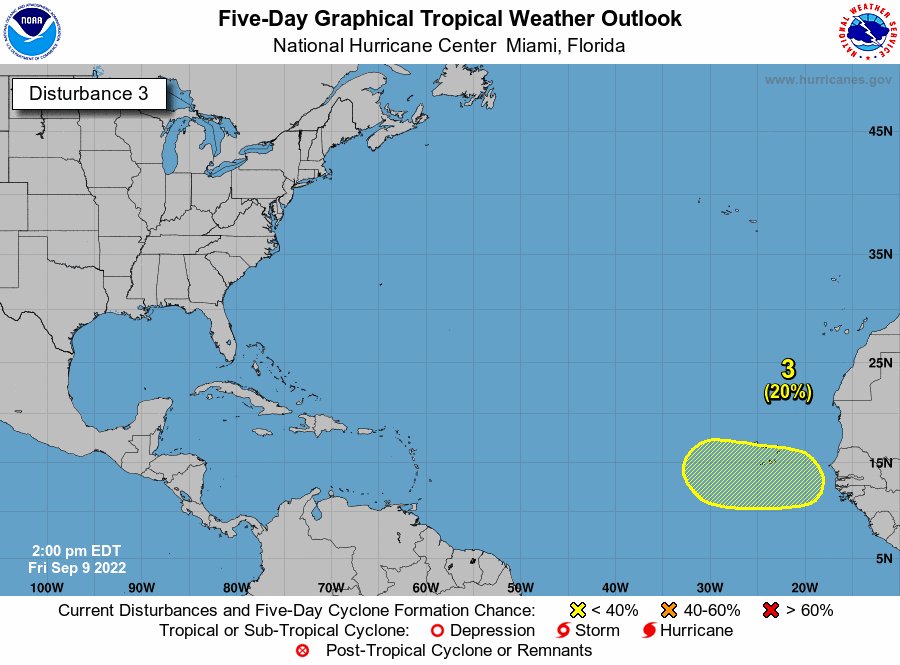 Tropical wave by Africa
Hurricane forecasters are tracking a tropical wave that's expected to emerge off the west coast of Africa by early next week. So gradual development is possible as it moves west over the Atlantic, meteorologists said. It has a 20% chance of developing into at least a tropical depression within five days.

I will stop here, but, just remember this is the worst month although we are working through it.
Friday 09 Sept hurricane update