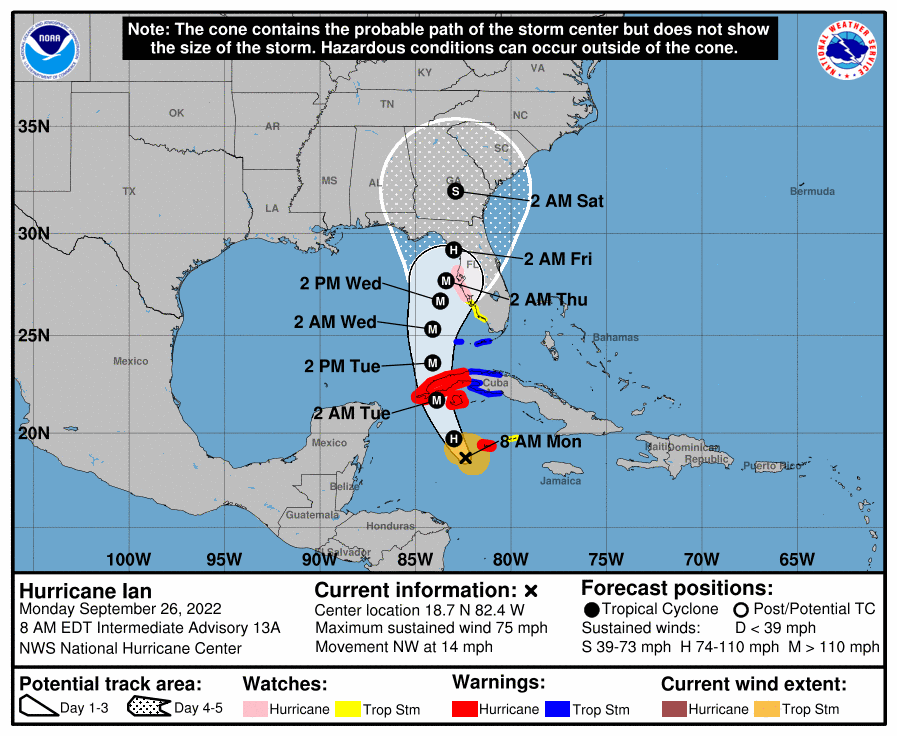 A Cat 1 now and expected to be a Cat 4 when it comes ashore now further south in Florida closer to Tampa.
Hurricane Ian formed early Monday and is expected to strengthen into a Category 4 storm as it heads toward Florida, hurricane forecasters said. It is expected to make landfall along the Florida panhandle or upper peninsula late Thursday or early Friday. The hurricane does not pose a a threat to Louisiana on its current track, but forecasters said residents should remain vigilant as models can change. As of 7 a.m., the storm was about 90 miles southwest of Grand Cayman and about 275 miles southeast of western tip of Cuba, according to the latest forecast from the National Hurricane Center. It's moving northwest at 14 mph. It has winds of 75 mph, and rapid strengthening is expected Monday, they said. So far, there have been seven named storms this season: Alex, Bonnie, Colin, Danielle, Earl, Fiona, Gaston, Hermine and Ian. The next available name is Julia. The Atlantic basin hurricane season ends Nov. 30, but storms can form any time.

nola.com
With the landing due Thursday or Friday that is 2-3 more days in the Gulf.
Hurricane update for 26 September 2022