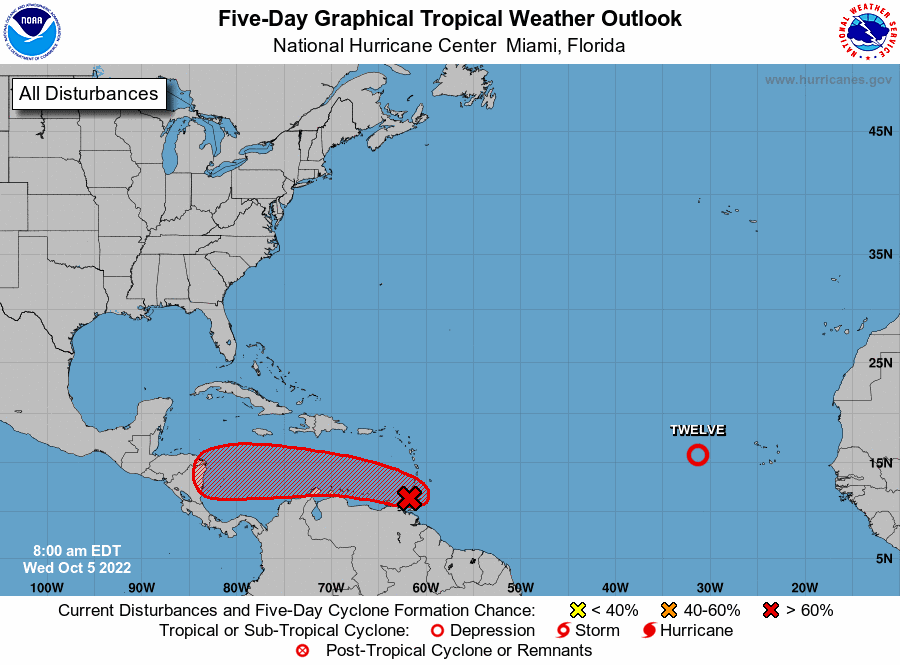 The two that have been watched are still there and one is not doing much but the other will be in Central America and then go somewhere.
A tropical depression formed in the Atlantic late Tuesday, hurricane forecasters said. Meanwhile, another system is heading into the Caribbean and is expected to develop into a tropical depression as well. If either strengthens into a tropical storm, the next available name is Julia. The depression in the Atlantic does not pose a threat to land. The early forecasts from the National Hurricane Center have the Caribbean system heading for Nicaragua and Honduras. The shaded area on the graphic is where a storm could develop and is not a track. The National Hurricane Center releases a track when a tropical depression forms or is about to form. The categories, in order of increasing strength, are tropical depression, tropical storm and hurricane (categories 1 through 5). Here's the latest from the National Hurricane Center as of 7 a.m. Wednesday.

nola.com
Depression in Atlantic
A tropical depression formed in the Atlantic late Tuesday and is expected to dissipate in a few days, forecasters said. As of 4 a.m., the depression was about 480 miles west of the Cabo Verde Islands and was moving northwest at 8 mph. It has winds of 35 mph and is not expected to strengthen further, forecasters said. Tropical storms have winds of at least 39 mph. No watches or warnings are in effect related to the storm.
Tropical depression possible
A disturbance heading into the Caribbean Sea is likely to develop into a tropical depression over the next several days if it stays over water, forecasters said. As of 7 a.m., radar indicated that the system has not become better organized overnight, forecasters said. An Air Force Hurricane Hunter crew was on the way Wednesday morning to investigate the system, which is near the southern Windward Islands. It's moving west at 15 mph and environmental conditions are expected to become more conducive for development. It has an 80% chance of developing into a tropical depression within five days. Regardless of development, heavy rainfall and gusty winds are possible over portions of the Windward Islands, the ABC Islands and portions of South America.
Each day we get further down the probability curve.
Hurricane update for 05 October 2022