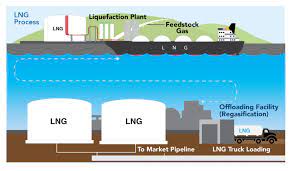 LNG and Louisiana could be a match made in heaven if we and the US want it.
Despite the political headwinds from Washington against fossil fuels in recent months, natural gas has proven to be remarkably resilient. American businesses still produce more oil and natural gas than any other country in the world, and just this year, America became the top exporter of liquefied natural gas. This reality would have been unthinkable just 10 years ago but was made possible through new technology and the collaboration between government, business and labor. It's clear the abundant resources that lie underground or just offshore are fundamental to keeping energy affordable and ensuring security at home and abroad. Public officials would benefit both their constituents and our allies by promoting LNG exports and domestic production to strengthen our energy security and reduce prices. To President Joe Biden's credit, he's recognized LNG's importance to the global economy, particularly for Western Europe. In the lead up to the invasion, the EU imported 40% of its natural gas from Russia. Now, amid the ongoing crisis in Ukraine, Biden is working to displace Russian energy with American-sourced fuel. And it's working. In the first four months of 2022, nearly 75% of our LNG exports were sent across the Atlantic, more than double what it was just one year ago.

nola.com
We stand in the forefront with terminals existing and a slew being applied for.
Home to some of the largest and most important LNG export hubs including Venture Global's Calcasieu Pass and Cheniere's Sabine Pass, Louisiana benefits immensely from growing trade ties with our European partners. As noted in The Advocate, "led by a trio of Louisiana facilities, the United States' liquefied natural gas export terminals are exceeding their 2021 pace." Export growth means stronger state and local tax revenues, job creation, and economic growth in communities across the Pelican State. We're proudly stepping up to meet the challenges plaguing Europe. At the same time, Biden must do more to address the growing energy issues facing us here at home to fortify our energy position. An immediate solution is within Biden's landmark Inflation Reduction Act, which recognizes the benefits of America's oil and natural gas resources to maintain energy security. One such provision reinstates oil and gas auctions offshore and on federal lands, which should boost production in the near future.
Bureaucratic road blocks exist that need to be broken.
Further, as a condition for passage of the IRA, Democratic leaders promised a vote on comprehensive permitting reform as a way to responsibly address bureaucratic roadblocks that delay the construction of our nation's critical energy infrastructure. Theoretically, there is an opportunity for permitting reform eventually to be bipartisan; getting projects approved and built can expedite new infrastructure like transmission lines for clean energy, new highways and bridges, and pipelines to transport natural gas — these projects are favored to varying degrees by members of both parties. In fact, the left-leaning Progressive Policy Institute released a recent report noting that without permitting reform, the projected climate and economic benefits of the Inflation Reduction Act and last year's bipartisan infrastructure law would be artificially limited and fail to meet policy goals. Unfortunately, due to politics, both Democrats and Republicans voted against U.S. Sen. Joe Manchin's Energy Independence and Security Act, likely dooming any movement on permitting reform this congress. It's a disappointing outcome that would have brought energy projects online faster and lower costs.
The cost of electricity and natural gas are going up and we need to stop this.
A combination of permitting reforms and production expansion would blunt the high electricity costs that Americans are expected to face this winter. The Energy Information Administration is warning the residential price of electricity will average 14.8 cents per kilowatt-hour in 2022, up 7.5% from 2021. The rise in electricity prices, according to EIA, is largely driven by "rising natural gas prices." If we truly want to lower electricity costs, particularly during this high inflationary period, we must lower natural gas prices. One solution is to increase domestic production to boost supply. We have the domestic resources of low-cost, low emissions energy at our disposal; we just need certainty from the Biden administration for both domestic use and for export. At both the federal and local levels, there is work to be done to achieve energy security. It is crucial the U.S. expands production and reforms our outdated permitting laws. Our government should recognize the value of promoting LNG exports and proudly support the robust American energy sector.
Do we stop becoming an oil state and instead become a gas state? THere are advantages on both sides of the argument and they will be played out in the permitting stage.
Louisiana and LNG – what will the rules allow