Down to two but one still to watch.
Hurricane forecasters are tracking two disturbances in the Atlantic and the Caribbean during the last week of October. The arrival of November usually marks the end of the busiest time of the Atlantic hurricane season. In the last 100 years, the tropics have been the most active in August, September and October, with Sept. 10 being the peak of the season. About 80% of the systems that have hit the Gulf Coast formed during this time, according to the National Weather Service in Slidell. Here's what to know about the tropics as of 7 a.m. Wednesday from the National Hurricane Center.

nola.com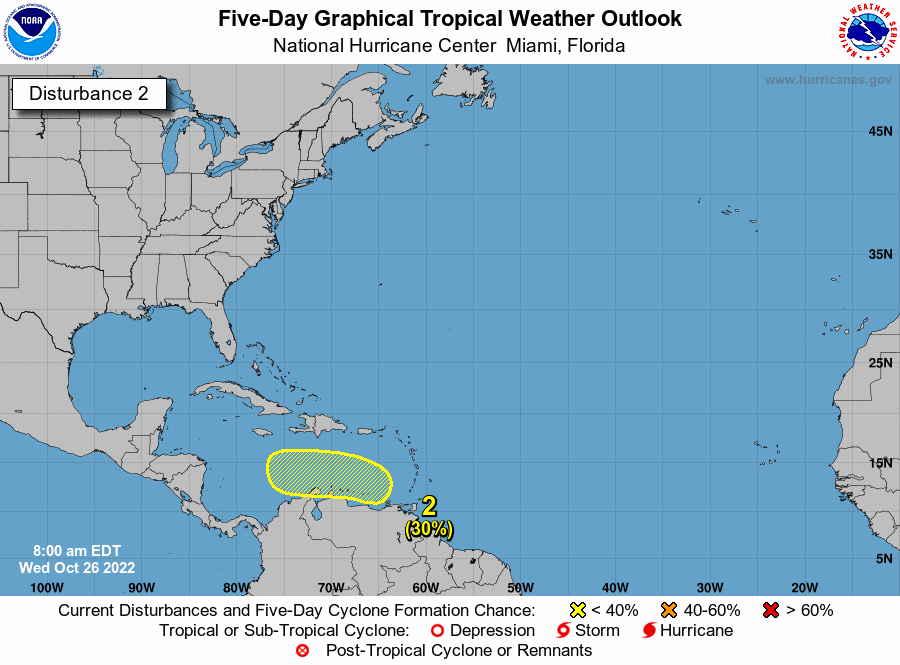 Disturbance in Caribbean
Forecasters say an area of low pressure could form over the eastern Caribbean by this weekend, forecasters said. It's expected to move west into the Caribbean through early next week, and conditions are forecast to be conducive for gradual development. The next available name is Lisa if it strengthens into a tropical storm. The system has a 30% chance of developing into a tropical depression within five days. The categories, in order of increasing strength, are tropical depression, tropical storm and hurricane (categories 1 through 5). It's too early to tell where it could reach the Gulf of Mexico.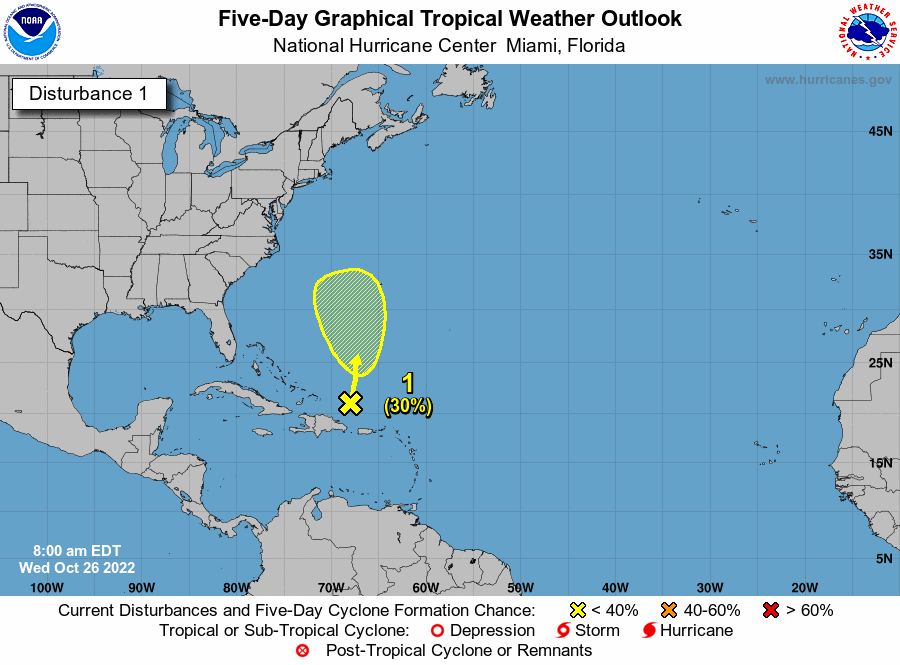 Disturbance in Atlantic
An area of low pressure has formed and stretches from the central Caribbean north to the southwestern Atlantic, forecasters said. Conditions appear conducive for gradual subtropical development of the system, forecasters said, while it drifts north over the next few days. It's expected to meander over the Atlantic to the west or southwest of Bermuda. Environmental conditions are expected to be less favorable for development by the end of the weekend. It has a 30% chance of developing into a tropical or subtropical depression within five days.
The only other one this season which formed down where it is went to Central America and Mexico.
Hurricane update for 26 October 2022