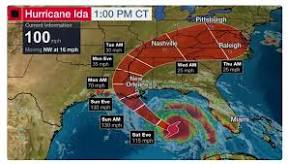 For us Ida was the power outage and maybe some of this money can help fix that.
More than $1 billion in federal money will soon flow to Louisiana for long-term rebuilding from Hurricane Ida, the Category 4 storm that devastated the state's southeast last year, Gov. John Bel Edwards announced Tuesday. The $1.27 billion for Ida as well as flooding that hit parts of Louisiana in May 2021 was approved by Congress more than a year ago. It has since been tied up in the federal government's convoluted process for distributing it. Further long-term relief money from the federal government for Ida recovery will eventually be on the way to Louisiana. An additional $842 million was recently approved for the same storms, but various steps remain before it can begin to be distributed. The state's signing of an agreement with the U.S. Department of Housing and Urban Development will now allow the initial $1.27 billion to flow. "Louisiana was hit hard over the last two years, and with access to this new federal recovery funding, we are expanding statewide programs for homeowner assistance, affordable rental housing, economic revitalization, and infrastructure and community resilience projects," Edwards said in a statement.

nola.com
We are finally getting more money for Laura and Delta relief.
In addition to the Ida relief, an additional $450 million in long-term rebuilding money is also being released for Hurricanes Laura and Delta, which hit southwest Louisiana in 2020. The first $600 million approved for that region finally began to be distributed in late September – more than two years after Laura wrecked the region. Louisiana residents who may qualify for federal rebuilding grants should visit restore.la.gov for further information, with much of the money intended for low- to moderate-income families. The state has also been sending mail, email and text messages to households that may qualify in hopes of having them respond and sign up, said Pat Forbes, head of the state Office of Community Development. The money is in addition to immediate assistance provided by FEMA and other federal bodies. It is intended to address long-term recovery needs related to housing, infrastructure and economic development. The process is, however, slow and cumbersome, and the amount Congress approves can vary widely. There have been various proposals to change the process, though they have so far been unsuccessful. The money is distributed in the form of Community Development Block Grants, overseen by HUD.
Lake Charles is a prime case of the relief going wrong.
Lake Charles and the surrounding region have served as a particularly egregious example of communities waiting on long-term disaster recovery funding. Laura, another Category 4 storm, was one of the strongest hurricanes to ever hit the state, but it took more than two years for money to begin to be distributed. Beyond Laura, the Lake Charles area was also hit by Category 2 Delta six weeks later, a severe winter storm in February 2021 and heavy flooding in May 2021. Ida made landfall at Port Fourchon and left a trail of destruction as it moved across the state's southeast. It caused an estimated $55 billion in damage in Louisiana, according to the National Hurricane Center.
This money will be a help for the state.
$1Billion to Louisiana for Ida relief.