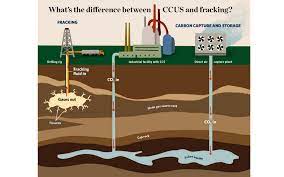 Carbon capture may be coming to near Grand Isle in prime hurricane area.
A Texas offshore oil and gas operator is partnering with a Louisiana pipeline company and a Spanish energy firm to develop a Gulf of Mexico carbon capture hub near Grand Isle. Carbon-Zero US LLC of Dallas has applied for up to $12 million in U.S. Department of Energy funds to develop a pilot sequestration hub in offshore storage fields about 20 miles from Grand Isle, according to officials from Cox Operating LLC, the Dallas operator that owns some of the storage fields. The other storage fields are owned by Crescent Midstream, a pipeline distribution group based in Gray that will help transport carbon dioxide to the Grand Isle hub. Though Carbon-Zero US LLC is technically unaffiliated with Cox Operating LLC, the two entities share a Dallas address. Carbon-Zero US LLC is a company designed to collect and sequester carbon dioxide from the Gulf Coast's industrial emitters. Cox Operating LLC will "repurpose facilities and equipment" for the carbon storage project, according to a news release. In addition, Crescent Midstream has completed an initial study for a new 110-mile carbon dioxide pipeline from Geismar to Grand Isle.

nola.com
The site is because this is the closest to emitters.
Vincent Devito, Cox Operating LLC's executive vice president and general counsel, wrote in an email that the pipeline would start "near the highest concentration of emitters and existing connections with as little disturbance to existing uses as feasible." The companies will also partner with Repsol, a Madrid energy firm, to determine the offshore storage fields' available capacity and identify a "potential road map" for future permanent storage sites, Devito said. The companies touted the project as "potentially containing the largest carbon dioxide storage volume owned by a single operator in the Gulf of Mexico," given that Cox Operating LLC has leases on more than 600 oil and gas wells in 66 Gulf of Mexico fields from Florida to Texas. Devito said the company is still examining how much carbon dioxide the first sequestration hub would capture, though plans are in the works for a potential 50-year lifespan of the hub. "At this time, the consortium is focused on the first carbon capture hub off Grand Isle and other hubs are on the drawing board," Devito wrote.
Still a lot of work to do before they have an idea of storage.
Carbon capture near Grand Isle?