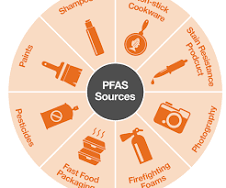 Forever chemicals never go away.
Persistent chemicals increasingly drawing regulatory scrutiny because of their potential harm to the environment and the public have been detected in the Mississippi River in Ascension, Pointe Coupee and St. James parishes, a New Orleans nonprofit has found. Highlighted in the 2019 movie "Dark Waters," the manmade chemicals found this summer in the Mississippi River industrial corridor between Baton Rouge and New Orleans are part of a class of thousands of chemicals known as per- and polyfluorinated substances, or collectively as "PFAS." Often dubbed "forever chemicals," they don't easily break down but mix with water and penetrate the soil. Since they began to be manufactured in the 1940s, they have become ubiquitous in the environment and the blood of Americans but remained largely unregulated until recent years.  Some of the five Mississippi River testing sites where the chemicals were found were upriver and only a few miles from drinking water intakes for the city of Donaldsonville, the east bank of St. James Parish and the city of Lutcher, according to the results from the nonprofit, The Water Collaborative.

nola.com
Some are in trace concentrations.
One of the chemicals, perfluorooctanesulfonic acid, or PFOS, was found in two locations in Ascension Parish in trace concentrations roughly on par with what has been found in some water systems and in the Mississippi in the upper Midwest, according to state regulatory reports and the nonprofit's results. But the concentrations in the raw river water, around 5 parts per trillion, were also at levels 240 times to nearly 270 times a new, more-rigorous, interim federal drinking water guideline that takes into account an increasing understanding of the chemical's toxicity. Rebecca Malpass, policy director for the The Water Collaborative, said the findings show the need for more testing of the river and water systems and more regulations for the chemicals. "It's a very big deal," Malpass said during a news conference Friday in Lutcher. "It's kind of one of those breathtaking moments."
Environmental Justice is the goal of the group which found the chemicals.
The group, whose research was funded by two other environmental nonprofits, Aqualateral and the Climate Reality Project, advocates for greater environmental justice in the river corridor, nonprofit officials said. An EPA database lists hundreds of potential sources of the broader class of PFAS in Louisiana's lower river industrial corridor but the chemicals have become so widespread across the country they show up in fish, shellfish, shallow groundwater, many waterways and even rain.  Malpass said her group could not determine the sources of the PFAS in the river. The Mississippi drains around 40% of the lower 48 states. PFAS have been used in thousands of consumer products, including nonstick cookware, water-repellent clothing, stain-resistant fabrics and carpets, some cosmetics and products that resist grease, water and oil, the U.S. Environmental Protection Agency says.
Both rules and testing are going to increase.
The Water Collaborative's results come just weeks before the EPA is expected to propose an enforceable federal drinking water standard for the first time for some PFAS after having released the interim guidelines in June. The June EPA guidelines drastically reduced the previously recommended drinking water standards for PFOS and a related chemical, perfluorooctanoic acid, or PFOA. They are below the sensitivity of most testing methods. Officials with the state departments of Environmental Quality and Health say they are watching closely for the new EPA limits but did not offer a comment directly on The Water Collaborative's results, which weren't made public until mid-day Friday. In Louisiana, public drinking water systems aren't required to treat for PFAS nor to test for them regularly, though state health officials have done targeted testing in response increasing concern about the chemicals. Louisiana regulators also have no legally enforceable drinking water standard for PFAS. A handful of states do but even the highest levels found in the Mississippi this summer would be at or below those state drinking water standards, according to the Northeastern University PFAS Project Lab.
Local testing has found PFAS in our water systems.
Testing since 2021 has detected PFAS in Orleans Parish's east bank water system, the east and west Jefferson parish water systems and a few dozen other water systems in the state. The Orleans and Jefferson water systems rely on the Mississippi, though some other systems in Louisiana with PFAS do use groundwater. Baton Rouge Water Co., which serves 190,000 customers in East Baton Rouge and Ascension parishes, relies on water from a confined aquifer 1,000 to 3,000 feet deep, a company official said in a statement. Adrienne Mire, vice president of Baton Rouge Water, said surface water runoff is more likely to have contamination from PFAS, benzene and similar chemicals. "Drawing the water supply from a confined aquifer limits any interaction with surface water," Mire said. Baton Rouge Water hasn't tested previously for PFAS but is scheduled to do so between this year and 2025. Past testing for benzene and ethyl benzene, common surface water contaminants, hasn't detected them, Mire added.
PFOS is another one to be careful of.
PFOS, one of the chemicals found in the river, has been shown to depress the immune system in children, contribute to low birth weights and high blood pressure in pregnant women, and affect the cardiovascular system. The EPA says "suggestive evidence of carcinogenic potential" exists for PFOS, but the research isn't enough to establish a cancer risk level. Production of PFOS in the United States was phased out in the early 2000s but had been used in a common fire retardant foam, Scotch Guard and many other products for years.
PFAS was found at 5 of 31 testing sites.
Volunteers with The Water Collaborative took samples at 31 sites between New Roads and New Orleans but only found PFAS at the five locations, a report on the findings says. The samples, which were taken between June 22 to July 2, were pulled from shoreline soil and shoreline water and from water about a foot deep. Pace Analytical, a national firm regularly used by Louisiana's petrochemical sector for some of its regulatory testing, tested the samples, The Water Collaborative said. In addition to PFAS, the nonprofit also tested for some volatile organic compounds common to petrochemical industry and a carcinogenic commercial solvent, 1,4-dioxane. Low levels of toluene, a common VOC, were found in soil along the river in Plaquemine and Sunshine in Iberville Parish. David Cwiertny, a civil and environmental engineering professor who leads the University of Iowa Center for Health Effects of Environmental Contamination, said the PFAS levels found in the Mississippi appear to be similar what is being found in waters across the United States, outside contamination sites. Cwiertny said while it's good news PFAS weren't found at more testing sites, it's notable that the chemicals were found at all — even in extremely small concentrations — in a river as large as the lower Mississippi. He said it's suggestive of PFAS being in the river in potentially large quantities and probably in the fish. "To me, I think just seeing them at that scale, you know, it does worry you a little because it's a sign that these things are going to be in a lot more places. If the Mississippi can have them at those levels, then lots of other places can as well," he said. "We just gotta measure."
Most of the sites were just off the river.
The testing sites in Ascension were near the small west bank communities of Modeste and Aben, which are upstream and downstream of Donaldsonville. The city's water plant draws its water from Bayou Lafourche next to where the Mississippi is pumped into the bayou. Modeste is about seven miles upstream of Bayou Lafourche. PFOS were found at a concentration of 5.37 parts per trillion in Modeste, The Water Collaborative says. An Ascension Parish government spokesman said PFAS chemicals have been detected in Donaldsonville city water but didn't provide figures. Parish government owns and runs the plant. Officials in St. James Parish provided state testing data from May 2021 in which none of 18 PFAS, including PFOS, were detected in the drinking water. Other sampling sites in the St. James Parish communities of Convent and White Hall and the Pointe Coupee town of New Roads turned up a different forever chemical, perfluorobutonic acid, or PFBA. PFBA was also found at the Ascension sites. The chemical was found at concentrations of around 4 parts per trillion. PFBA is often a byproduct of the breakdown of a more common PFAS used used in stain-resistant fabrics, paper food packaging and carpets, the EPA says. EPA has no drinking water guideline for PFBA, but says studies on rats show it can affect the liver, thyroid and child development, the EPA says.
They were used in products that helped and were not worried about until it was too late.
Forever chemicals found in Lower Mississippi