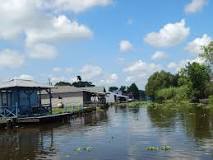 Cancer Alley has a bad name for a good reason. But it scares people away.
Acres of sugar cane abut a vast forest in this part of St. James Parish near Lac Des Allemands on Louisiana 643. A few neighborhoods are nestled among the trees. The idyllic agricultural community reminds Gail LeBeouf of the St. James of her youth, she said on a recent tour aimed at showcasing increasing industrialization along the Mississippi River between Baton Rouge and New Orleans.  "When I was growing up, most of River Road looked just like this," said LeBoeuf, cofounder of Inclusive Louisiana, which works to protect St. James' residents from pollution. "You had people living in houses and sugarcane fields until the '60s." Since then, she said, industrial processing factories have increasingly been built along an 85-mile stretch along the river activists have dubbed "Cancer Alley," due to the high rate of cancers and other ailments among its residents.

nola.com
Showcase the natural beauty and stop development.
Inclusive Louisiana, Beyond Plastics, the Louisiana Bucket Brigade and the Descendants Project staged a multi-parish tour Friday of several river facilities, in a bid to raise awareness about their efforts to ward off more industrial developments in St. James, St. John and St. Charles parishes.  Sparking advocates' ire are plans for a $9.4 million Formosa Plastics plant in St. James, as well as the existing Koch Methanol St. James site. The Formosa project has sparked multiple lawsuits; in September, a Baton Rouge judge revoked the air permits the Louisiana Department of Environmental Quality had granted the development, though Formosa and the DEQ have appealed the decision. Koch Methanol also faced community backlash that resulted in stricter permits from the DEQ. It plans to produce up to 5,510 tons of methanol per day, but must adhere to stormwater discharge limits and requirements to use the latest technology in filtering air pollution. Methanol is a toxic alcohol that's often used as a solvent and in pesticides. Representatives from Formosa and Koch Methanol St. James did not respond to a request for comment. Koch Methanol has said it aims to follow emissions requirements and minimize air and greenhouse gas emissions.
Wins were celebrated as well as noting beauty.
During the tour, speakers highlighted a recent win: plans to construct a $2.2 billion methanol complex near Welcome Park in St. James, were shelved indefinitely in 2020, and its permits from the DEQ revoked in 2022. "We found out they really didn't have the capital to build it," LeBoeuf said. "We just kept fighting because we didn't think we needed a methanol plant at all. And (parish council) decided to just table it and let it die." They also touted the 12,000-acre Lac Des Allemands, French for Lake of the Germans, as one resource that could be harmed by further industrialization. Dubbed "Catfish Capital of the Universe" by state lawmakers in 1980, the lake's clean water and abundant fish stock have attracted anglers for decades. "Because the Mississippi River is really big, companies can dump pollution in there and still get a permit," said Matt Rota, the senior policy director for Healthy Gulf, which aims to help coastal communities transition to green energy. "All their stormwater flows down this way. They're going to impact the people that have a livelihood fishing down here, people that have been on this land for generations."
There are homes in the area and they are losing land also.
The area around the lake, which includes 50 or so homes in Pleasure Bend on the lake's western shore, is losing about an acre of land every few years. Advocates are concerned that stormwater runoff from Formosa and Koch Methanol could flow into Lac Des Allemands, polluting the lake and harming its wildlife. Stormwater runoff would include any incidental chemical waste that may leak from these facilities, or loose plastic pellets that Formosa discharges. "It's going to be all of the pollutants from their parking lots, and my guess would be a ton of sediment would be coming down and filling in the bottom (feeder's) habitat," Rota said. Descendants Project cofounder Joy Banner said that protecting the river parishes' natural resources is an environmental matter and a cultural one. Enslaved people worked on river parish sugar cane plantations for over 100 years, and many were buried in the area, she said. "If you go on the east bank on I-10, you can see that it's heavily industrial, and that kind of historical view is lost," Banner said. "It's hard to make the case that that matters here in Louisiana, because there's such an imperative to put all of the money and resources into heavy industry which destroys those things."
If you bring tourists then you get money in a better way than industry.
Cancer Alley needs tourists and natural beauty