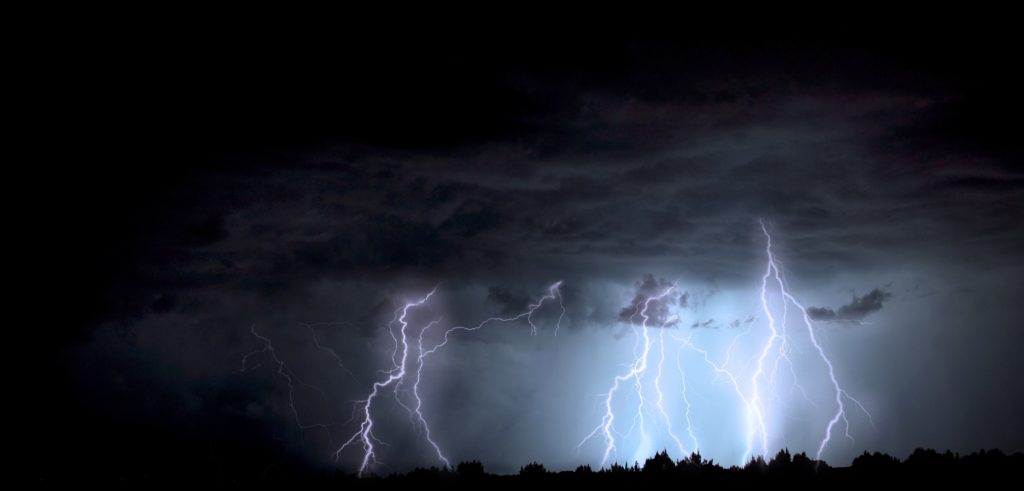 We had a marginal chance of being struck by the incoming storms but our chances just went up.
The severe weather threat for Wednesday has increased for metro New Orleans and Baton Rouge, meteorologists said in their latest forecast.  The biggest threat will be damaging winds, with gusts up to 70 mph, but tornadoes are possible, along with rain and hail. The storms are expected to reach Baton Rouge around noon then move east, getting to New Orleans and the north shore around 4 p.m.

nola.com
The hype is because a week ago tornadoes struck.
The storm system comes a week after two tornadoes touched down in Arabi and the north shore. The strong EF3 tornado that hit Arabi killed a man, injured about a dozen others and significantly damaged about 150 homes. The tornado that hit Gretna, Arabi and New Orleans East is the strongest tornado to hit metro New Orleans in modern times. "We understand the anxiety lingering from last week," the National Weather Service in Slidell tweeted Tuesday. "But all events are different!"
This is the latest threat development.
Here's what to know about this week's severe weather threat as of 10:30 a.m. Tuesday from the National Weather Service in Slidell. The highest risk for significant severe weather is along and north of Interstate 10, including Baton Rouge, Hammond and part of the north shore. Those areas have a moderate risk, which is a threat level of 4 out of 5. Slidell, New Orleans and the south shore are at risk for severe weather, but the threat level is lower – 3 out of 5, forecasters said Tuesday morning.
Specifically theses are what we might expect.
Here are the current threats for southeast Louisiana: Sustained winds of 25 to 35 mph with gusts in excess of 70 mph in a severe thunderstorm, Tornadoes will be possible, and a few could be strong (EF2+) and/or have a long track, Trees and powerlines could be damaged and lead to power outages, Rainfall of 1 to 1.5 inches with locally higher amounts possible, Flash flooding possible in low lying areas and areas of poor drainage and Hail. A wind advisory is in effect Wednesday from 8 a.m. to 9 p.m. South winds of 25 to 35 mph are expected, with gusts up to 50 mph. The wind advisory covers all of southeast Louisiana, including New Orleans, the north shore and Baton Rouge. The winds have the potential to know out powerlines and damage trees before the severe storms arrive. Use extra caution when driving, especially on bridges and elevated roads. The storm system will be moving east Wednesday. Here's the current timing from the National Weather Service: Baton Rouge: noon to 4 p.m., New Orleans, Hammond, Covington: 4 p.m. to 8 p.m. Slidell, Boothville: 8 p.m. to midnight.
The terminology of the weather projections is necessary for us to understand.
A watch means a tornado is possible. A warning is issued when a tornado has been spotted in person or by radar. Watches are usually issued for a large geographical area for a longer period of time, such as several hours. Warnings are usually issued for a small geographical area for a short period of time, such as 30 minutes to an hour.
There are ways we can prepare.
There are things you can do now to prepare. FURNITURE: Secure loose outdoor objects and bring in patio furniture. PHONE: Charge your phone and make sure it is unmuted. Tornado warnings will be pushed to your phone when the threat is imminent. Turn on weather emergency alerts. FLASHLIGHT: Test your flashlight and keep it in an easy accessible place. If you are sleeping as the storm moves through, put the flashlight next to your bed. Keep shoes near your bed as well. SAFE PLACE: Prepare a safe place to go beforehand. Make sure everyone in your household knows where to go. Have a clear path to your safe place in case you are navigating in the dark. Stay away from windows and go to an interior room on the lowest floor. If you live in a mobile home, get to a safe place. Track the storms as they move through southeast Louisiana.
As w3e used to say, Batten the hatches. Then hope it is not needed.
Weather looks more likely