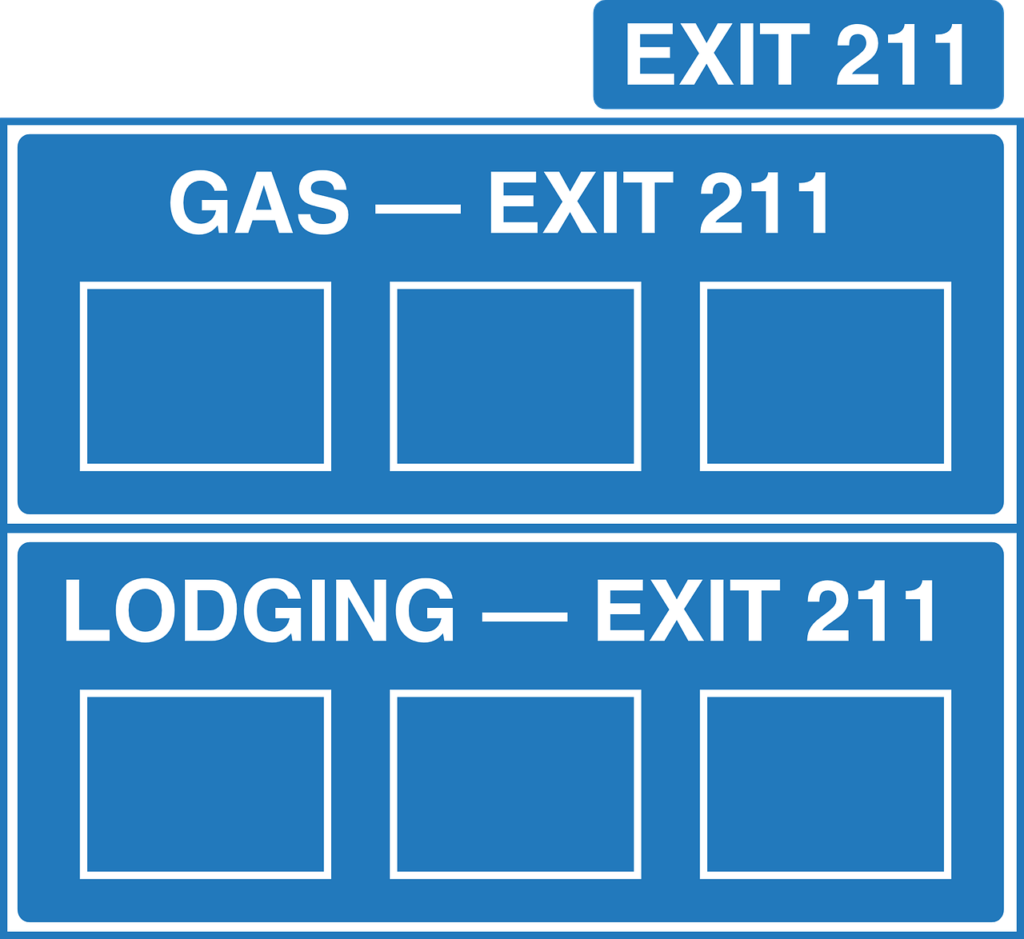 Imagine is this exit sign said Hurricane Hub and that meant you could charge phones, be on air condition and get food.
Imagine an I-610 exit outfitted with a park and community hub for use after hurricanes, capable of producing its own water and electricity. Or part of the area beneath the Claiborne overpass transformed into a gathering space where light from above can reach. Those are not some pie-in-the-sky visions of the future. The New Orleans architects behind them say they are part of an achievable plan to not only adapt in a time of intensifying storms, but also to thrive. They and other experts agree it's time the city, under constant threat from the water that surrounds it, embrace its perilous situation and come up with practical, workable solutions. That includes accepting the reality that cash-strapped and overburdened municipalities, hobbled in part by the decades-long push for less government, cannot do it all. "We are in a crisis," Terri Dreyer, 57, the co-managing partner of NANO Architecture and Interiors, said last week from the firm's Mid-City offices, speaking of climate change, sea level rise and the waters inching closer to New Orleans each day. "It's happening. We cannot stop this. This is a fact. So the systems that we have in place will not sustain us. They cannot sustain us. So we have got to find other ways."

nola.com
Nano Architecture has worked with the city and is one who does understand our needs.
NANO's vision grew out of the firm's prestigious invite to last year's Venice Biennale, the Italian city's renowned cultural exhibition. Founded in 2001 and currently working on a major renovation of the Ernest N. Morial Convention Center, NANO has made its name in the firm's home city and beyond, including with projects that incorporate an intensive site mapping process. Once Dreyer and her husband, Ian, also a NANO managing partner, overcame the shock of being invited to present in Venice, they began to think about the two cities and their relationship to water. They developed a striking – and eventually award-winning – exhibit for Venice exploring that theme, but came up with ideas more specific to New Orleans as well. Those ideas were also presented at a forum in Chicago.
Like the Lighthouse Project, the underlining premise is that people could walk to a sight if the time and distance required is reasonable.
Their vision is organized in part around the principle, based on research, that people are generally capable of walking a mile in the heat. From there, NANO began to develop the idea of placing a network of "arks," or hubs, with a one-mile radius throughout the city. The hubs would cover some basic needs, and, crucially, they could be connected to existing infrastructure while, depending on the eventual scope, involve relatively minimal cost increases when renovating bridges or overpasses. During non-emergency times, space within them could be leased to retailers that fit the location, generating revenue to help pay for the projects. Their ideas draw on examples worldwide, including in Europe and Asia. "There aren't infinite amounts of resources and energy that we can pour into this problem," said Ian Dreyer, 52. "And we have to start looking at how we can maximize the opportunities of what we have already started." NANO has zoomed in on three specific examples, developing renderings that illustrate the concept. The key point with all three is that they would serve as self-sufficient community hubs during the evacuation process and after storms, using solar panels for power and geo-thermal water purification. In other words, no need for cases of bottled water dropped from helicopters after storms.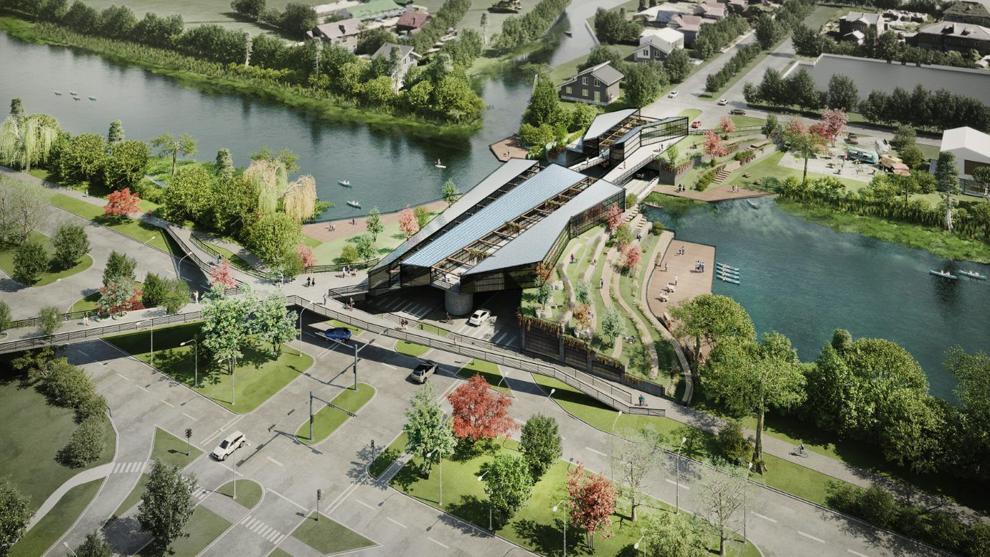 They have noted several possibilities for these hubs.
The examples include: Interstate 610 at West End Boulevard and its cloverleaf exits, which infamously served as a gathering point during the chaotic days after Hurricane Katrina. The plans envision equipping the exit with a multi-use hub, including a ramp parallel to the exits that could be used by buses, parks around the cloverleafs and biking and walking paths, The Claiborne overpass where it intersects with the Lafitte Greenway. The project would involve opening up the median of the overpass to allow light to pass underneath, then outfitting the space underneath. That could include retail space, with the understanding it would be converted to community use during storms, along with other potential uses, such as a community garden and market and The bridge over Bayou St. John at Harrison Avenue. The rendering for this one is slightly more elaborate, though it's only a proposal. A sleek, redesigned bridge would have multiple community uses, with its location on the bayou lending itself to possibilities such as kayak or rowboat rentals, tied into existing paths along the waterway and City Park. It could include space for cold storage and parking. The Dreyers are the first to admit that they are not reinventing the wheel and simply optimizing ideas that to a large degree already exist. In fact, they embrace that, stressing the practicality of the proposals.
They note that the Lidhthouse Project is looking at the same need and there is no reason why both could not work together.
One example is already beginning to take shape in New Orleans and beyond. It involves a plan to equip community buildings, mainly churches, with solar panels and batteries to allow them to serve as hubs after hurricanes. As with NANO's ideas, the locations, dubbed "community lighthouses," are not meant to serve as overnight shelters, but instead as cooling and charging centers, particularly for residents with medical devices. During normal times, the solar power will help the churches cut down on their energy bills. The advocacy group Together New Orleans organized an event at a New Orleans East church last week to announce new funding for the project, whose pilot phase envisions equipping 24 locations, including 16 in the city and eight around Louisiana. Around $10 million has been raised for it so far, enough to cover about 15 locations and roughly $4 million shy of the pilot phase's goal. Together New Orleans says 18 of the 20 deaths in the New Orleans area linked to last summer's Hurricane Ida were the result of power outages, and the lighthouse idea grew out of that storm's turmoil.
There are others who are looking at the whole picture of what will be needed.
Marla Nelson, a professor of planning and urban studies at the University of New Orleans who has worked on resiliency projects, lauded the lighthouse project. But she pointed out, too, that the future of resilient building also lies in the mundane, such as height requirements for buildings. She notes that disasters and climate change are helping exacerbate disparities between the rich and poor. It will be important to develop better ways to serve those who may not be capable of getting themselves out of harm's way or whose communities are shrinking in south Louisiana, Nelson said. "What do we do in communities that are getting smaller as people leave, and they're losing amenities and services? How do we aid people who might be interested in relocating?" she said. "Middle class and wealthy people – they'll do all right. They've got the resources to adapt in the way that they need to."
There is agreement all around.
The Dreyers agree, and that helped underpin their ideas. The Tulane grads also think funding opportunities for such projects could be made available through the federal government's recent emphasis on resilient building with last year's infrastructure bill and other programs. Private-public partnerships could also be a possibility. "With the centralized systems, there's a huge reliance upon municipalities, and everyone's complaining, 'they're not working for me,'" said Terri Dreyer. "So it's this idea of giving power back to the people in a way."
Good ideas all around and ones we should be working toward.
Hurricane hubs at highway exits