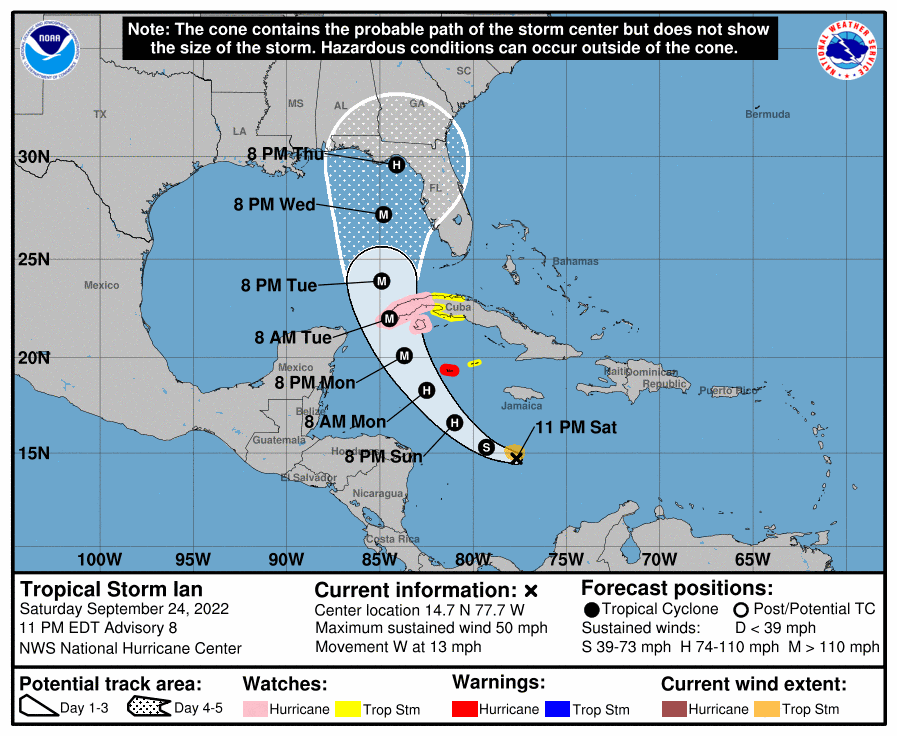 Tropical Storm Ian is expected to be a Cat 4 and it is now aimed at the one part of Florida that does not need it, the Panhandle.
Tropical Storm Ian is expected to strengthen rapidly into a hurricane Sunday as it heads for the Gulf of Mexico, according National Hurricane Center forecasters. As of 10 p.m. Saturday, Ian was located 395 miles southeast of Grand Cayman. It had maximum sustained winds of 50 miles per hour. A hurricane warning was in effect for Grand Cayman, and a hurricane watch was in effect for parts of Cuba. Forecasters expect Ian to enter the Gulf of Mexico on Tuesday as a Category 4 hurricane, with winds of 140 miles per hour. After that, its path is less certain. The forecast track continued to shift west Saturday, showing a landfall along the Florida panhandle Thursday night. The forecast cone is wide, however, and includes a stretch from from southwest Florida to the Alabama coast.

nola.com
THis is a short update because of the increase in the storm and the shift to the west.
hurricane update for 25 September 2022