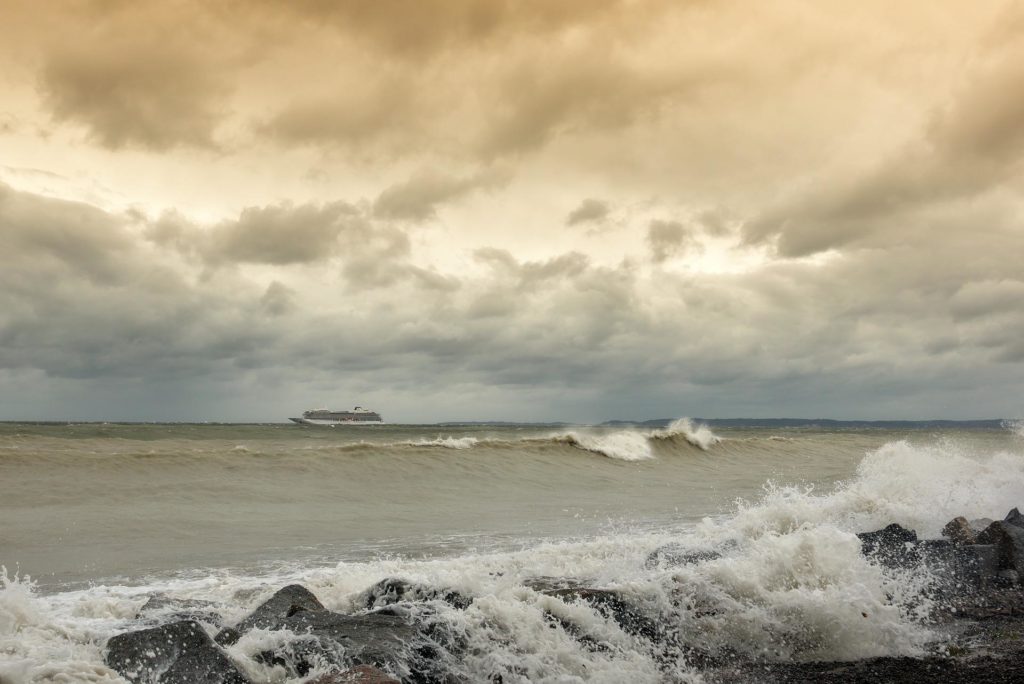 Surge fro Lake Pontchartrain is a problem and the regional planning agency wants money to stem it.
The Regional Planning Commission has asked the U.S. Army Corps of Engineers for funding to evaluate the Lake Pontchartrain Barrier Project, a long-desired storm protection project that would prevent storm surge from pushing into the lake. The $2.4 billion project, which consists of gates and other structures, is part of a wide range of risk reduction efforts aimed at preventing damages during severe storms. "Coastal communities, including St. Tammany Parish, continue to face monumental challenges and risks related to flooding from tropical systems, which push storm surge into Lake Pontchartrain," St. Tammany Parish President Mike Cooper, who also chairs the Regional Planning Commission, said in a recent news release. The resolution, authored by Cooper and approved unanimously by the RPC, seeks federal authorization and funding for the barrier project's evaluation, which would be another step toward long-sought implementation. An idea first proposed by the corps over 50 years ago and included in the Coastal Protection and Reduction Authority's 2017 coastal master plan, the project calls for structural barriers at the Rigolets and Chef Menteur passes to block storm surge from entering Lake Pontchartrain.

nola.com
This is a project St Tammany Parish has long desired for those on the north shore of the lake.
For years St. Tammany officials have pushed the surge barrier as an effective way to reduce flooding on the north shore of the lake, particulary in light of south shore protection improvements after Hurricane Katrina in 2005 and widespread flooding across St. Tammany in 2012 during Hurricane Isaac. According to the RPC resolution, a barrier would reduce annual costs in damages by $1.2 – $1.4 billion. A news release last week outlining the RPC action, came a day after the St. Tammany Levee, Drainage and Conservation's board held a meeting during which CPRA highlighted expected costs of flood-related damage in St. Tammany and several other regions. Stuart Brown, a CPRA administrator, said the definition of damage expands beyond structure and property damage, which accounts for 32% of reported losses. Storm surge damage also includes lost wages, crops, sales, displacement costs, and cleanup to clear debris and repair landscape, Brown said.
There regional damages involving 10 communities surrounding the lake.
According to CPRA, about 50% of expected annual damage to coastal communities is found in ten regions, including St. Tammany, Boutte, Houma, Morgan City, and New Iberia. Slidell, Eden Isles, and Pearl River are especially vulnerable with potential damage costs estimated around $845 million. The Destrehan and Norco area follow behind at $294 million. Obtaining funding for the barrier project and other items, CPRA held, is imperative as rising sea levels and coastal landscape changes contribute to greater storm intensity. Changes in population density also raise the likelihood of surge risk, which is concentrated in largely populated communities with high exposure to flooding, Brown said. In addition to the barrier project, Brown said they've identified several non-structural alternatives for communities at risk, such as home elevation and flood-proofing measures, totaling an estimated $530 million. Without intervention measures, the presentation showed that the potential of severe storm surge would eventually expand inland to areas not traditionally considered high risk, such as Gonzales and Sorrento.
Those north of the lake want the protection we, south of the lake get. Not unreasonable.
Regional Planning for surge protection