I saw this earlier today but was waiting for NOLA.com to post as they do a better job than me on this.
Hurricane forecasters on Tuesday were tracking three disturbances in the Atlantic and the Caribbean. The next available name is Lisa if any of the systems strengthens into a tropical storm. The shaded area on the graphic is where a storm could develop and is not a path. Forecasters release a track when a tropical depression forms or is about to form. Here's what to know about the tropics as of 7 a.m. Monday from the National Hurricane Center.
Disturbance in Caribbean
Forecasters say an area of low pressure could form over the eastern Caribbean by early this weekend, forecasters said. It's expected to drift west over the weekend, and conditions are forecast to be conducive for gradual development. The system has a 20% chance of developing into a tropical depression within five days. It's too early to tell where it could eventually go.

nola.com
Disturbance by Bermuda
It's becoming less likely for a short-lived tropical depression to form in the Atlantic near Bermuda, forecasters said Tuesday morning. The disturbance still is well defined, they said, but showers and thunderstorms have decreased. Development chances from dropped from 70% to 40% for the system to form a tropical depression within 48 hours. The system is moving north toward cooler water that's expected to limit further development. Regardless of development, heavy rainfall and gusty winds are expected over Bermuda.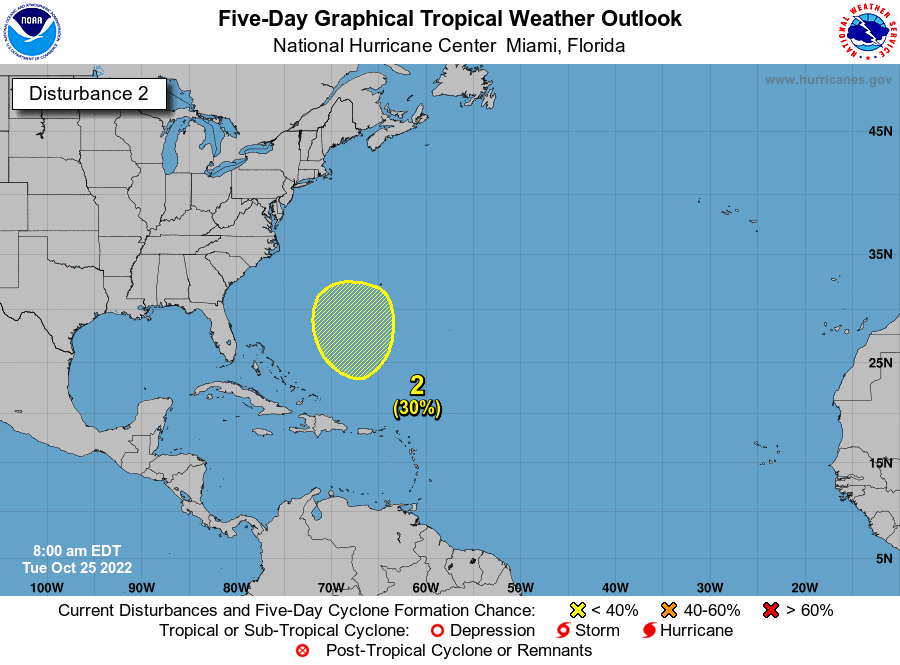 Disturbance by Puerto Rico
An area of low pressure is expected to form north of Puerto Rico in a couple days, forecasters said. Conditions appear conducive for gradual subtropical development of the system, forecasters said, while it meanders over the southwestern Atlantic through the weekend. It has a 30% chance of developing into a tropical or subtropical depression within five days.
And so after a lull the action is picking up and the one in the Caribbean is the one to watch.
Hurricane update for 25 October 2022