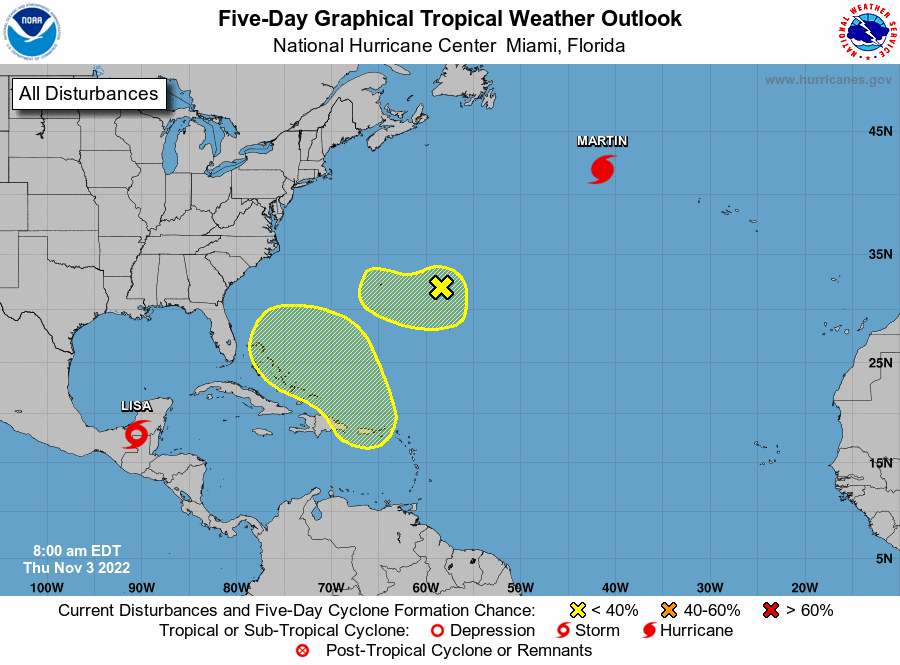 Four systems and the one near us has been downgraded to a Tropical Storm.
Hurricane Lisa weakened overnight and is now a tropical storm as it heads toward the Gulf of Mexico, forecasters said Thursday morning. It does not pose a threat to Louisiana on its current track. The storm is one of four that hurricane forecasters were tracking Thursday. In the Atlantic, Hurricane Martin is strengthening and two other disturbances are brewing. Here's what to know about the systems as of 7 a.m. Thursday from the National Hurricane Center.

nola.com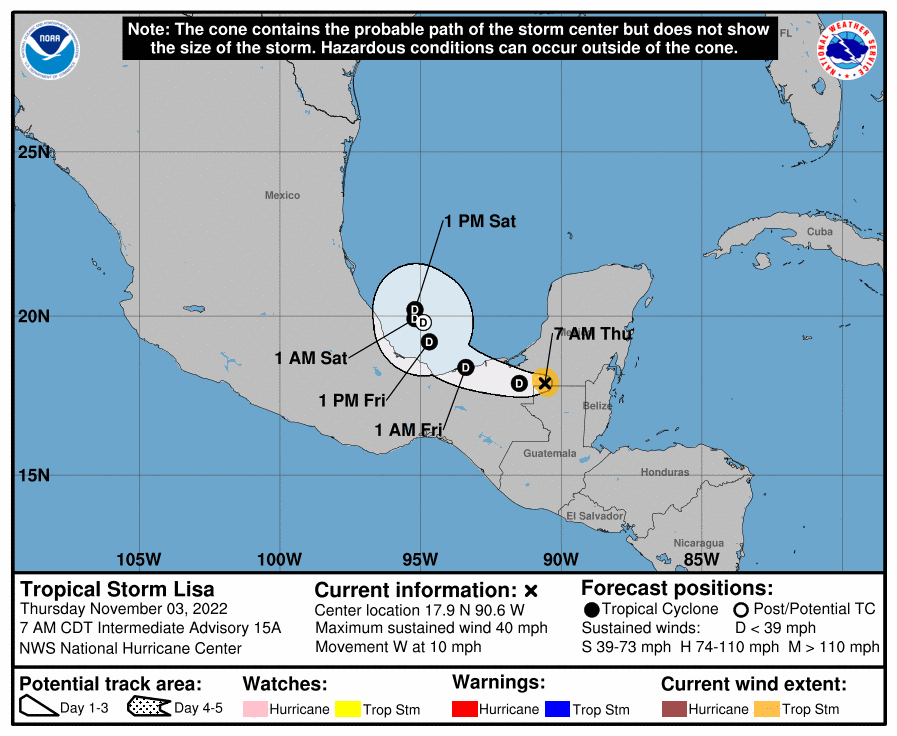 Tropical Storm Lisa
Hurricane Lisa made landfall Wednesday in Belize and rapidly started weakening. It's currently a tropical storm and is expected to become a tropical depression later in the day. The current track has it emerging over the southwestern Gulf as a tropical depression. Lisa is expected to dissipate – not strengthen – in the Gulf, forecasters said. As of 7 a.m., the storm was about 90 miles southeast of Ciudad del Carmen, Mexico, according to the National Hurricane Center. It's moving west at 10 mph. It has winds of 40 mph.
Hurricane Martin
Hurricane Martin also formed Wednesday, marking a banner day late in the season with two hurricanes development. Martin was racing northeast at 46 mph on Thursday and poses no immediate threat to land. As of 7 a.m. Thursday, the hurricane was about 805 miles northwest of the Azores and about 665 miles southeast of Cape Race, Newfoundland. Martin is expected to get "larger and slightly stronger" throughout the day, forecasters said, until it transitions to a "powerful post-tropical cyclone." It could eventually reach the United Kingdom.
Disturbances in the Atlantic, Caribbean
Hurricane forecasters are tracking two disturbances in the Atlantic and Caribbean. One is a few hundred miles east of Bermuda and has a 10% chance of developing into a tropical depression within five days. The other is expected to develop this weekend over the Caribbean and the Atlantic. It has a 30% chance of developing into a tropical depression within five days.
The one in the Caribbean is on the Atlantic side so if it develops Florida is more likely to be hit, or farther north.
Hurricane update for 03 November 2022