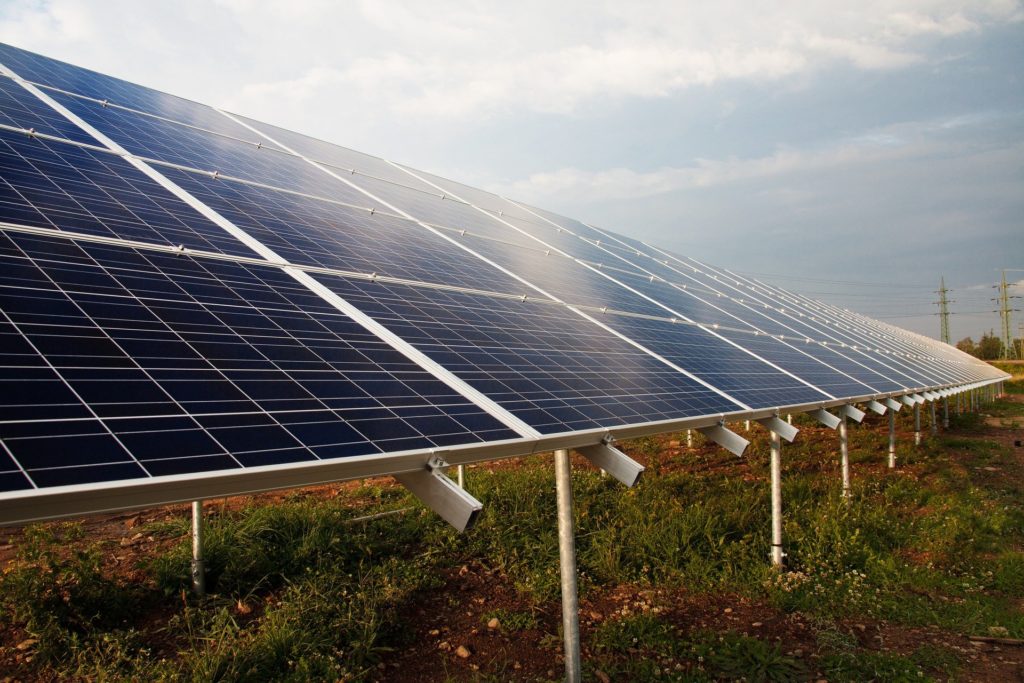 Solar is coming but it is not easy with those doing the approvals.
A lifelong sugar cane farmer in his first stint at politics, St. James Parish President Pete Dufresne has been an ardent backer of new industrial projects as needed job producers and tax revenue generators for his rural, blue-collar parish between Baton Rouge and New Orleans. Along the Mississippi River, St. James' large tracts of agricultural land with roads, rail, pipeline and power have made the parish one of Louisiana's hot spots for industrial growth with the generally cheap natural gas prices of the past 10 to 15 years. But Dufresne has taken a more cautious approach with the solar farms now seeking to set up on agricultural land, worried about eating up swaths of irreplaceable riverside land for solar complexes that produce few permanent jobs. "That's the most valuable real estate we have. That's the most valuable real estate, accessible to rail and river, and it's just taking away so many opportunities that could be other clean projects, as well, you know, that could actually bring jobs, and that's what our concern is," Dufresne told a few solar, utility and media representatives after a recent Parish Council meeting. "We need jobs. I mean these thousands of acres of solar farms is not bringing any jobs, and who's getting the benefit? Who's getting the real benefit of these solar panels," he added.

theadvocate.com
Thousands of acres for solar and few jobs but clean air contrasted to the same land as a refinery with many jobs and fouled air. Those are the options, black and white in contrast.
Dufresne's and other local officials' concerns reflect the unease that has arisen among some in rural Louisiana over the proliferation of solar farms over thousands of acres agricultural land. Tangipahoa, Washington, West Baton Rouge, Pointe Coupee, Calcasieu, Lafourche, Morehouse and many other parishes have been targeted for solar installations supplying utilities, eBay, McDonald's and other electricity buyers. While some have welcomed the farms, several other parishes have tried to slow things down at least until better controls are in place. The aesthetics of acres of reflecting panels, their hum as they track the sun, long-term cleanup, displacement of the agricultural economy and low long-term job potential have all emerged as worries, despite the short-term boost in construction jobs and sales tax collections and the long-term property tax rise over land under agricultural tax exemptions. Local governments have been left to balance those concerns against the rights of landowners seeking lucrative solar leasing arrangements and the demand from utilities and big users, including major industrial operations, for more renewable power.
There are no set rules and rules are needed to ensure all sides are protected.
Last year, legislators had directed the state Department of Natural Resources to create statewide rules for solar facilities, but this year, new legislation limited those efforts to ensuring solar farms set aside resources to remove solar panels once they are decommissioned. Patrick Courreges, DNR spokesman, said the rulemaking process is expected to start in August. In the St. James community of Vacherie, two proposed solar projects, SJ Louisiana Solar and Vacherie Solar Energy Center, would cover 3,900 acres of west-bank sugar cane fields and add to an existing 210-acre complex known as St. James Solar. Though St. James Solar sailed through the approval process in 2019, the new, larger additions have run into headwinds. Amid public opposition, the parish Planning Commission denied them in May. Dufresne, who has with some parish council members so far unsuccessfully called for a moratorium on new solar farms, gained authority last week to negotiate with the parish's third-party planning agency to study the economic and environmental impacts of solar in St. James. Parish officials hope to create new land use rules for the solar facilities.
Other parishes have set rules but what of the solar companies that have multiple farms in neighboring parishes with different rules?
In Washington Parish, local officials said they adopted their own solar farm ordinance, triggering the end of a year-and-a-half-old moratorium. The developer of the solar farms in St. James, D.E. Shaw Renewable Investments, has two in Washington also, Iris Solar and Sunlight Road Solar, and is one of several firms eying farms across the state. As in St. James, the solar farms in Washington Parish are expected to improve local tax collections. Washington Parish officials are looking at infrastructure and recreation with the new money, Parish Council member Carley King said. But King, whose Franklinton area district has the two D.E. Shaw solar farms, said he and many of his constituents accustomed to the parish's pastures and forests don't want to see too many more solar panels popping up even with the new ordinance in place. "I think there's a point to where, you know, you don't want to have this just all over the parish … and every time you turn around, you're seeing a solar farm," King said. "It's a huge ag industry. We've already went through … the dairy farms having to sell out and shut down. I would hate for that to be what Washington Parish is known for."
Sometimes the problem is that there is not the demand to justify the solar farms.
Pointe Coupee Parish President Major Thibaut has been through the approval of a large solar facility in Ventress, the worries from his parish's large agricultural base and the creation of an ordinance addressing some of those issues. He said the number of commercial-scale solar farms is greatly limited by the capacity of the electrical grid to handle them. At least in his parish, early fears that solar panels would supplant farms across the parish don't appear to be realistic, Thibaut said. Parish officials estimate that Pointe Coupee probably has room for one more solar farm at least for the next decade. Thibaut said he believes his parish has struck a balance between protecting agriculture and allowing some economic diversification in strategic locations with an industry that has a low impact on water, roads and local services, like fire and police. "You know, solar panels don't go fight with each other, or get in trouble. So, it's a way that doesn't tax or put on burden on our infrastructure like some other forms of economic development might require," he said.
The solar companies seem to be sitting back and seeing what develops but offer to work with the parish.
Tripp Roy, director of development for D.E. Shaw Renewable, also known as DESRI, said his company does not plan to appeal the St. James Parish Planning Commission's ruling but may seek to reapply once new rules are known. "We want to work with the parish to address their concerns and find a middle ground," he said. Roy participated in fashioning the ordinance in Washington, which created buffers, screening requirements, long-term financial assurances for cleanup after panels live out their usefulness, among other issues.
The farms are being driven into the country by many factors.
Observers and analysts say the solar farms are being driven into rural Louisiana because of the simple economics of cheaper power and the broader drive to stem climate change, which a United Nations panel said in February would amount to an existential threat to south Louisiana over the next half century. Companies, big plants and utilities want to cut carbon emissions to meet corporate sustainability goals often driven by investor demands for greener operations and to prepare for the potential of regulatory costs associated with carbon emissions. They also want to find more consistent and relatively cheap prices for power as a hedge against the fluctuations of fossil fuel-based electricity, these watchers say. David Dismukes, executive director of the LSU Center for Energy Studies, said solar developers are so interested in the Gulf South because in other parts of the nation where the regulatory push for renewables has been stronger and earlier, large pieces of land are less available. In the Gulf South, however, the large, open tracts of agricultural land allow for a cheaper upfront cost to set up capital intensive solar installations near a market and on an existing electrical grid with a growing demand for renewable power, Dismukes noted. "Because with solar, you want to get the biggest bang for your buck, so to speak, like you do with anything in life, but … there's not big places in the country where you're going to get big chunks of land that you can dedicate to big solar projects like this and so that's why it's so attractive," Dismukes said.
Utilities are asking for solar to augment their other sources but a cheaper alternative.
Several Louisiana utilities have shown interest in solar. Cleco, Lafayette Utilities System and a number of electrical cooperatives, including DEMCO, which operates in the Baton Rouge area, have signed deals for commercial-scale solar power or announced plans to do so. Entergy Corp. has emerged as an important source of solar power demand. The publicly traded utility that serves 1.3 million customers in the state has pledged to be carbon neutral by 2050. Mostly through subsidiary Entergy Louisiana, Entergy has reached power agreements for the more than 4,200 acres of solar projects built or proposed in St. James. It has also reached power agreements with the Iris Solar and Sunlight Road Solar complexes in Washington Parish, the Capitol Region Solar complex in West Baton Rouge and others. The subsidiary serves the Mississippi River corridor, including St. James, metro Baton Rouge and much of Louisiana outside New Orleans. The existing, smaller St. James Solar plant serves Entergy New Orleans to meet mandated renewable power goals in that city.
Solar is no longer experimental but is now in the mainsteam.
Currently, about 60% of Entergy Louisiana's power comes from natural gas plants. Another big chunk comes from already carbon-free nuclear power, but the utility says it has been seeking solar developers since 2020 and hopes to have them to build 2,575 megawatts of solar power by 2025. That's enough to provide electricity for about 220,000 homes in Louisiana, according to estimates from the Solar Energy Industries Association, a trade group, and would constitute about a quarter of Entergy Louisiana's current total power production.  "Solar is no longer experimental," the utility told the state Public Service Commission last month. Mark Kleehammer, vice president of regulatory and public affairs for Entergy Louisiana, said it is Entergy's big industrial customers who are calling for the greater renewable power mix. "We have a whole lot of interest from our customers," he said. "It's been a pretty amazing transformation of our industrial customers over the past couple years about their sustainability goals."
The states climate initiative is also calling for solar.
Gov. John Bel Edwards' climate initiative calls for a vast "decarbonization" of Louisiana's industrial sector — which contributes about 62% of Louisiana's greenhouse gases powering boilers and other equipment — and sees the push toward renewable power as one of the ways to drive the state to "net-zero" carbon emissions by 2050. Dismuskes, the LSU energy analyst, said that while it is true industrial operations are looking for renewable power, it may not be that all of them want that power from Entergy. They could be looking to add renewable power generation on their own often expansive landholdings, potentially adding a future wrinkle to the land use questions raised by solar sites.
In parishes where there have been a lot of refineries and other such developments the solar push haven't seen opposition to solar.
In St. James, the solar farms are popping up in a parish where, for several years, new petrochemical and oil storage facilities, like Formosa, Petroplex, Wanhua, South Louisiana Methanol and others, have been proposed in primarily Black communities, riling environmentalists and some residents. With the exception of Petroplex, however, which would have been in residentially zoned areas in Vacherie near where the solar farms are proposed, critics haven't seen parish officials as willing to oppose the facilities, make changes to the land use plan that targeted new industry in majority Black areas or consider a call for a sweeping moratorium on new industry in 2019. "Studying land use and the impact industry may have on the surrounding area is reasonable, but in states across the country and in regions around the world, solar enterprises have developed cooperative relationships with neighboring communities that have made both parties profitable," retired Army Gen. Russell Honore said in a statement. "The calls for further evaluation by the Council is especially rich given how freely its members have allowed the petrochemical industry to expand in majority Black areas." Some of the groups involved in the fight over industrial operations, like the Louisiana Bucket Brigade, say the parish should apply the same level scrutiny over petrochemical plants as it's applying to solar farms. An economic impact assessment from D.E. Shaw Renewable estimates the first 2,100 acres of the new solar complexes in St. James would spur around 300 temporary construction jobs and around $14.4 million combined in initial sales tax collections and property tax collections over the next 10 years. These tax benefits would normally be touted by local officials. Dufresne said he isn't against green energy and recognizes the short-term revenue benefits, but said he is looking at another bottom line.
Yet the farms replace agriculture and don't bring in jobs. Jobs are the big push when a refinery wants to come.
The first batch of panels would create just three permanent jobs and ultimately six in all for the entire 3,900 acres planned for development, locking that land up for 30 years or more. Dufresne adds he worries what impact the loss of sugar cane acreage could have on local mills that also offer jobs, though some experts doubt DESRI's plans would have much more impact over broader trends cutting into agricultural acreage already. "So you know before we just hurry up and jump up and approve all these things, we want to know what the long-term effect is going to be for St. James Parish," Dufresne said. "'Cause if it's so good, why not wait a year and let us tell our residents just how good it is."
I think this is in part because this is new and different. We know what a refinery brings, both good and bad. We don't know that about solar yet.
Going solar is hard for rural Louisiana