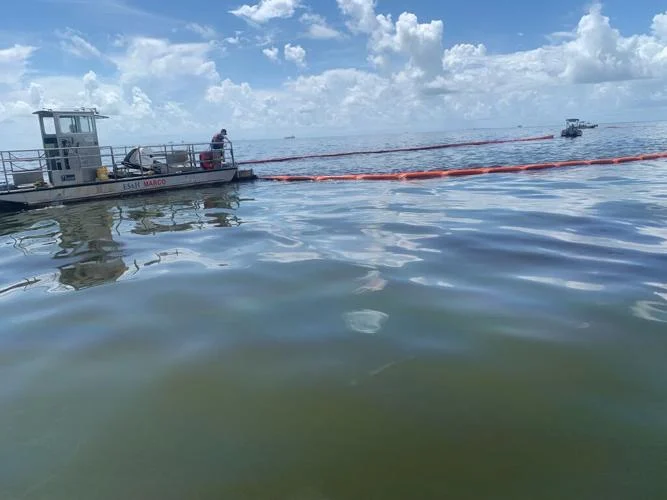 Oil spills in the water are costly and not just for the cleanup. It fouls the water for both aquatic life and people.
State health officials late Wednesday halted oyster harvesting in a 33-square-mile area of Terrebonne Bay just north of the Timbalier Islands after a nearby Hilcorp Energy storage tank leaked about 14,000 gallons of crude oil in the water. The Louisiana Department of Health barred harvesting near the tank, which was atop an oil platform in that same area. The oil platform partially collapsed, dumping the tank in the water and causing the spill. 

nola.com
There is a "Unified" command for this spill which means a lot of participants.
A U.S. Coast Guard "unified command" that also includes representatives of Hilcorp and the Louisiana Oil Spill Coordinator's Office has been overseeing two contractors' work to cleanup the spill. About 10,000 feet of containment boom, a floating barrier used to capture oil, was deployed, which assisted three shallow water skimming vessels in corralling the oil for collection. Another 10 fast response vessels assisted with recovery and observations, according to a late Wednesday Coast Guard news release. Air reconnaissance, including drones, and on-water assessments are still underway. "A Wednesday morning overflight showed no remaining recoverable oil within the area, with the remaining product expected to dissipate naturally over the next few days," Coast Guard officials wrote. "Minimal marsh and wildlife impacts have been observed." Representatives of the National Oceanic and Atmospheric Administration, the state Department of Wildlife & Fisheries, Department of Health, and two spill response contracting companies, Environmental Safety & Health Consulting Services, and Forefront Emergency Management are also aiding the cleanup. "Due to the automated systems that immediately shut in the facility and the quick response of the operator to isolate the scene and contact federal, state, and local agencies, the impact of the incident was greatly diminished," said Capt. Loan O'Brien, the Coast Guard's federal on-scene coordinator for the incident.
Recreation was banned from the clean up area.
Earlier Wednesday, the health department told recreational fishers and boaters to avoid parts of Terrebonne Bay and Lake Pelto where the cleanup was taking place. The Health Department also urged people not to enter areas restricted by the Coast Guard, or those where oil can be seen or smelled. Officials also asked people not to fish in any areas with visible oil sheens or slicks. They also said boaters, swimmers and others engaged in water recreation should avoid direct contact with oil-contaminated water or sediments. Young children, pregnant women, people with compromised immune systems, and individuals with underlying respiratory conditions should be especially vigilant. People were also urged to keep pets out of oil-contaminated areas. "If you see or smell oil, leave the area right away," officials said in the news release, which also warned against eating contaminated fish.
Hilcorp has provided a number for claims.
Hilcorp has set up a telephone number for claims for anyone affected by the spill, 281.486.5511. The Coast Guard urged mariners to report stray oil to the National Response Center at 800.424.8892. Information on Coast Guard marine safety advisories involving the spill is available from its Houma officer-of-the-day at 985.665.2437.
Quick action made this a minor disaster that was quickly attacked and cleaned up.
Oil spill costs oysters and people