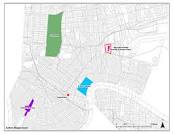 Get a price for a house in Gordon Plaza and say not a good one. They have to remember that housing prices are based on location, location, location.
A $358,000 public offer on a home built atop the former Agriculture Street landfill — the first of many under a city process to relocate residents from the toxic site — has been dismissed by some residents as insufficient.  An appraiser commissioned by Mayor LaToya Cantrell's administration valued Sheena Dedmond's 2,898-square-foot home at $358,000 this month, after Dedmond agreed to receive the first of city appraisals that will result in buyout offers to residents of the Gordon Plaza subdivision. But at an Oct. 21 public task force meeting, residents said the appraiser, Jim Thorns, shouldn't have compared Dedmond's solid brick home to homes with brick veneers. Thorns also shouldn't have compared the home to homes in the Pontchartrain Park and Gentilly Woods subdivisions, as those are worth less than similar homes in the West End subdivision of Lakeview, Dedmond told WWNO after the meeting.  "We understand that there's a difference between a brick veneer and a brick home. The residents of Gordon Plaza live in brick homes," said Angela Kinlaw, an activist with the Residents of Gordon Plaza group. "There's a dollar amount associated with that, a 6% to 7% increase … up to 10% depending on who's doing the appraisal."

nola.com
There were comparisons with other areas but the ones in Gordon Plaza are bigger and probably better built. Also, though, no one will live in these homes after sale.
Thorns did not address the claim that Gordon Plaza homes are solid brick, but said he compared the subdivision's homes to brand new homes near it that had not been lived in, such as those in Pontchartrain Park and Gentilly Woods. The homes he chose were between 800 square feet and 1,000 square feet smaller than Dedmond's, according to the appraisal document. The next meeting of the Gordon Plaza Task Force, which the City Council convened to address residents' concerns about the relocations, is set for Monday in the council's chambers on Perdido Street. Residents plan to hold a rally at City Hall at 10 a.m. to protest the appraisal process. The Agriculture Street landfill, a Desire area dump site that was operational from 1909 to 1957, was identified as toxic under the EPA's Superfund program in 1994. That was more than a decade after city leaders built the Gordon Plaza subdivision atop the vacant land and marketed it to lower-income residents. Soon after moving in, residents experienced signs of toxic exposure, including cancers and lead poisoning. Lawsuits against the city yielded payouts from an insurance company that were far less than what residents needed to move to new homes.
Finally the city council listened and said the city would buy the homes.
After mounting pressure from Gordon Plaza residents, the council and Cantrell agreed in June to set aside $35 million in bond proceeds to fund a relocation. After the city buys out 67 homeowners, it plans to convert a portion of the site into a 5-megawatt solar farm, officials have said. City officials are legally obligated to appraise each home before making cash offers to residents, however. The city has asked Thorns to use an appraisal method that considers each home's replacement cost, as other methods could result in offers that are far lower than what residents need to relocate. A recent Tulane University study pegged the median sales price for a home in Gordon Plaza at just $72,000, for example, though the median home sale price in Orleans Parish is $361,800. When appraising Dedmond's home, Thorns considered its square footage and construction quality, he said at the Oct. 21 meeting. He also compared it to new homes in the Pontchartrain Park and Gentilly Woods neighborhoods that were not built atop former dump sites.
Gordon Plaza is not in the flood zone, another factor not considered.
Dedmond and others pressed Thorns to compare Gordon Plaza homes to those in other subdivisions with higher values, and chided him for not recognizing that Dedmond's home was constructed of solid brick. Dedmond's home is also not located in a flood zone, a fact Thorns overlooked in his appraisal, they said. Thorns responded that the home's flood-zone status was irrelevant, as all of New Orleans would flood if the levee system surrounding the city was damaged. Based on Thorns' appraisal, the city issued Dedmond an offer on Oct. 20 and gave her 30 days to accept. That deadline also sparked some residents' ire, prompting City Council member Helena Moreno to request that the city lift it. "A deadline to me is very discriminatory," resident Lydwina Hurst said. "Yes, we want the process to be expedited, but we don't want to be treated like we're animals."
Deadlines are normal in real estate.
A city official said at the meeting that the city would not enforce the deadline. The council has also considered creating a separate fund to assist residents with moving expenses, a step Kinlaw urged them at the meeting to finalize. The motion to create the fund was postponed to the next council meeting on November 3. Gordon Plaza residents "are in a fight for their lives in the face of a city that sold them land that's on a hazardous waste field," Kinlaw said. "There's an opportunity to move this forward in a way that honors the lives of the residents."
I sympathize with the residents and I am glad the city is buying their homes. But they have to realize their situation and that the money they get will provide a good down payment for a home elsewhere.
Gordon Plaza assessments questioned