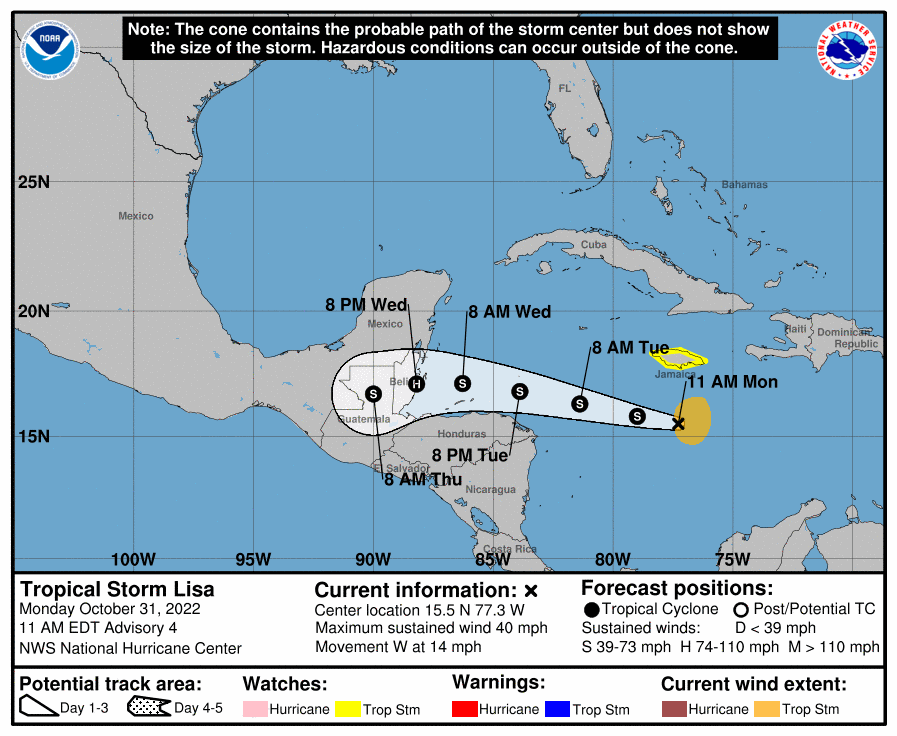 We now have Lisa, a tropical storm that may well turn into a hurricane and hit Central America.
Tropical Storm Lisa formed Monday morning in the Caribbean and is expected to strengthen into a hurricane before landfall in Belize, hurricane forecasters said. The current track does not have the storm entering the Gulf of Mexico. As of 10 a.m., the system was It's moving west at 14 mph and is expected to make landfall Wednesday, possibly as a Category 1 hurricane.about 175 miles south of Kingston, Jamaica, and about 365 miles southeast of Grand Cayman, according to the National Hurricane Center. On the forecast track, the center will pass south of Jamaica on Monday, south of the Cayman Islands on Tuesday and approach Central America on Wednesday. It has winds of 40 mph, and additional strengthening is expected over the next 72 hours. Peak winds of 75 mph are forecast, which would make it a just barely a Category 1 storm at landfall. Category 1 storms have winds of at least 74 mph.
Not even close for us.
Hurricane update for 31 October 2022